The Oral History Center (OHC), a division of The Bancroft Library, documents the history of California, the nation, and the interconnected global arena. The OHC produces carefully researched, audio/video-recorded and transcribed oral histories and interpretative historical materials for the widest possible use. The OHC was formerly known as the Regional Oral History Office.
History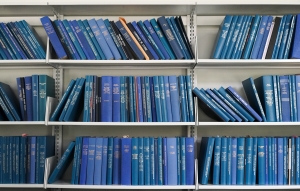 Oral history at The Bancroft Library had its beginnings in the work of the nineteenth-century historian of the American West for whom the library is named, Hubert Howe Bancroft. Bancroft recognized that missing from his vast collection of books, journals, maps, and manuscripts on western North America were the living memories of many of the participants in the development of California and the West. In the 1860s he launched an ambitious project to interview and create biographies of a diverse group of Californians.
The resulting volumes of "Dictations" continue to provide valuable primary source material for historians.
The office that became the OHC was established in 1954 as the Regional Cultural History Office. By 1958, under the leadership of new director, Willa Baum, the name was changed to the Regional Oral History Office (ROHO). Richard Cándida Smith was director from 2001 to 2012, and Neil Henry was named director in 2012. The center's name was changed again in 2014 to the Oral History Center of The Bancroft Library.
Activities
The OHC has carried out interviews in a variety of major subject areas, which include: politics and government; law and jurisprudence; arts and letters; business and labor; social and community history; University of California history; natural resources and the environment; and science, medicine, and technology.
Interviews have been used as source material for monographs, books, articles, stage productions, radio programs, video and film documentaries, websites and blogs, and dissertations and theses. The OHC has conducted over 4,000 oral histories, which totals tens of thousands of interview hours. Nearly every interview that has been transcribed is available for the public to read on the OHC website.
Interviews are conducted with the goal of eliciting from each participant a full and accurate account of the events central to their lives and to the broader world. The interviews are transcribed, lightly edited for accuracy and clarity, and reviewed by the interviewees, who may augment or correct their spoken words. The reviewed and corrected transcripts are printed and bound, often with photographs and illustrative materials. Archival copies are placed in The Bancroft Library. The Bancroft Library also houses the original audio and video recordings, many of which can be accessed in the library's reading room.
In addition to conducting interviews and producing transcripts, OHC historians are productive scholars who publish their oral history-based research in the field's top journals and academic presses; moreover, they regularly contribute to newspapers and blogs and are featured on radio programs and video documentaries. OHC historians also actively participate in the teaching mission of the university. Along with regularly speaking at conferences and organizing symposia, OHC staff host an advanced oral history institute each summer which attracts scholars, public historians, and others from around the world interested in learning oral history methodology. Nearly 500 people have attended the institute since it began in 2002.
Staff
Current
Paul Burnett is a historian of science and interim director of the Oral History Center. He joined OHC in 2013 from the Science and Technology Studies Programme at St. Thomas University in New Brunswick, Canada, where he was an Assistant Professor. Before that, Paul spent a year in Philadelphia researching and producing museum exhibits for the American Philosophical Society. He completed his PhD at the Department of History and Sociology of Science at the University of Pennsylvania in 2008, where he developed his research on the politics of expertise—how scientists and experts of all kinds establish their credibility, and how people choose between different kinds of expertise to try to solve complex social, political, scientific, and technical problems. He is currently writing a book on agricultural economics, neoliberalism, and development.
Caroline Crawford is a part time interviewer with OHC. A native Californian, she received a BA from Stanford University, an MA from the University of Geneva, and a keyboard degree from Royal Colleges of Musicians, London. From 1972 to 1981 she was the staff writer for the San Francisco Opera, managed the San Francisco Contemporary Music Players from 1981 to 1985, and that year joined the OHC staff as music interviewer. Among the nearly forty music projects she has carried out are a jazz/blues series of histories, including subjects Dave Brubeck, John Handy and Norma Teagarden, and a series on contemporary American composers. Her blues documentary film entitled "Jimmy Sings the Blues" won the first jury prize at the Marin County Film Festival in 2005. Since 1975 she has written music reviews and published photographs in a number of newspapers and magazines, including Christian Science Monitor, New York Times, San Francisco Chronicle, and Opera News.
David Dunham is the technology lead for the OHC and serves as website manager, video editor, and project interviewer. Since 2002, David has overseen the OHC website, leading efforts to digitize sixty years of oral history transcripts; he also coordinates transcription, equipment, and audio/video production and editing. He is OHC's primary liaison with the Library Systems Office, coordinating preservation, digitization, and online content. David manages the Rosie the Riveter / World War II Home Front Oral History Project in collaboration with the National Park Service. He has participated in and contributed to numerous project-related community events, including talks recruiting narrators, programs sharing results of the interviews, video presentations, tours, and exhibits. He is a documentary film maker and editor, film festival manager, teacher, and "Entotainment Guru" of the Bay Area.
Roger Eardley-Pryor earned his Ph.D. in History from the University of California, Santa Barbara (UCSB) in 2014. At UCSB, he became a National Science Foundation graduate fellow in the Center for Nanotechnology in Society. Prior to that, Roger earned his B.Phil. in Interdisciplinary Studies from Miami University in Ohio. As a historian of science, technology, and the environment, Roger taught courses at Portland State University, at Linfield College in Oregon, and at Washington State University in Vancouver, Washington. From 2015-2018, Roger held a Postdoctoral Research Fellowship in the Center for Oral History at the Science History Institute (formerly the Chemical Heritage Foundation). His work there explored ways that twentieth and twenty-first-century scientists and engineers, culture-makers, and political actors have imagined, confronted, or cohered with nature at various scales, from the atomic to the planetary. In 2018, Roger joined the Oral History Center of The Bancroft Library at the University of California, Berkeley.
Shanna Farrell is a Historian/Interviewer and Associate Academic Specialist. She joined OHC in 2013 and her background is in environmental history and now specializes in cocktail and food history. She is the project lead for the West Coast Cocktails oral history project and has worked on the Rosie the Riveter, university history, and California firefighters projects. In addition to interviewing, she leads OHC's educational initiatives, including our Introductory Workshops and our Advanced Summer Institute. She holds a MA in Oral History from Columbia University, an Interdisciplinary MA from New York University, and a BS in Music from Northeastern University. Her writing has appeared in Edible East Bay, PUNCH, Distilled Stories: California Artisans Behind the Spirits, and The Oral History Review.
Todd Holmes is a Historian/Interviewer and Associate Academic Specialist. Todd earned a BA and MA in history from California State University, Sacramento, and a PhD in history from Yale University. From 2013 to 2016 he was a postdoctoral scholar with the Bill Lane Center for the American West at Stanford University, where he has served as the lead historian and researcher on the Center's Rural West and California Coastal Commission initiatives. He joined OHC in April 2016. A native Californian, he has written extensively on the history of California and the American West, and is the author of the forthcoming book on Ronald Reagan's governorship, The Fruits of Fracture: The Corporate West, The United Farm Workers' Movement, and the Rise of Reaganism in American Politics.
​Jill Schlessinger wears three hats at the Oral History Center: communications strategy and execution; process improvement; and management of the editorial portion of the oral history production process. Jill joined the OHC in 2019 and brings extensive experience in communications and higher education management to the role. Most recently she was with Student Affairs Communications at UC Berkeley, serving as a content strategist, writer, and managing editor. Prior to that, Jill managed complex communications programs for Kaiser Permanente in areas including employee health and equitable access to health care; and managed communications, admissions, and college access programs for the University of California Office of the President. Jill received her PhD from UC Berkeley in US history, with a focus on social history and women's history at the turn of the twentieth century.   
Amanda Tewes is a Historian/Interviewer and Associate Academic Specialist. She joined the OHC in February 2018. She earned her BA from University of California, Santa Barbara; MA from California State University, Fullerton; and PhD in history from University of Massachusetts, Amherst, where she studied modern US history, public history, and the history of the American West. Her dissertation examined Old West theme parks in California as sites of public memory and historic preservation. She previously worked as an oral historian at the San Diego History Center and the Center for Oral and Public History at California State University, Fullerton.
Retired 
Sally Smith Hughes (retired) is a Historian of Science and Academic Specialist, Emerita. Over her thirty-plus year career at the OHC, she was project director and interviewer for several hundred oral histories in basic science, biotechnology, public health, and AIDS history. A major research interest is the complex process through which basic science is commercialized, as featured in interviews with scientists at UC San Francisco, UC Berkeley, and Stanford, and with administrators and scientists at Genentech, Chiron, and Amgen. An interview series with early Bay Area venture capitalists extends the theme of commercializing science. She also conducted interviews on the response of the San Francisco medical and nursing professions to the early AIDS epidemic. With a University of London doctorate in the history of science and medicine, she published The Concept of the Virus: A History and Genentech: The Beginnings of Biotech, as well as articles in Isis, The Bulletin of the History of Medicine, and The Oral History Review, as well as numerous book reviews.
Ann Lage (retired) is an affiliate scholar and Academic Specialist, Emerita. She retired in 2011 as a research interviewer in the fields of natural resources and the environment; California political and social history; and the history of the University of California. She directed projects on the disability rights movement, the Department of History at Berkeley, the Berkeley Office of the President, the Sierra Club, and the Point Reyes National Seashore. Ann served as associate director of the Regional Oral History Office from 1994 to 2000 and acting director in 2000-2001. She holds a BA and MA in History from Berkeley.
Martin Meeker (retired) was with OHC from 2003, when he was a Social Science Research Council postdoctoral fellow, until his retirement in 2022. Between 2004 and 2012, Meeker served as an interviewer/historian with the center and conducted interviews in several areas, including the history of politics and public policy, health care delivery systems and medical research, and wine and foodways. Between 2012 and 2016, Meeker was associate director of the center and from 2016 to 2022 he served as the center's fifth director. After receiving his doctorate in U.S. history from the University of Southern California, Meeker taught at San Francisco State University and at UC Berkeley. He has published numerous reviews and encyclopedia articles and has essays published in Pacific Historical Review, Journal of the History of Sexuality, and Journal of Women's History. Meeker's books include The Oakland Army Base: An Oral History (2010) and Contacts Desired: Gay and Lesbian Communications and Community, 1940s-1970s (2006).
Lisa Rubens (retired) is a Historian and Academic Specialist, Emerita. While at OHC, she worked on a wide range of projects including Women at UC Berkeley, social movements and community politics in the Bay Area [Berkeley's 1964 Free Speech Movement; The Oakland Army Base; and Affordable Housing], and the San Francisco Museum of Modern Art. Her own research has centered on the interpretation and reception of mass culture and the role of women, labor and students in social movements and politics. Rubens taught for ten years at the community and state college levels before receiving her PhD in U.S. history from UC Berkeley in 1997. Her dissertation on San Francisco's 1939 World's Fair is a cultural and political history of race and regionalism, currently under review for publication by the University of Pennsylvania Press. She has written monographs reviews as well as curriculum about labor and California women's history, and served on the advisory board of the California Museum of History, Women and the Arts. Dr. Rubens created the Advanced Oral History Summer Institute for OHC in 2002, serving as director until 2009. Contact Lisa Rubens at lrubens@berkeley.edu.
Don Warrin (retired) is a Historian/Interviewer. He began work at OHC in 2002 and served as Associate Director from 2003-2005. He then continued as an oral historian for the next decade. His specialty was the Portuguese community of California. His PhD in Portuguese was earned in 1975 from New York University. Subsequently he was a professor of Portuguese and Spanish at Cal State East Bay until his early retirement. Over the years his research and publications shifted from literature to history, leading to books such as Land As Far As the Eye Can See: Portuguese in the Old West and So Ends This Day: The Portuguese in American Whaling.
Funding
The Oral History Center currently receives (and historically has received) only a very small portion of its operating budget from the university or the State of California. Throughout most of its history, OHC expenses — including staff salaries and benefits, equipment, transcription, and travel — have been funded through a mixture of charitable donations by individuals and corporations and grants and contracts in support of specific oral history projects.
The OHC also benefits from a small number of endowments, which support the position of the Center's director and new project research and development. Most of the funding received, either from donations, contracts, or endowments, is earmarked for specific oral history projects. As a result, the OHC is not typically in a position to pick and choose precisely the projects we undertake and the individuals we interview without first securing the necessary funding.
Thus, we actively seek partnerships with individuals, foundations, agencies, and corporations that will work with us to establish a research agenda that responds to the needs of students, scholars, and the public at large. 
Please donate to support oral history at UC Berkeley. Contact us for more information about our funding needs for present and future projects.