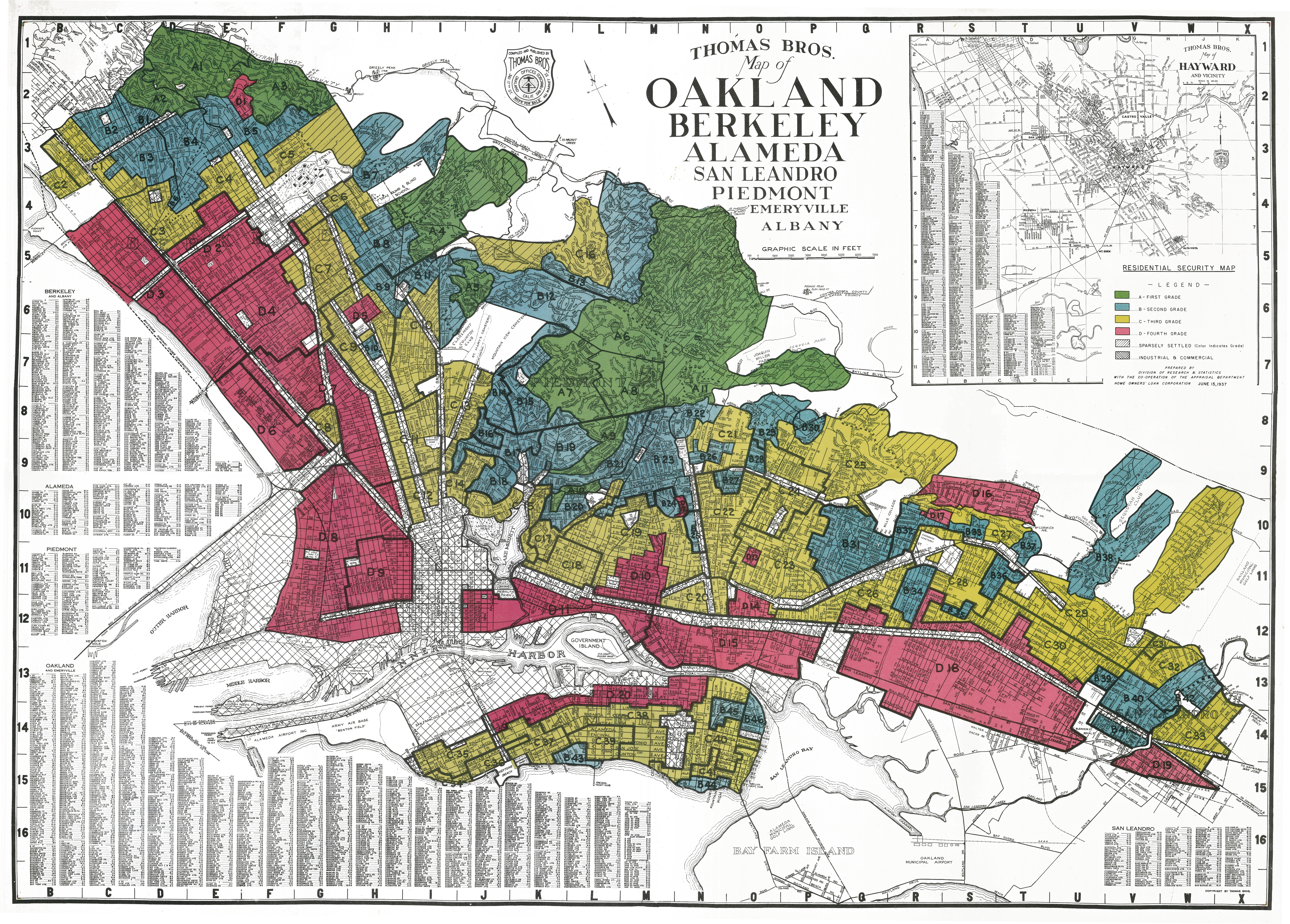 It was a racist policy enacted over 80 years ago, but its aftermath dribbles on — all the way to the babies born today, new research shows.
Using historical maps and modern birth data, UC Berkeley researchers have found that babies born in California neighborhoods historically redlined — denied federal investments based on the discriminatory lending practices of the 1930s — are now more likely to have poorer health outcomes. The study was published open access, freely available to the public, through the UC Berkeley Library, ensuring that evidence of redlining's insidious effects can be shared as widely as possible — and acted upon.
"People often say, 'That was a racist policy from the 1930s — 80 years have passed, and we don't do that anymore,'" says Rachel Morello-Frosch, an author of the study and a professor in UC Berkeley's School of Public Health and the Department of Environmental Science, Policy, and Management. "Studies like this show that these legacies of structural racism, even though they happened many, many decades ago, are still exerting their health effects today.
"Many of us had nothing to do with those racist policies," she continues. "But we are responsible for addressing their current-day effects."
The research team compared publicly available birth outcome data from 2006 to 2015 with maps drawn by the now-defunct Home Owners' Loan Corp., or HOLC — the government-sponsored body tasked with assessing lending and insurance risks. A dominant factor in those assessments was race, with entire communities of color swathed in bright red.
Banks and financial firms around the country followed the maps, refusing mortgage loans to people of color. Meanwhile — in the era of the New Deal — homeownership for white America was booming.
"One of the fundamental ways in which we create and generate wealth is through homeownership, and the equity that emanates from homeownership," says Morello-Frosch. "You have literally entire neighborhoods that were denied the opportunity of wealth accumulation, … and that has generational effects."
The new study, published in the open access journal PLOS One, looks specifically at health disparities in Los Angeles, San Francisco, and Oakland. Researchers found that babies born in neighborhoods with worse HOLC grades today experience significantly more cases of preterm birth, small gestational size, and infant mortality.
But that's just one piece of the 10,000-piece puzzle. As the study notes, the decadeslong lack of municipal investment and maintenance in redlined neighborhoods has also led to greater poverty, poorer housing, less green space, and increased pollution in those areas (among other harmful consequences).
"The effects of racism are not vanquished by simply changing a law," says Anthony Nardone, lead author of the PLOS study and a medical student in the UC Berkeley-UCSF Joint Medical Program. "It will take intentional dismantling of power structures, regular critical reflection, and collective action to undo these deeply embedded problems."
For Morello-Frosch, the goal is for this study, and others like it, to make its way to city planners, public health practitioners, and policymakers who can use the literature to address structural inequities.
That's why it was so important to make the study free to the public, she says. The study was published open access using funding from the Library's Berkeley Research Impact Initiative, or BRII, which covers the article processing fees for Berkeley authors publishing in open journals.
"This funding help was essential in enabling us to get that study out there," Morello-Frosch says.
Ultimately, Morello-Frosch and Nardone hope that evidence of redlining's legacy can help pave the way for justice — a future in which the same maps used to disenfranchise people of color could be used to direct money to affordable housing, community services, and public health.
"I hope our study can serve as a bullet point, or a footnote to a bullet point, in the case for reparations and for future housing equity legislation," Nardone says. "These fights are ongoing and demand justice."