NRLF, the giant storage complex in Richmond, is running out of space.
But not for much longer.
On Thursday, about 40 NRLF devotees — including architects and champions from UC Berkeley and across the University of California system — descended upon the facility to celebrate the ceremonial groundbreaking of the new addition to the sprawling complex.
Guests were treated to a pop-up exhibit exploring the growth of NRLF throughout the years, as well as what to expect from the expansion, and tours of the facility.
The UC Regents gave final approval and full funding to the new phase — called Phase 4 — last year. The 26,000-square-foot addition will add the capacity for 3.1 million more print materials, and will provide a cost-effective way to store valuable knowledge for years to come.
The Northern Regional Library Facility, as it's officially called, houses "the collective wisdom of generations," UC Berkeley University Librarian Jeffrey MacKie-Mason said at the event.
An oasis of shared knowledge, NRLF is packed with materials from Northern California libraries in a variety of formats, from newspapers to maps to books of all sizes to motion pictures to audio recordings. Along with its counterpart, SRLF, in Los Angeles, NRLF ships its materials to libraries throughout the University of California system, as well as outside institutions — providing a wealth of vital information to a broad audience of researchers and creators around the world.
"This is not a cold storage facility," MacKie-Mason said. "This is active storage. We're moving items every day from (NRLF and SRLF) to the 10 campuses."
MacKie-Mason also highlighted the support of UC President Janet Napolitano and her conviction that the facility, 7 miles from the UC Berkeley campus, benefits people not just here, but across the entire 10-campus university system.
"She believes very much in the power of 10," he said.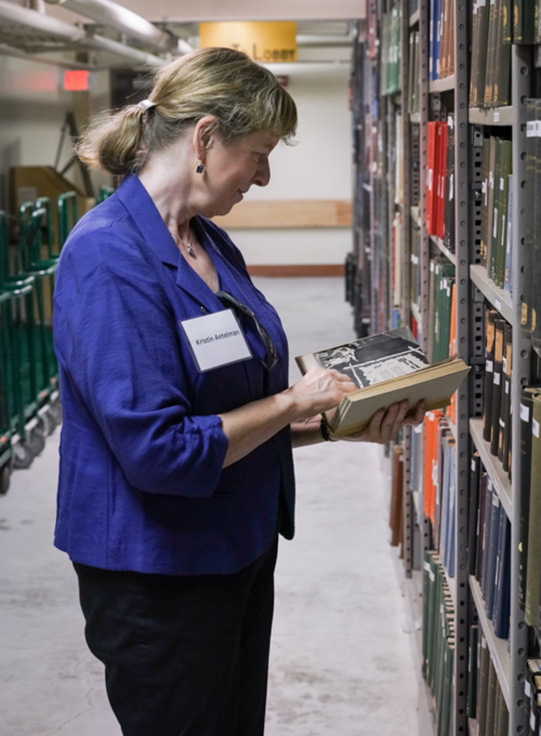 Top to bottom:

Clockwise from left:

UC Santa Barbara University Librarian Kristin Antelman looks at a book; Carlson applauds those who helped get funding for the NRLF Phase 4 building; MacKie-Mason offers a toast.