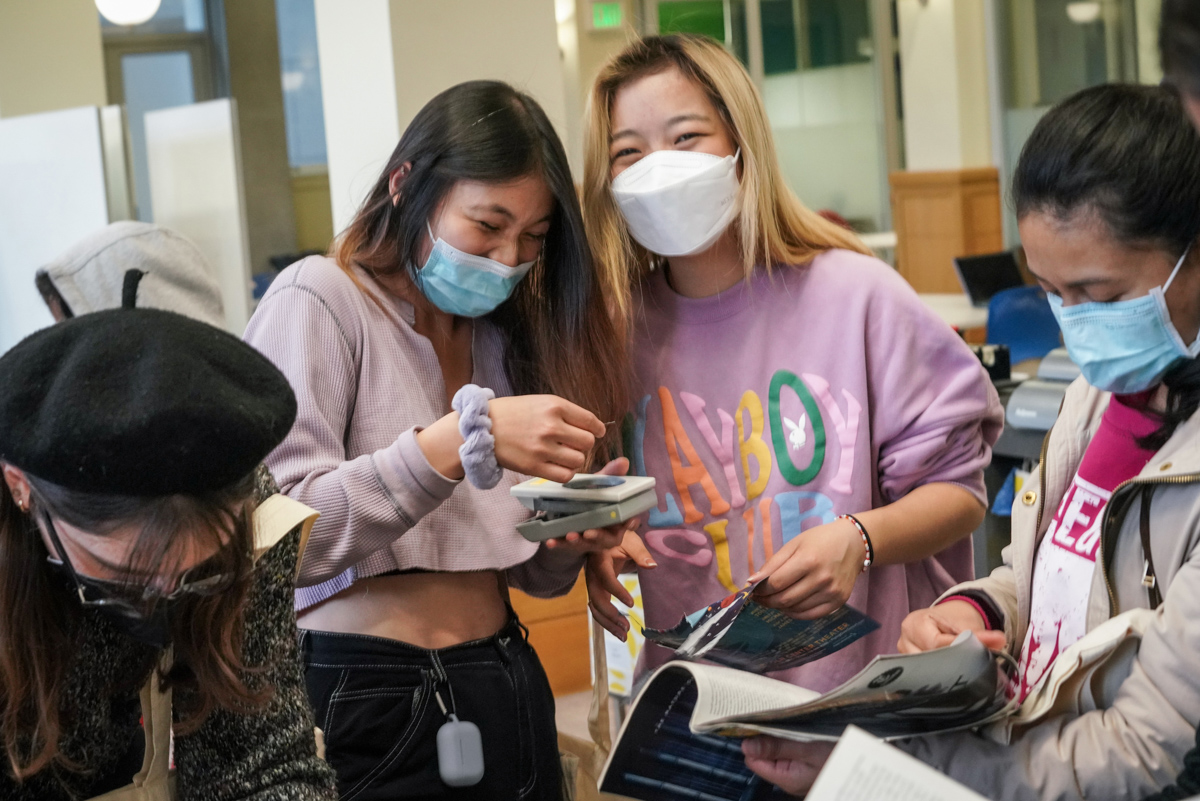 Let's just say you are studying otters' teeth. No, really. Go with me here.
You're hoping to scan the teeth at about 400 times their original size, so you can 3-D print some monstrously large molars and examine them, without needing to put your fingers in one of the famously feisty mammals' mouths. 
Where would you go to find the tools and support you need to make that happen?
The UC Berkeley Library's Makerspace, located on the first floor of Doe Library, is a crafter's paradise, and a surprising educational resource for Cal students who like to learn with their hands.
Visit on a random afternoon, and you might find a student sewing a dress made from repurposed ocean plastic for an architectural landscape class or building a robotic hand that will wave at passersby for an engineering project. (All actual examples, including the otters' teeth.)
"I try not to make it feel like school, even though you're learning things, and it is a kind of lab," says Annalise Phillips, the Library's maker education service lead, who oversees the site and its offerings. "It's a weird, homey, organic space as opposed to a sterile and pristine learning environment."
Compared with the other excellent makerspaces on campus, the Library's caters to novices, often undergraduates who have yet to begin specialized training in their respective departments,  according to Phillips. There isn't any formal orientation needed to get started (although ensuring student safety through consistent supervision and support is a top priority), and it's free to use.
Katherine Y. Chen, a rhetoric major on track to graduate in 2023, says the Makerspace is a unique place for students to explore their creative ideas and execute on a project.
With support from Phillips, Chen created a custom jigsaw puzzle for a rhetoric midterm. "I had a very specific image in my head of what I wanted the jigsaw to look like," she says. "I learned how to use Adobe Photoshop to create a visual mockup, and after some trial and error, I was able to create my project."
Top to bottom:

Left to right: Then-student

 Quincy Laris paints 3-D printed Dungeons and Dragons characters in the Makerspace; Annalise Phillips, Maker education service lead, describes the learning space as weird, homey, and organic. (Photos by Jami Smith and Violet Carter for the UC Berkeley Library)
Impact beyond academics 
While Chen used the Makerspace's physical and virtual tools for an academic project, other students visit during drop-in hours each week to take their minds off of school.
Quincy Laris, who graduated this year from the university's civil and environmental engineering program, utilized the space as a creative outlet, mainly for personal projects such as crafting gaming miniatures. (All hail the Dungeon Master.)
"I think almost everyone can find something they'll enjoy doing," he says.
That list of enjoyables includes everything from sewing to soldering, 3-D modeling to button-making, and much more. And the experience comes with a bonus: community. You'll often see strangers chatting about creative endeavors. Regulars tend to help first-timers, and the whole atmosphere radiates with the warmth of collaboration. 
At a school known for high achievement — and the accompanying stress — the Makerspace is also a place for students to experiment without fear of failing.
That's not common in higher education, where everything is assessed, says Nicole Brown, the head of the Library's Instruction Services Division, which includes the Makerspace.
"Failure is not an option for a lot of students at Berkeley. They've worked very hard to get here," she says. "It's rare to have the opportunity within coursework to do something that can actually fail.
"But failure is an important step on the path to success."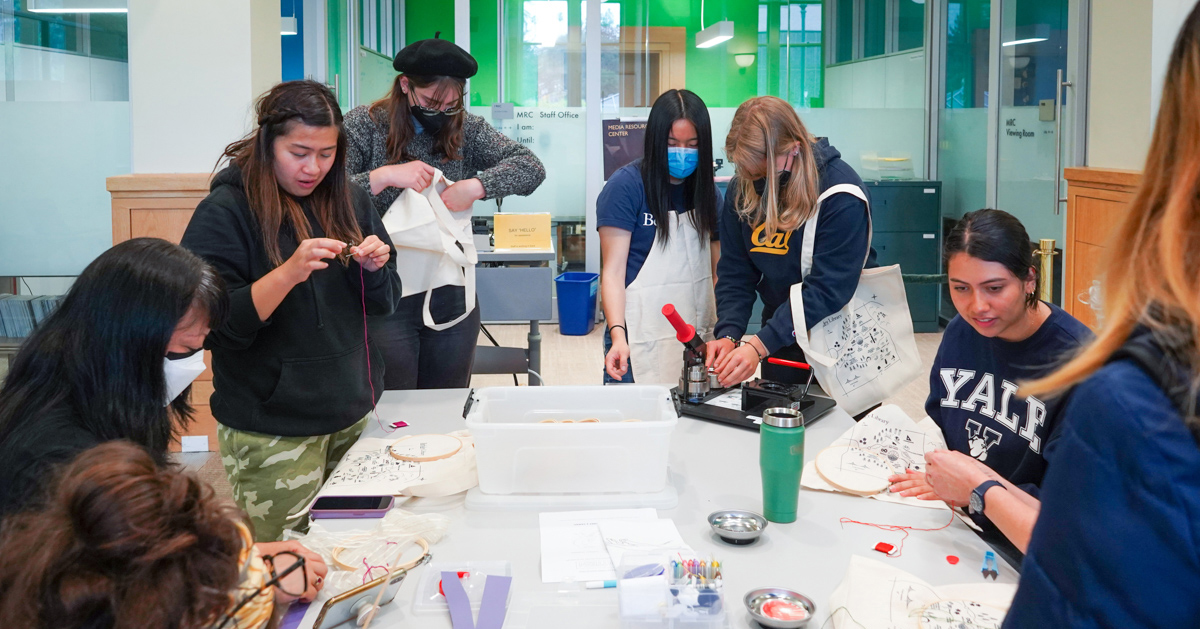 Making the future 
The current iteration of the Library's Makerspace began to take shape in 2018, when the UC Berkeley community engaged in a visioning process to reimagine Moffitt undergraduate library into a new, innovative space for investigation, collaboration, and creation called the Center for Connected Learning. Brown recalls how "making" was identified by participants as a core component of the building renovation project.
The Makerspace's focus sharpened further when Phillips came on board in 2019. With expertise as an educator and maker, she brought real intention to assessing how to best serve students. 
Two location changes — and a pandemic — have not slowed that momentum. With the Makerspace ticketed for a more prominent location in the Center for Connected Learning, Phillips sees the current "experimental phase" as an opportunity to try out different service models. The pandemic, for example, allowed her to examine the benefits of virtual programming.
One goal that is set in stone is continuing to cultivate an inclusive environment. To that end, four students participating in the Undergraduate Library Fellows program spent the past academic year studying how nontraditional college students access and use the space. (The fellowship program promotes peer-to-peer learning and mentorship opportunities with the shared goal of improving Library services and spaces.) 
The group's final project was a workshop intended to raise awareness about the space among students from marginalized communities. 
Starting this fall, four new Library fellows will work in the Makerspace, assisting others to dream, tinker, and build.
Phillips says she is excited to do focused outreach to student clubs and attend a national conference on higher ed makerspaces this year. 
All of this work is, of course, in the service of students — and the future. 
For Brown, the transdisciplinary Makerspace helps students build the skills they need to create real, tangible change.
"The world right now needs people who can engage like this, who can demonstrate flexible thinking, be really comfortable with experimentation, and failure, knowing it is a process," she says. "People who are able to think this way, and can work across boundaries, will be able to solve the big problems we have in our society."