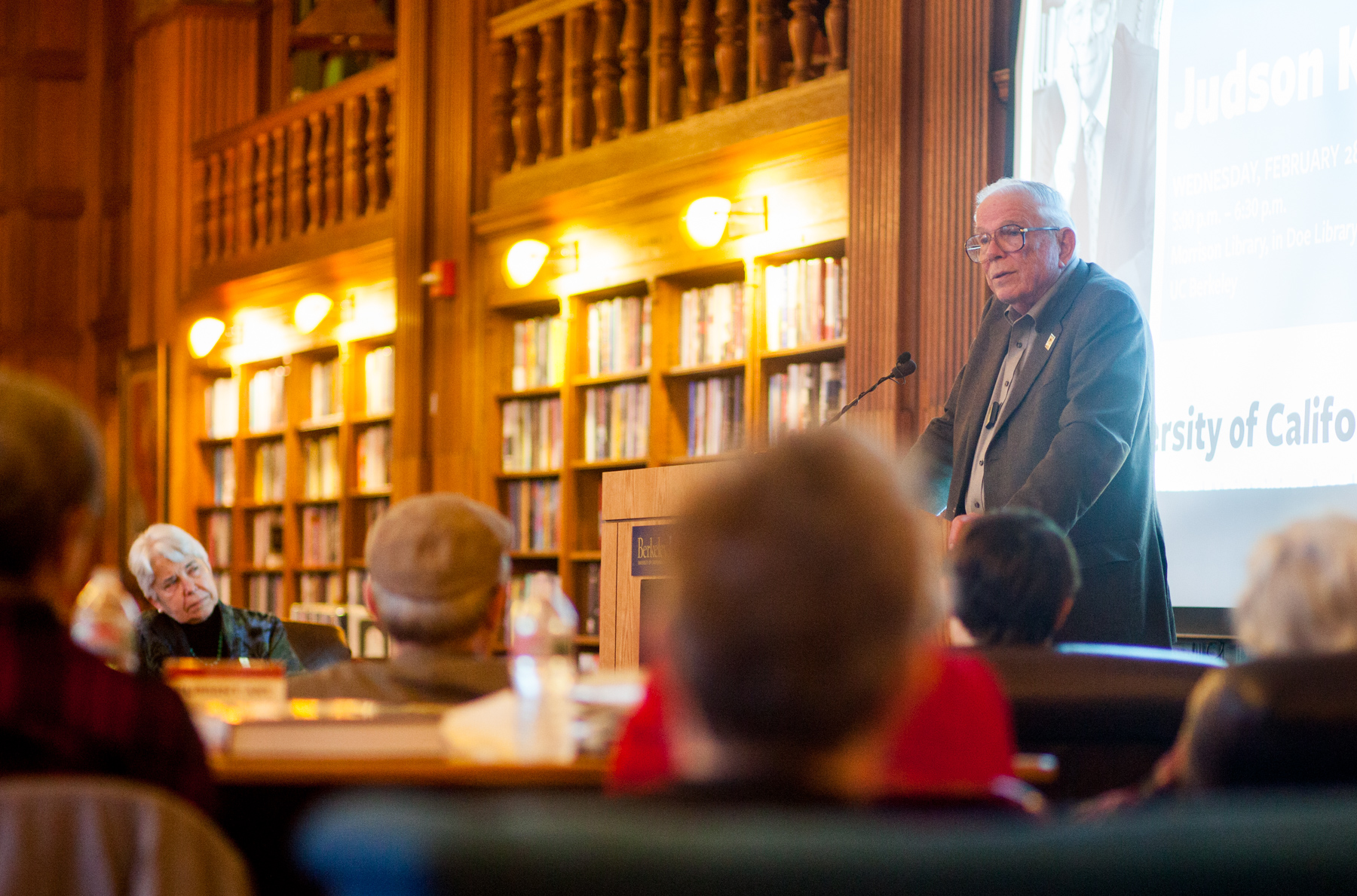 In 2004, longtime UC Berkeley chemical engineering professor and renowned University of California administrator C. Judson King had to make a choice: to return to the world of chemical engineering — his first home — or commit himself permanently to scholarship and policy work in higher education.
At the time, King had just stepped down as the provost of the University of California, where he'd spent a decade managing the university's daily operations and learning the ins and outs of the UC system. As provost, King would often stop by Berkeley after work to check on his chemical engineering students, making a pit stop on his way home from UC headquarters in Oakland to his house in Kensington.
As of 2004, King's last student had only recently graduated, and his last paper in chemical engineering had published just a few years prior. He could have easily slid back into research — his seat in the laboratory was still warm.
"I made a fundamental decision," King said from his office in Gilman Hall, home of the College of Chemistry. "I decided I would be more valuable to the world trying to do scholarship on all that had come into my mind during all of these administrative posts" — which, aside from UC provost, have included Chemical Engineering Department chair, dean of the College of Chemistry, provost for Berkeley's Professional Schools and Colleges, and UC vice provost for research.
So King returned to education policy, becoming director of Berkeley's Center for Studies in Higher Education.
Now, after 11 years of directing the center, King has published a 764-page book delving into all that he has learned over a 55-year career with the University of California. The book, The University of California: Creating, Nurturing, and Maintaining Academic Quality in a Public University Setting, published in January, doubles as an in-depth history of the UC and its 10 campuses and a thoughtful discussion of the factors and decisions responsible for the UC's past, present, and, with care, future eminence.
On Wednesday, a crowd of former administrators, community members, and old colleagues from Chemical Engineering filled Morrison Library for an event commemorating the launch of the new book.
To begin the event, King described to the audience why he felt compelled to write it.
"In all of these administrative jobs, I would receive lots of visitors and lots of visitor groups — and 90 percent of the time, what they wanted to discuss was some version of, 'Tell me how the University of California became what it is. What is the secret sauce?'" King said. "And, by inference, how can we do it, too?"
"Of course, the answer you'd like to give is, 'Oh, yes, well, read this something or other,'" he continued. "But there wasn't a something or other to aim them to."
King spent three years researching and writing. In the book, "like any good engineer," he jokes, King offers a definitive list of the factors he feels have most contributed to the UC's success.
Among the most important, according to King, was the 1960 California Master Plan for Higher Education, which defined a symbiotic structure and set of goals for the state's college institutions; the decision during the administration of Clark Kerr, former president of the University of California, to build six new universities into the UC; and the university's unique system for faculty peer review and advancement.
King also attributes the UC's success to historically strong levels of support from the state. He notes, however, that the state no longer funds that master plan it helped build. State appropriations to the UC dropped by 20 percent in just six years, from 1990 to 1996, he writes.
"I considered writing this book entirely in the past and present tense with no future consideration at all," King said. "And as I went along, I decided: I can't do that."
At the end of the book — in the hardest chapter to write, he said — King discusses possibilities for the UC going forward, including a more individual approach to fundraising based on the neighboring industries for each campus.
"This is, I think, going to be the authoritative book … about two questions that are important for us, and for the world of scholarship in higher education, which are: What have been the policy choices on the part of the state, the Regents, and the UC, at the various campuses, that have made this system the very best public university system in the world," UC Berkeley Chancellor Carol Christ said at the event. "And, what are the questions that the system must answer now to be as great 10 years from now, 20 years from now, 30 years from now?"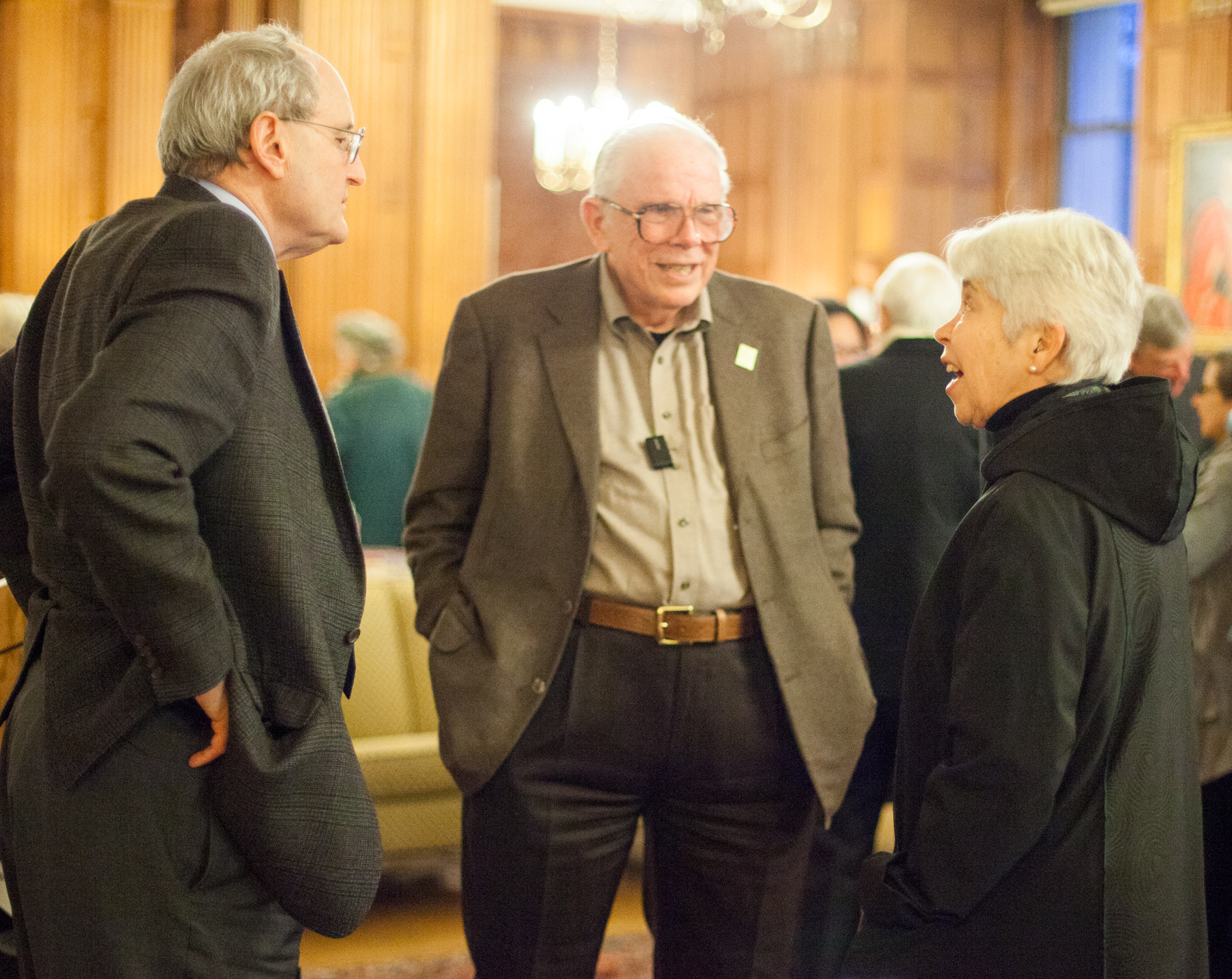 Christ and King worked closely together as partner provosts of Berkeley's College of Letters and Sciences and Professional Schools and Colleges, respectively. (Christ remarked that San Francisco columnist Herb Caen once wrote that, under that duo, Berkeley was "well within the hands of the Church and the State".) Christ smiled heartily while introducing King, commenting on his "masterful" leadership, wisdom, and unassuming nature.
"This is now one of my main reference books when I write things for various UC audiences," Christ said. "We all owe (King) a debt of enormous gratitude that he did what I believe is a labor of love."
The book is close to King's heart for many reasons. During his time as UC provost, King helped launch both the California Digital Library, one of the world's largest online libraries, and eScholarship, the University of California's open access, electronic repository for publications by UC authors. King is passionate about the power of open access materials to strengthen scholarship and has made his book freely available online through eScholarship. The goal, King said, is to allow administrators in developing countries interested in building a university to access his book free of restraints.
Before King took to the lectern, University Librarian Jeffrey MacKie-Mason spoke to the audience about the importance of open access efforts — especially as state funding to universities continues to decline and campus libraries, in turn, struggle to purchase and make available the "incredible scholarship generated around the world," he said.
The Library's own budget for collections was recently cut, MacKie-Mason said. In response, the Library has worked diligently to support models of dissemination that reduce barriers to access and enable scholars to maximize their research impact, he said.
"Without transformation in scholarly publishing — an industry that has become extraordinarily expensive, heavily monopolized and very unfriendly and unfavorable to universities — researchers' ability to access new knowledge that might inspire world-changing innovation is going to be increasingly impaired," MacKie-Mason said.
King has experienced the role of open access publishing in spreading scientific knowledge firsthand. In 1980, King published a second edition of a seminal chemical engineering textbook he'd written on separation processes — operations that pull apart two or more chemicals in a mixture, like in the purification of seawater. After the book went out of print, King put it on eScholarship. Today, the book racks up 100 to 150 downloads per month on the digital platform, King said — which is equivalent to what it sold when it was brand-new. That highlighted for King the potential of open access publishing to help countless researchers around the world.
To maximize his new book's reach, King worked with the Library's Scholarly Communication Services arm to release the book in several formats, including an e-reader edition.
"Why did I try to do it that way?" King asked. "I wanted readership, and particularly readership in developing parts of the world, more than I wanted income."
"I, like any other scholar, would like to have my work seen, read, and thought about," he said.