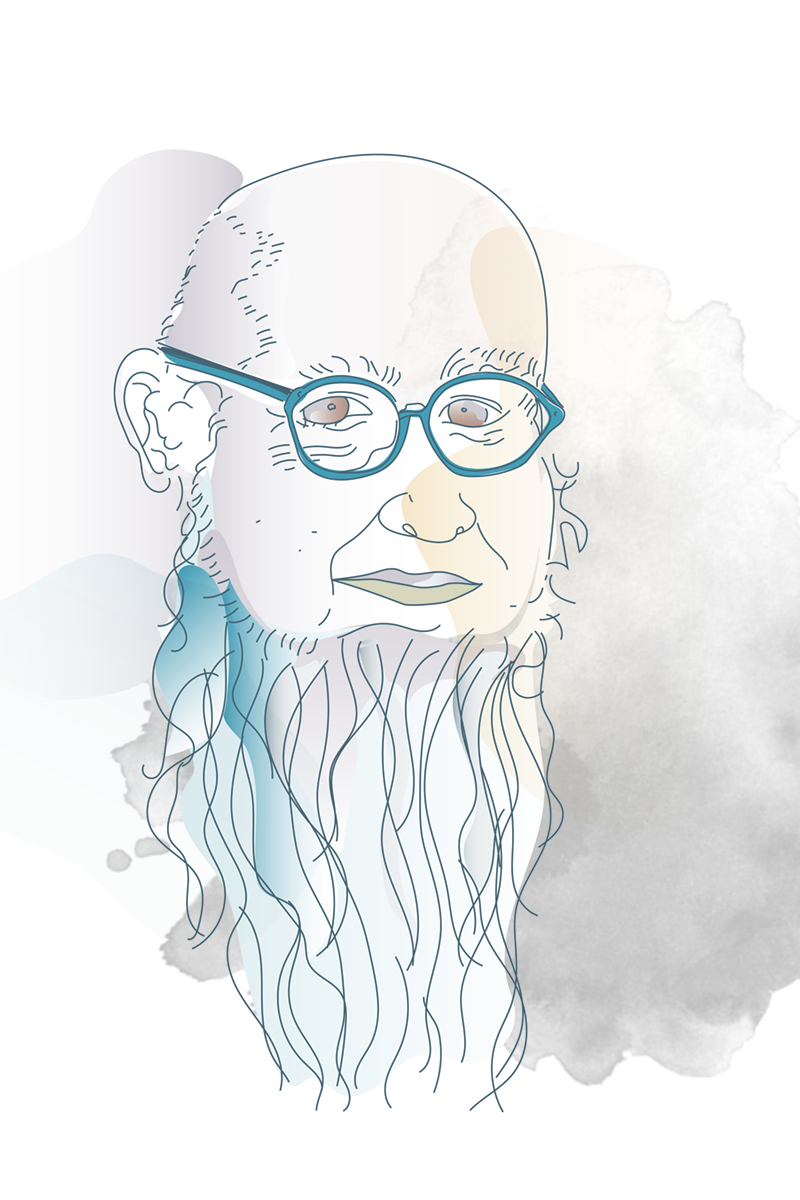 Every image is a treasure.
And James Eason and his colleagues at The Bancroft Library draw the "X" that marks the spot.
Eason, Bancroft's principal archivist for pictorial collections, and his team carry out their work behind the curtain. Together, they deftly house and organize the library's wealth of images, including all manner of photographs, posters, prints, drawings, and paintings. By providing written descriptions of images and creating a finding aid for each collection (that's the treasure map, of sorts) the team makes Bancroft's visual gems easier to find online, and steers researchers in the right direction when requesting and poring over items in the reading room. (Bancroft's collections are open to the public, and everyone is welcome to come see these materials.)
Working from home after the pandemic hit, Eason turned his attention to a noteworthy piece of the library's collections: photographs by Eadweard Muybridge, whose series of images from the 1870s capturing a horse's gallop was a precursor to the modern motion picture (and, for that matter, the GIF).
Before his pioneering studies of animal locomotion, Muybridge was a commercial photographer in San Francisco. Bancroft holds sample albums from his studio: Digitized in the mid-1990s, they were among the first special collections materials in the country to be made available online.
But there was a problem: Some of the digitized images' descriptions, sourced from handwritten notes in the albums, became mismatched. On top of that, the information on each item was often scant — sometimes just a couple of words — and cryptic. By looking at the digital images and the original notes, Eason realigned the photographs with their rightful descriptions. Through his own sleuthing, he enhanced the collection with more context, a boon for future researchers examining the iconic photographer's work or searching for the subjects he photographed. By consulting the online archives of the San Francisco Chronicle, for example, Eason was able to fill in key details about a series of photographs of a steamer ship in dry dock in San Francisco that would otherwise be inscrutable to researchers.
"This is where my job gets the most fun and also rewarding," says Eason, who joined the staff at Bancroft in 1993. "I can use knowledge I developed over 30 years of working with collections like this."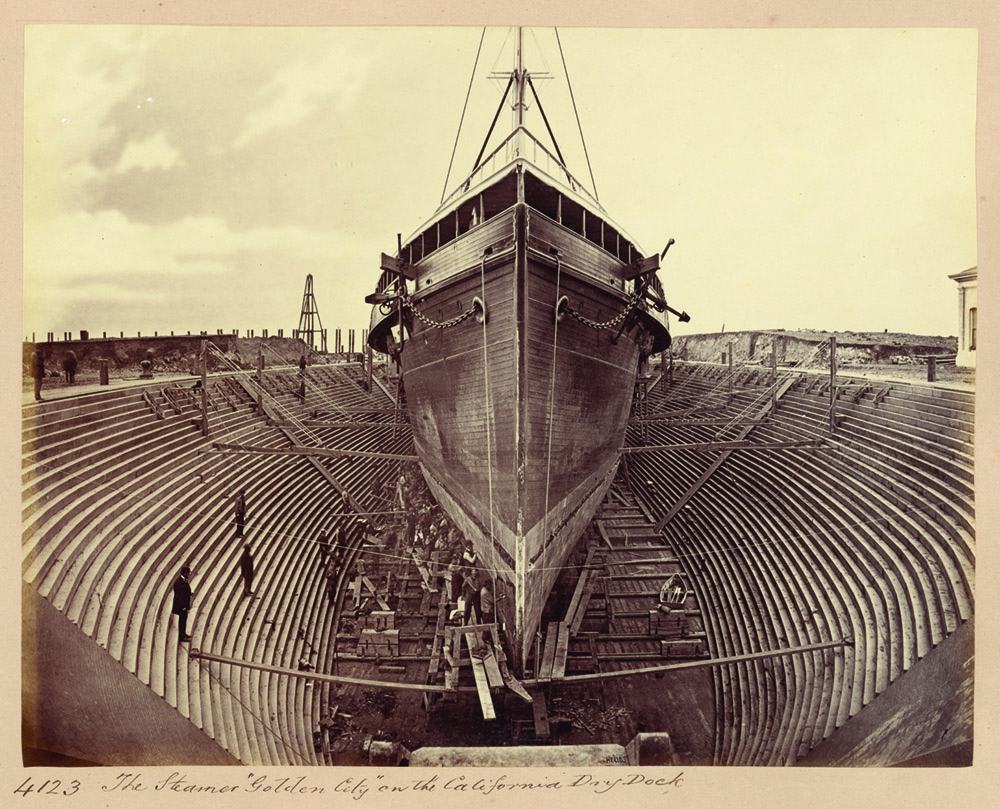 Bancroft's collections of visual materials are massive, with an estimated 9.5 million images. Eason's passion for 19th-century photography, in particular, is braided into his work at Bancroft. Among the most gratifying projects he has been involved with, he says, was a grant-funded effort in the late 1990s to physically conserve, describe, and digitize daguerreotypes, ambrotypes, and early tintypes from the mid-1800s. Among the images — on plates of silver housed in little handheld cases — are photographs of mining operations and boomtowns of the Gold Rush era. "Those are exceedingly rare and precious," Eason says. Notably, the collection also includes an image of a young Samuel Clemens, more than a decade away from gaining widespread recognition as Mark Twain.
But Eason's interests extend past the 19th century: He expresses a fondness for the work of Ted Streshinksy and Charles Gatewood, whose photograph archives are held at Bancroft. Streshinsky, a Berkeley local, and Gatewood, who moved to San Francisco in the 1980s, are most known for their striking visual dispatches from the counterculture. Streshinsky's subjects include Ken Kesey and the Merry Pranksters, and Joan Didion, whom he accompanied in the Haight-Ashbury district of San Francisco for her seminal essay "Slouching Towards Bethlehem." Gatewood trained his lens on people on society's fringes, including members of the sexual underground, as well as compelling, strange figures from across the country, photos of whom are collected in his book Sidetripping (with words by William S. Burroughs). While preparing Gatewood's archive to be moved to Bancroft, Eason spent many hours in the photographer's home. "He was a completely charming guy," Eason says.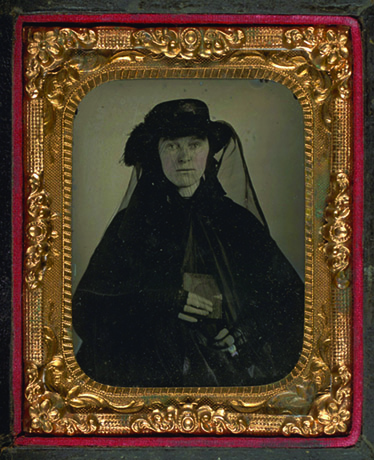 Top to bottom:

Left to right:

Cased photographs from the mid-1800s held by The Bancroft Library show five riverbed miners in a rocky gulch, and a young Gold Rush widow, the mother of Nellie Mayhood, of Oakland, holding a daguerreotype. (The Bancroft Library, Cased Photographs from the Pictorial Collections, BANC PIC 1905.16242:079--CASE and BANC PIC 1905.16242:004--CASE)
"He approached all his subjects with a sense of humor that really comes through," he says. "Even in the most twisted scene, there's a humorous undertone to it, and a humanity to it." Eason's penchant for the old and the obscure extends beyond his work life.
As a kid, Eason's mother, a piano teacher, urged him to learn an instrument. "When she was trying to pin me down to an instrument I would take up, I might have said bagpipes just to be difficult," he says. "And she found me a teacher. She called my bluff."
Eason played the instrument through his teenage years, which helped fuel an interest in Scotland. That interest was cemented during a year abroad in Edinburgh, as a junior in college. Nowadays, Eason visits the country "pretty much every other year," to connect with friends, hill walk in the Highlands, and take in the scenery. Eason also collects 19th-century volumes on certain areas of Scotland, an outcropping of not only his affinity for the country, but his love of history and books, which drove him to a life in libraries, and special collections, in the first place.
"I'm a little bit of an antiquarian, I suppose, at heart, in an old-school Victorian curiosity cabinet kind of way," Eason says, smiling.
"Maybe that's where the beard comes from as well," he adds. "I look at too many Victorian things, and it's contagious."