Can you describe UC Berkeley in one word?
That's what we asked Library visitors on this year's Cal Day — UC Berkeley's open house, which draws hordes of people to campus each year for a Cal-themed cornucopia of events and experiences. This year, libraries across campus are abuzz with activities, too — from Doe's $1 Book Sale, a perennial favorite, to a virtual reality showcase, to a dinosaur meet-and-greet.
Here's what Library visitors had to say about UC Berkeley.
'The dream'
"These books are history — they not only contain history, but they're history itself," said Sabrina Chui '21, who left Doe Library's $1 Book Sale with a mound of books for her and her friends on everything from optometry and the human body to Antarctica and gender issues in forestry. "This one is tattered here, but you can tell it's been well-loved."
'Ex(c)iting'
"A pterodactyl is not a dinosaur, it's a pterosaur," said Nolan Kernaghan, 8, describing the fossils on display at the Bioscience, Natural Resources & Public Health Library. "There are three types of reptiles that lived in the time of the dinosaurs: dinosaurs, pterosaurs, and marine reptiles — the swimming ones like the plesiosaur." Nolan, who called his first trip to campus "exciting," has borrowed nearly every book about dinosaurs available at his local library, he said.
'Amazing'
"It feels like books and ideas are really serious here — like learning and growth is elevated, respected, encouraged, and divine," said Martina Joffe, a fifth-grade teacher at Highland Elementary School in Richmond who was visiting Morrison Library with some of her students. "I brought them here to encourage them to not be discouraged and to follow their dreams and to read."
"Because some kids, they've been told since they were little that they have a learning disability, and people don't believe in them," she added. "That makes me angry. So I said, I need to take them to Berkeley."
'Intense'
"I'm Vietnamese, so this is part of my heritage," said Austin Do '20, who stopped by the South/Southeast Asia Library to view a collection of handmade woodblock prints from the Dong Ho village of Vietnam. "I want to find out more about how they're made, and the historical significance."
Do, who described Berkeley as "intense," likes to study in the South/Southeast Asia Library's peaceful spaces.
'Driven'
"(The lion dance) is something that has been so traditional for so long, and it's nice to be able to express my own connection to it individually," said Maggie Chang '19, who dazzled campus visitors outside the Ethnic Studies Library with the costumed dance, thought to bring good luck and fortune. "And the audience is having so much fun, especially when you run around and interact."
"The kids really like it," she added. "Or they're really scared — one or the other."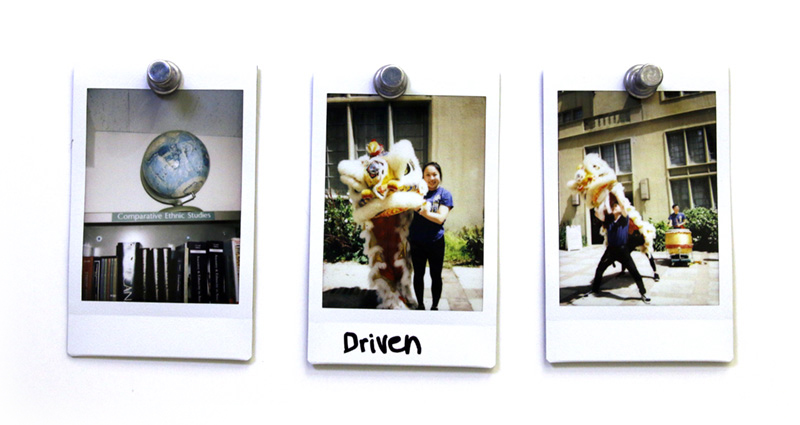 'Innovative'
"I'm really excited — Berkeley was my dream school," said Mason Smith, an incoming freshman hoping to major in computer science. Mason stopped by the Engineering Library to try out demos led by Virtual Reality at Berkeley and learn more about the club. "That sort of immersion is really fun," he said of the technology.