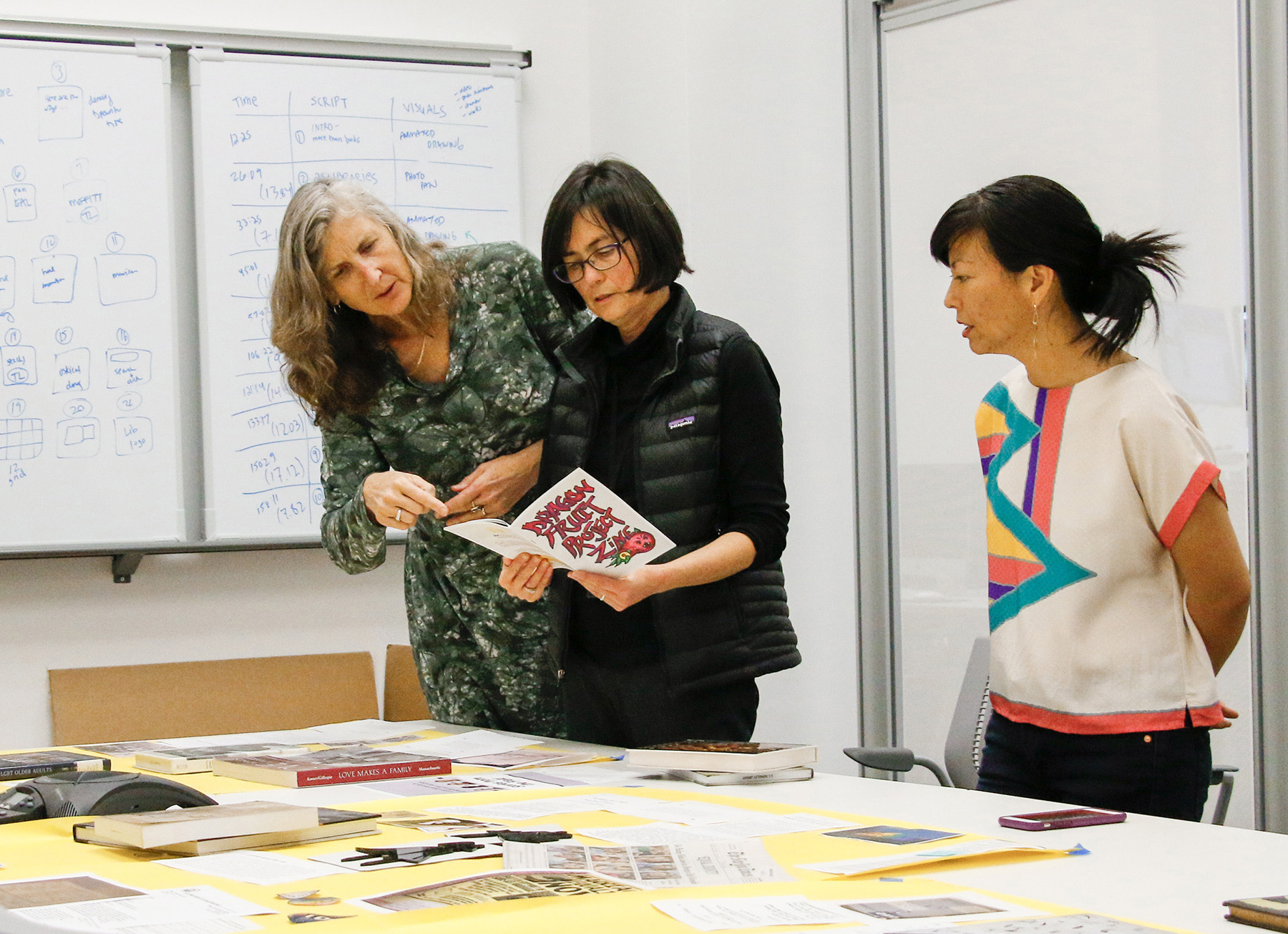 Behind each document is a story. 
There's the Civil War soldier who was assigned female at birth and fought as a man. The 19th-century Zuni tribe member in New Mexico who was assigned male at birth and lived as a woman — and went on to meet the president. The pro-gay magazine that in the 1950s helped pave the way for LGBTQ rights.
Before looking into what the public record had to say about LGBTQ people, Jesse Silva says, "We didn't realize we were going to find so much."
Silva, UC Berkeley's librarian for government information, political science, and public policy, came up with the idea of looking at the LGBTQ movement through the public record for a pair of presentations in 2016 — one at a conference outside of Washington, D.C., and one at UC Berkeley. 
Now the topic is the focus of a new exhibit, with Silva serving as one of the lead curators.
We're Here, We're Queer, We're in the Public Record! — on display in Doe Library's Brown Gallery starting March 15 — brings to life stories from the LGBTQ movement through government documents, art, posters, and other materials from the UC Berkeley Library's collections.
"The mission … is to highlight materials from our Library," says Margaret Phillips, UC Berkeley's librarian for gender and women's studies, education, and psychology, who shares the role of lead curator with Silva. "We can provide a glimpse of LGBTQ history because of the Library — because the Library has preserved and collected it."
'Way beyond a wedding cake'
The exhibit — put together by an eight-person team, made up of members of the LGBTQ community and allies — is broken into themes: military, family and marriage, health, immigration, education, the arts, labor, and terminology.
And the subject matter runs the emotional gamut, from joyous to heartbreaking.
One of the topics that spoke to co-curator Susan Edwards, the head of the Library's Social Sciences Division, was family and marriage.
The fight for same-sex marriage has been hard-fought, hitting a major milestone in June 2015, when the Supreme Court made it legal in all 50 states. Although some members of the LGBTQ community object to same-sex marriage, saying its acceptance marks the unwanted embrace of a heteronormative institution, others see it as a crucial victory.
"I think the psychological impact of institutions shifting is huge," Edwards says.
Featured in the exhibit is a copy of the marriage certificate of Del Martin and Phyllis Lyon, early lesbian rights activists and the first same-sex couple to legally marry in California — the San Francisco Public Library holds the original certificate — and a photo of the White House when, during the presidency of Barack Obama, it was lit up with rainbow colors to mark the nationwide legalization of gay marriage. 
The landmark 2015 court ruling granted same-sex couples the benefits they've historically been excluded from — hospital visits, health insurance, and inheritance rights, among them.
"There's 1,400 legal rights embedded in a marriage license," Edwards says. "It goes way beyond a wedding cake."
The decision was a "watershed moment" that had a galvanizing effect on many activists, she says.
"People were kind of radicalized by it," she says. "Like, 'I'm not going back. I'm going to (push) forward for other rights.'"
But the exhibit also explores a darker time for the LGBTQ community.
William Benemann — a UC Berkeley alum who served as one of the exhibit's curators — was living in the Bay Area before the AIDS crisis.
"It was a magical place," says Benemann, who retired as archivist of the School of Law in 2015 but regularly comes to campus to volunteer.
Then the epidemic took hold.
The disease was seen in gay men in Los Angeles in San Francisco in 1981, but it wasn't until September 1985 that President Ronald Reagan first publicly mentioned AIDS, in response to a question at a news conference.
By that time, more than 5,000 people had died from the disease. 
Edwards was living in San Francisco's Castro district during the crisis.
"One of my best friends died when Reagan refused to talk about it," she says. "It's hard to explain to younger people how that felt, and people in the government didn't care."
Some of the topics in the exhibit, such as the AIDS epidemic, are challenging and recall a time when acceptance wasn't as widespread. But they provide insight on the story of the LGBTQ community, the adversity it has faced, and its resiliency.
"Queer people have been here since before our country was founded, and they're going to be here for a long time," Silva says. "We're always going to be here."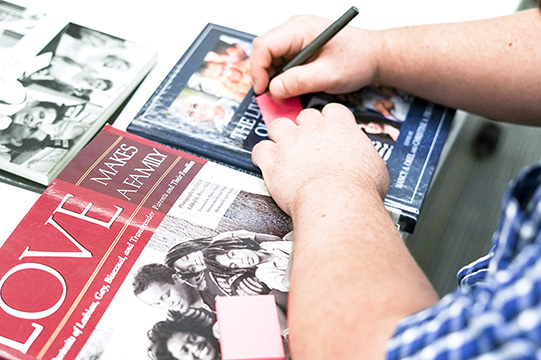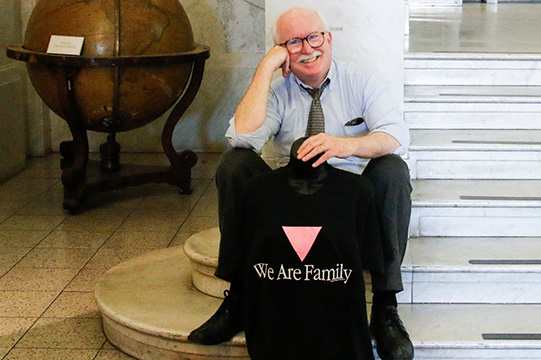 Top to bottom:

Clockwise from left:

Exhibits coordinator Aisha Hamilton sets up a display case; books are marked for consideration in the exhibit; co-curator William Benemann holds an item for the exhibit.
'A great collection' 
When working on the exhibit, the curators faced a challenge: How can an exhibit focused on government documents capture people's attention?
"One thing you have to keep in mind when you're doing the Brown Gallery (is) you have to do something that's really eye-catching," Benemann says. "You have to do something that makes them stop and take a look."
In addition to documents, the exhibit is full of posters, art, and other vivid imagery. One of the striking pieces is a poster by Julio Salgado: The self-portrait depicts Salgado, an LGBTQ undocumented immigrant, with butterfly wings, the words "Yo existo" ("I exist") written on his chest. 
The exhibit also includes work by the late Robert Mapplethorpe, an LGBTQ photographer whose work included celebrity portraits and still-life compositions, as well as nudes and unflinching depictions of sadomasochism. Mapplethorpe was among the targets in the debate over the public funding of controversial art.
"What interests me is the line between what is acceptable and what is not acceptable," says Benemann, who worked on the part of the exhibit focused on the arts. "Mapplethorpe walked that line."
Other items in the exhibit include military uniforms from LGBTQ service members, as well as materials from the GLBT Historical Society, including T-shirts and buttons. 
The exhibit also highlights ONE, known as the first pro-gay magazine in the country, issues of which are found in the Library's collection. The magazine, which started publishing in 1953, became the subject of backlash when the U.S. Post Office Department refused to deliver it through the mail, calling it obscene. The organization publishing the magazine sued, ultimately leading to a monumental Supreme Court ruling, which held that speech favoring gay people is not, by its nature, obscene.
"It was the beginning of the modern gay rights movement," Silva says.
What do the curators hope people will take away from the exhibit? 
"I'm hoping, obviously, that queer people (who) come through feel really affirmed and that they are represented in primary sources," Edwards says, "that there's lots of interesting research threads out there that we can help them uncover … that there's a history, that it matters."
"I'm hoping that it provokes a response," Benemann says. "I hope, in particular, it encourages students to look into (the Library's collections)."
"We've got a very rich collection," Phillips says.
Taken as a whole, many of the materials in the exhibit shed light on the larger context of LGBTQ community through time — highlighting that the fight for equal treatment has not taken a linear path, marked by continuous progress. 
"In some ways, when you look at things historically, there's some surprisingly open-minded things that happened a long time ago and some oppressive stuff that happens now," Phillips says.
For example, the Zuni tribe member, named We'wha, who was born a man and lived as a woman, was held in high esteem by her community and was befriended by an anthropologist, Matilda Coxe Stevenson, who took her to Washington, D.C., where she met President Grover Cleveland, in 1886.
"There's sweet little paragraph that (Stevenson) saw We'wha as a friend — as a woman, not a man, because that's how the tribe viewed her," Silva says.
The Civil War soldier who served as a man was eventually discovered as having been born a woman. Despite this, he applied for his military pension — with letters of support from the soldiers he fought with — and the government granted it to him.
But then there are the setbacks: Last year, President Donald Trump announced a ban on transgender people from serving in the military — which has since been blocked in court battles. And the idea of quarantining people with HIV, which recalls a darker time in the history of the LGBTQ movement, recently made the news again.
"Every generation has to fight for the rights — we have to keep fighting," Edwards says. "The story is not over."
A reception for the exhibit will be held May 2 from 4:15-6 p.m. in the Morrison Library. Light refreshments will follow a short program.
Editor's note: This article was updated from its original form.