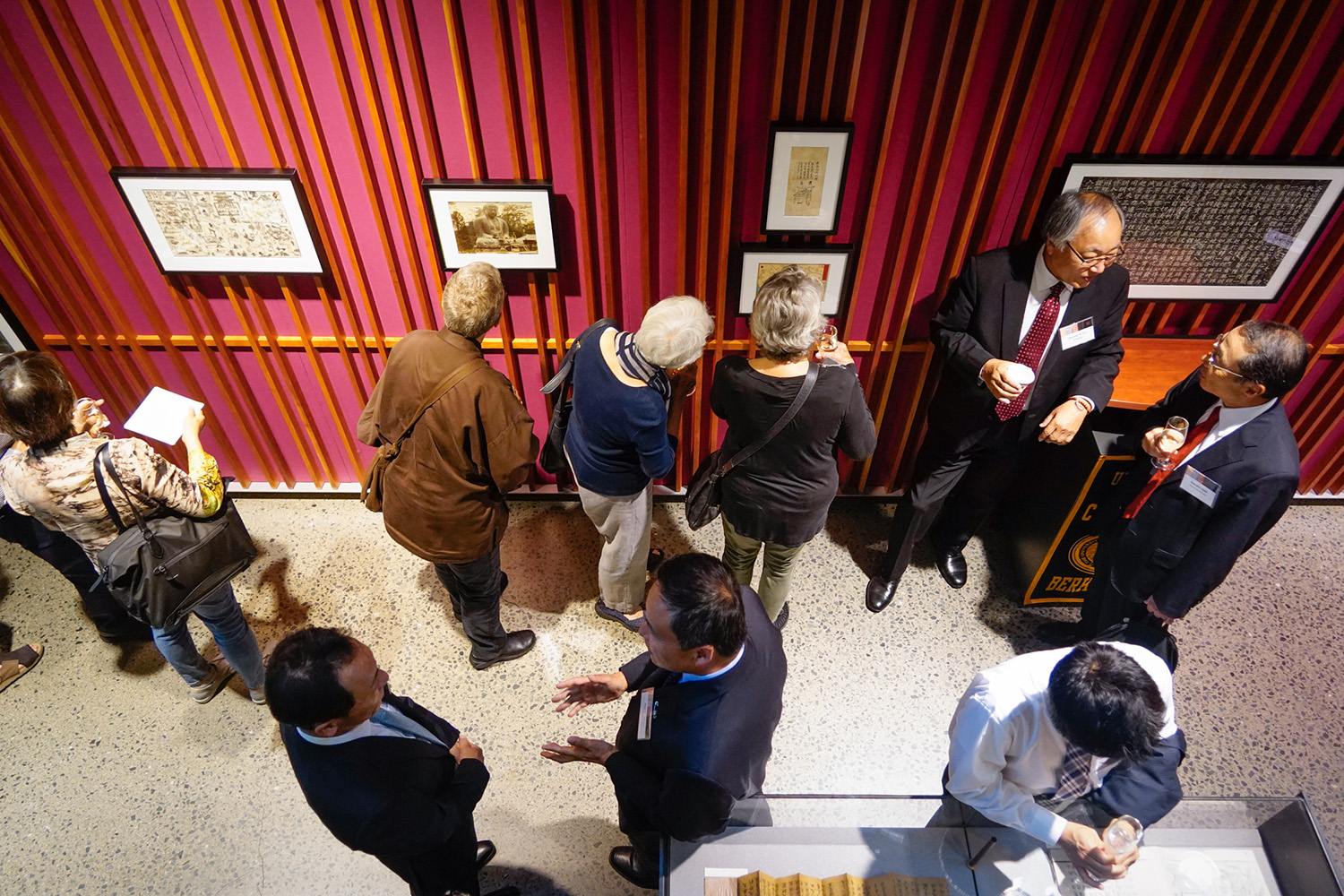 With shafts of natural light spilling into the cozy first floor of the C. V. Starr East Asian Library, about 50 people recently gathered to celebrate the library's Buddhist collections and the many contributions of the Rev. Yehan Numata.
The event also doubled as a reception for a new exhibit at the East Asian Library, or EAL, featuring some of the library's most precious materials related to Chinese, Japanese, and Korean Buddhism. Filling the first floor are stunning prints of Buddhist temples and maps of pilgrimage routes; popular texts and treatises from Buddhist scholars; an excerpt of a 600-volume accordion-fold sutra; and more.
"Berkeley has been collecting materials in the field of East Asian Buddhism for close to 100 years," said Peter Zhou, EAL's director. "This exhibit will show how that collection has grown."
At the event, speakers discussed the closely intertwined history of Buddhist studies at Berkeley and the legacy of the Numata family. Convinced that the teachings of Buddhism could inspire world peace, Numata, a UC Berkeley alum, started the philanthropic organization Bukkyō Dendō Kyōkai, or BDK, in 1965. Over the decades, the organization has supported Buddhist studies at UC Berkeley from all sides, endowing professorships, bolstering EAL's Buddhist collection, and helping fund the library's now 11-year-old home.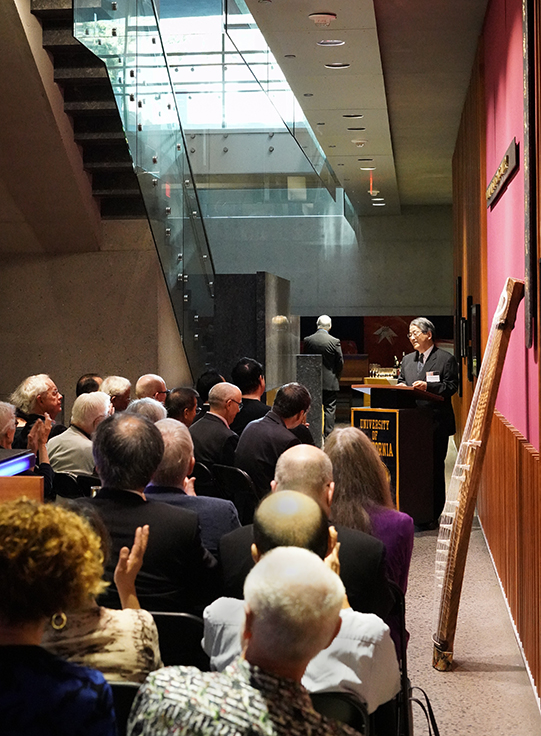 Top to bottom:

Clockwise from left: The 

Rev. Dr. Shoryu Katsura speaks at the event; Mitutoyo president Yoshiaki Numata presented a gift to the library; an item from the Buddhist collection now on display.
Numata's grandson, Yoshiaki Numata, said it was an honor for the family to have contributed to the library's construction. At the end of his remarks, he presented Jeffrey MacKie-Mason, university librarian, and Julie Hooper, vice chancellor for development and alumni relations, with a gift.
BDK also funds a book prize, as well as a graduate fellowship, through the campus's Center for Buddhist Studies. Robert Sharf, chair of the center, called Numata a "remarkable figure" whose contributions have been instrumental to the field of Buddhist studies at Berkeley.
Yehan Numata first came to campus in 1921, where he studied mathematics and statistics. After graduating from Berkeley with his master's degree in 1928, Numata launched the Mitutoyo Corporation, now a global enterprise specializing in precision measuring tools.
"In a few years, our relationship with UC Berkeley will have spanned 100 years," said Yoshiaki Numata, president of the Mitutoyo business. "Our roots are deeply established in Berkeley, and we are here to stay."