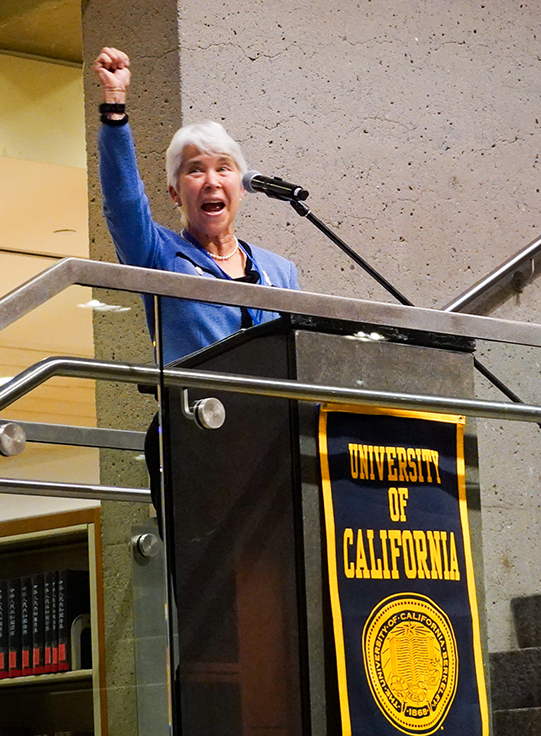 Top to bottom:

Clockwise from left:

Chancellor Carol T. Christ says "Go, Bears!" during her speech; taiko drummers greeted event guests outside the East Asian Library; Di-Hwa Tien, right, was honored with the Chancellor's Citation award. (Photos by J. Pierre Carrillo and Jami Smith for the UC Berkeley Library)
Last week, supporters of the C. V. Starr East Asian Library, or EAL, and Chang-Lin Tien Center for East Asian Studies gathered in its halls to honor the library's 10th anniversary.
On the one hand, it was a birthday celebration. But on the other, it was a reunion — of the friends, family, and community members who had helped the building come to life, and who gathered in this same spot to bid it well a decade ago.
At the event, Peter Zhou, EAL's director, and Jeffrey MacKie-Mason, university librarian, spoke of the history of the campus's East Asian Library and Berkeley's storied commitment to the study of the East — dating back to 1872. Chancellor Carol Christ praised the library's rare collections and service to scholars, and highlighted the library's role in making Berkeley a fortified bridge between the East and West.
"Indeed, the founders of Berkeley thought very deliberately when they purchased the land around Strawberry Creek — that it was land that looked out through the Golden Gate," Christ said.
Top to bottom:

Left to right:

Tien family members look at an exhibit about former Chancellor Chang-Lin Tien; Library Board member Paul Chapman, left, chats with Daniel Wu, a former student of Chapman's, an honorary host committee member, and an actor. (Photos by Jami Smith for the UC Berkeley Library)
The Chancellor also spoke about her old friend and former colleague Chang-Lin Tien, in whose memory several community members donated to help make EAL's new building possible. Christ praised Tien's work as a scholar and as a dedicated teacher and campus leader.
"It was a great joy to work with Chancellor Tien, … and the lessons I learned from him have had an enduring influence on me and how I approach my own work as chancellor," she said. "Memories of him since I took this job have come flooding back."
At the end of her remarks, Christ turned to Tien's wife, Di-Hwa Tien — who attended the event with her children and grandchildren — to present to her the 2018 Chancellor's Citation, which recognized the former first lady's purposeful role in "advocating and representing the values of diversity, access, and inclusion in higher education."
"My mom and dad were a truly loving couple and an excellent team," Norman Tien said at the lectern. "My dad could not have accomplished as much as he did without the efforts that my mom put in, so this recognition is very much well-deserved."
"Cal is a part of our family," he said.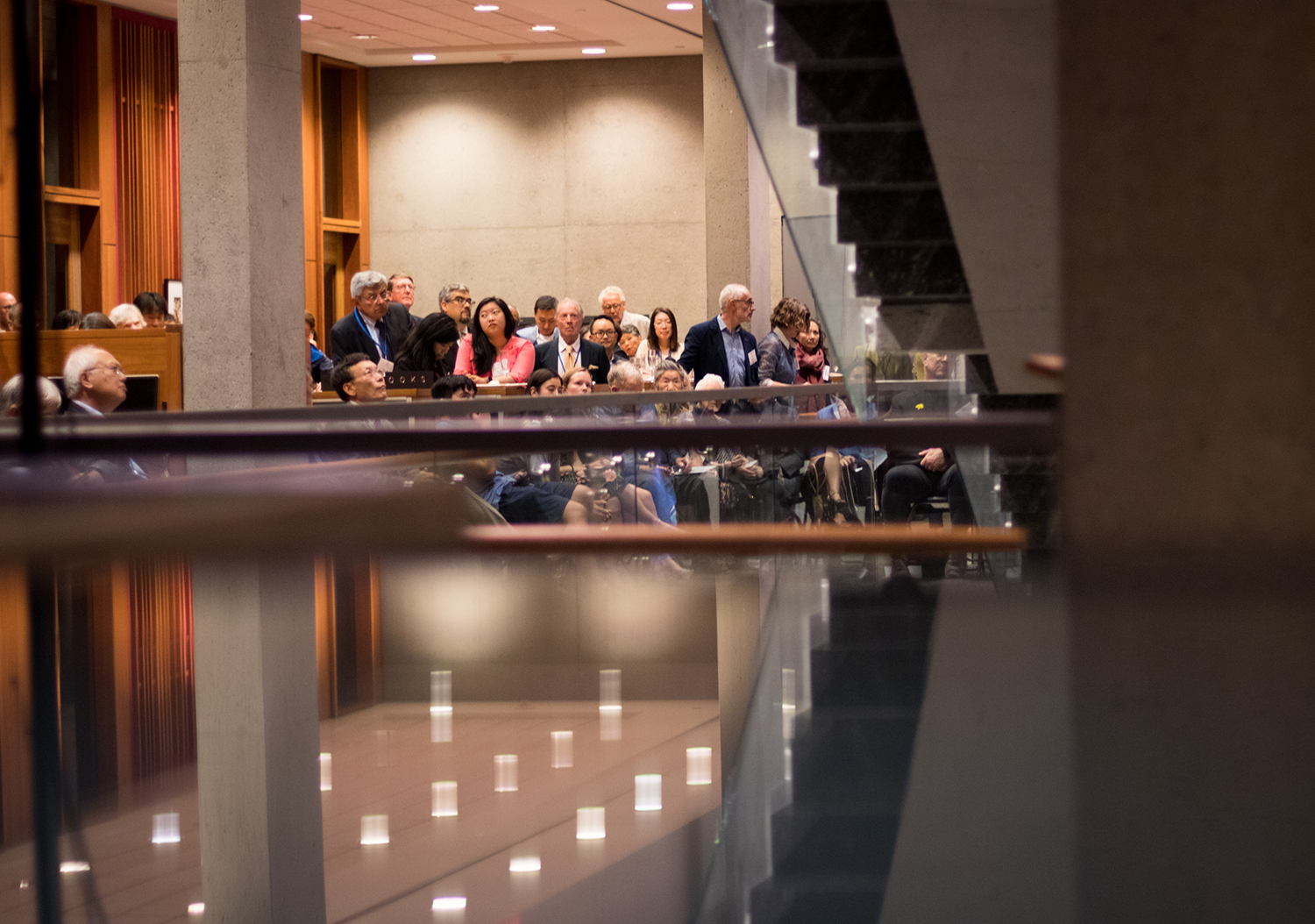 Guests listen to speakers at the celebration. (Photo by J. Pierre Carrillo for the UC Berkeley Library)
After the speeches, guests explored the library, checking out three new exhibits: the papers of Chang-Lin Tien, recently donated by his family; a tribute to distinguished alumni of East Asian descent; and rare materials representing 120 years of collecting.
The guests lingered over the artwork, documents, and photographs, listening intently to staff describing the displays, or casually roamed the halls, taking in the building's still gleaming spaces.
"The thing that struck me when I came in tonight was how well the building has worn — it does not seem old, or passe," said David Johnson, a professor emeritus of Chinese history who worked to bring the building into existence for 15 years. "It has tremendous strength, and I think that's just the way it is, as a piece of architecture.
"What can I say? It's beautiful."
(In fact, the architecture firm responsible for EAL's home is now designing another library: the Obama Presidential Center, in Chicago's Jackson Park.)
"The space is much better than my apartment in Hong Kong was — there's no comparison," said Paul Fonoroff, whose Collection for Chinese Film Studies now lives at the library. "I couldn't be more pleased with having the collection here, knowing that it should be safe here forever."