Environmental Design Library
The Environmental Design Library is one of the premier architecture, landscape architecture, and city and regional planning libraries in North America. The library supports the research and teaching of the College of Environmental Design.
This library is wheelchair accessible.
Collections
At this library
Resources
Services



Use online tools or connect with a librarian to achieve your research goals. 

The UC Berkeley Library provides special assistance to Library users with disabilities as they engage with the Library and its resources.

Make use of the printing and scanning options available at most library locations. 

ereserves@lists.berkeley.edu

Access articles, books, and other course materials placed on reserve by instructors.




Arrange free night-safety services, including a walking escort to get you home safely. 

Circulation Desk

510-642-4818


Check out and return books, pick up paged materials, or get help searching for an item.
Location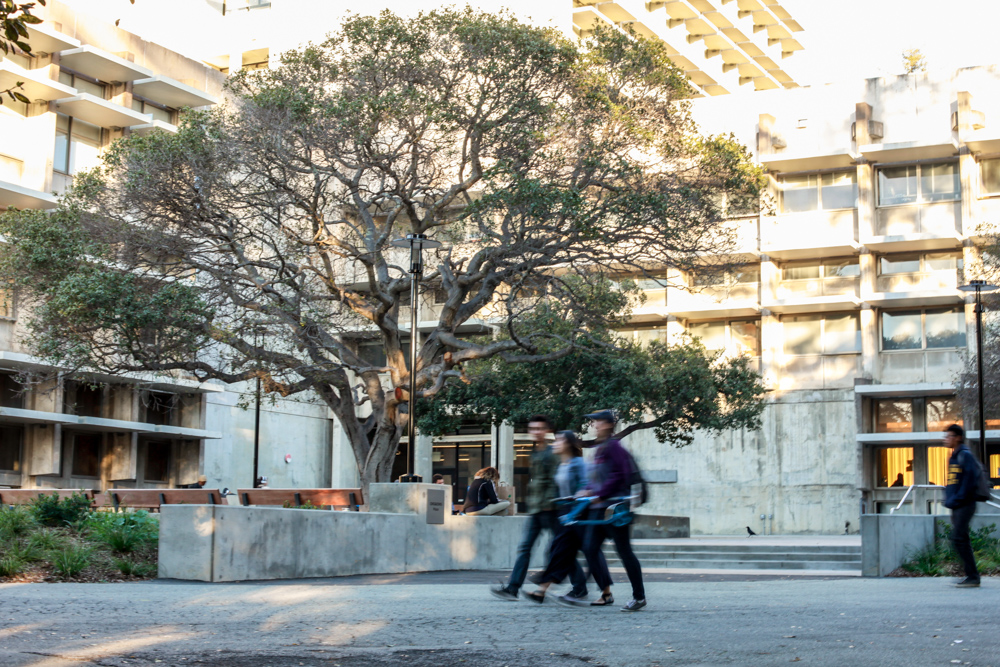 Environmental Design Library
210 Bauer Wurster Hall
University of California
Berkeley, CA 94720-6000
This library is wheelchair accessible.
Explore the Environmental Design Library
Visit
The Environmental Design Library is open to all researchers and visitors, with no identification, registration, pass, or prior arrangements required. Certain services, collections, equipment, or rooms may be available only to certain groups of UC Berkeley students, faculty, and staff. Please inquire at the Circulation Desk for further details.
Borrow
The UC Berkeley Library's collections are rich and bountiful — and they're waiting to be explored by members of the UC Berkeley community and knowledge-seekers everywhere. Use UC Library Search, the University of California's all-in-one-platform for discovery, to find books, journals, articles, and more, and check them out at libraries across the Berkeley campus and at other UC schools. Learn more about borrowing Library materials.
History
In 1964, when Wurster Hall was completed, the Environmental Design Library was formed by merging four departmental libraries: Architecture (founded by John Galen Howard in 1903); Landscape Architecture (founded by John Gregg, 1913); City and Regional Planning (founded in 1948 by Holway R. Jones); and Decorative Arts, formerly Household Arts (founded in 1919). In summer 1999 the Environmental Design Library was relocated to the fifth floor of the Moffitt Undergraduate Library while Wurster Hall was seismically retrofitted and the space was remodeled. The library reopened in August 2002 in its current space.
Collection details
A branch of the UC Berkeley Library system, the Environmental Design Library supports the research and teaching of the College of Environmental Design. In addition to a large selection of electronic resources, the Library's collection includes more than 210,000 volumes and subscriptions to more than 500 serials from around the world. Students, faculty and staff also have access to the 10 million volumes on the Berkeley campus. The Library collects at the research level in most aspects of the subjects covered.
Architecture strengths include history, theory and practice; housing; vernacular architecture; building science; structures and construction; green design and sustainable architecture; social factors in architectural design; architecture in developing countries; and design methods and processes.
The planning collection's strengths are history, theory and practice; urban design; city, regional and state planning; land use planning; social services planning; regional and economic development; community development; developing countries; environmental planning and policy; housing; urban design; and transportation planning.
The landscape architecture collection includes history, theory and practice; site planning; environmental planning; place theory and history; site specific landscape design; landscape ecology and restoration; landscape modeling; park design; landscape plants; community participation in landscape design; and geographic information systems. Enhanced by the Beatrix Farrand endowment and Reef Point Gardens Library, the collection is noted for its 19th-century journals and the history of gardens and landscape architecture from the 17th through the 19th centuries.
Rare Book collection
The Environmental Design Library has a rare book collection of more than 4,500 volumes housed in the Sigrid L. Rupp Rare Book Vault. Established at the turn of the century by John Galen Howard, founder of the Department of Architecture, the Environmental Design Library rare book collection is unsurpassed by any publicly accessible library in the western United states. The collection is composed primarily of out-of-print, limited and first editions, fine press, and pre-1800 imprints in a variety of languages that cover the subject areas of architecture, decorative arts, city planning, landscape architecture, and gardening. In addition to books and journals, it also includes unique hand-made artists' books, and related ephemera, such as architectural and planning games, recordings, architectural construction kits and ViewMaster slides.
The earliest volume is a 1565 Alberti, L'architettvra di Leon Batista Alberti..., the first edition of L'architettura to be issued with La Pittura. In addition to other early treatises, the collection includes books from the libraries of many important California architects such as John Galen Howard, Willis Polk, Julia Morgan, Greene & Greene, Warren Perry, planner Catherine Bauer Wurster, and landscape architects Frederick Law Olmsted and his sons. A highlight of the rare book collection is the Reef Point Gardens Library of Beatrix Farrand, the eminent landscape architect who amassed an important collection of early treatises, herbals and other works on architecture and gardens. Significant contemporary titles as well as out-of-print purchases are made on an ongoing basis.