Classes at The Bancroft Library
The Bancroft Library supports the teaching and research missions of UC Berkeley and welcomes class visits that incorporate and explore our collections. Every semester, Bancroft hosts an array of classes for which instructors and students use archival documents, manuscripts, rare books, pictorial collections, and more. We offer class sessions at The Bancroft Library to the extent that we can, depending on the fragility and restrictions of the materials and the availability of library staff. To learn more about the instructional support we can provide, see class consultation and assistance, below. Please contact class coordinator Lee Anne Titangos for more information. We also offer a variety of online learning activities and tools, please see virtual class visits and support, below, for details.
In-person and virtual classes
In-person classes
Class consultation and assistance
We encourage teaching by faculty and other instructors interested in using the collections of The Bancroft Library. We provide various kinds of teaching, learning, and research support.
Teaching
Bancroft staff may lead introductory sessions on archival research and the history of the book and teach class sessions devoted to specific subject areas of the collections. In order for us to ensure the availability of Bancroft staff to support these sessions, instructors should schedule them well in advance. Please contact us if you would like us to teach or assist you with a class session.
Assignments
Bancroft staff is available to work with instructors in designing assignments based on the collections. Please let us know in advance if you are developing an assignment that requires your students to use primary Bancroft source materials. In order for us to support courses with major or multiple assignments involving significant amounts of Bancroft collection material, individualized research coaching, and/or other teaching assistance, instructors must alert Bancroft staff one semester in advance.
Instructors planning to include in their course syllabi a single independent assignment requiring Bancroft Library materials should alert the staff at least one month in advance. This will allow us to assist you in determining whether the primary materials for the assignment are available and in preparing your students for their research experience.
Selection assistance
If you would like assistance in selecting materials that best meet your goals for your class visit, please contact us at least one month in advance to give us time to provide you with a list of relevant Bancroft materials.
Bancroft seminar policies
Please familiarize yourself with The Bancroft Library's conditions of use and share this information with your students prior to the class visit. The same rules limiting the personal items that researchers may bring into The Bancroft Library apply to both class and Reading Room visits.
Please also have your students review our handling guidelines before their visit so that they are prepared to explore with care Bancroft's rare, unique, and potentially fragile materials.
Request a seminar room
The Bancroft Library has three seminar rooms and a press room available for classes engaged in coursework and research projects based on Bancroft materials.
How to reserve a seminar room
Please note: The Bancroft Library can host classes only after the instructor has reserved a seminar room. You can see descriptions of the seminar rooms below. Rooms are only available Monday - Friday, 9 a.m. to 5 p.m. Rooms cannot be reserved for times outside of Bancroft operating hours.
​Bancroft Library seminar rooms​ are restricted to 15 students. Separate sessions must be scheduled to accommodate classes with higher enrollment. ​Because of its limited staffing and the fragility of its collections, Bancroft cannot commit to teaching more than one session at the ​same time.
To reserve a seminar room, please contact class coordinator Lee Anne Titangos or 510-642-6540.  Class visits cannot be coordinated through our requesting system Aeon. To ensure room availability,  requests should be made at least a month in advance of the proposed seminar date. Requests made with less than seven business days' notice cannot be accommodated.
If you leave a telephone or email message, we generally respond within 24 hours to confirm the availability of the room requested. Your seminar room is reserved once you receive confirmation by telephone or email.
For semester-long courses
Dependent on availability, a seminar room may be reserved for a semesterlong course requiring access to Bancroft material provided the following conditions are met:
Room request is submitted no later than one month before the previous semester ends
Bancroft materials will be used for every visit (the 15-item limit per visit still applies)
The course begins/ends within the operating hours of the building

Monday-Thursday, 10 a.m.-5 p.m.
Friday, 10 a.m.- 4:30 p.m.

A preliminary list of Bancroft materials needed (25 items minimum) is submitted one month before the start of the semester

A minimum of five students, and no more than 15, are enrolled in the class
During the semester:
Both instructor and students must abide by the seminar policies
Bancroft material lists must be submitted to ltitango@berkeley.edu a full seven days in advance of every meeting
Notification of any session cancellations must be emailed to ltitango@berkeley.edu as soon as possible
A Bancroft staff member will be present for every session
Upon request, Bancroft materials used may be placed on Class Hold for student access through the semester
Instructors assume full-responsibility of any non-Bancroft books and teaching materials, and such items cannot be held or served by Bancroft
Please note that Bancroft reserves the right to rescind the room reservation if the above requirements are not met. 
 
How to reserve equipment
You may also reserve audiovisual equipment. Please include in your seminar room request any of the following:
Laptop—Mac or Windows
Projector
Projector document camera
Seminar room descriptions
Each seminar room seats 18 people comfortably. We can accommodate additional seating for up to 10 people upon request, but we may require that classes be split into smaller sections.
Baldwin G. Lamson seminar room
Location: Room 375, third floor
Accommodations: Wi-Fi, chalkboard, art display easel, projector screen
Jean and Irving Stone seminar room
Location: Room 373, third floor
Accommodations: Wi-Fi, art display easel, projector screen
Note: This room houses part of the Irving Stone collection.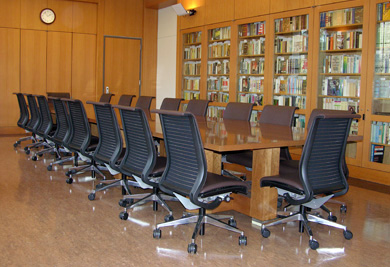 Reva and David Logan seminar room
Location: Room 371, third floor
Accommodations: Wi-Fi, chalkboard, projector, document camera, projector screen
Note: This room houses part of the Reva and David Logan collection of photographic books.
James D. Hart press room
Location: Room 377, third floor
Accommodations: Wi-Fi, early hand-printing presses, movable type
Note: Though this room is reserved for the UGIS 140 course, "The Hand Printed Book in Its Historical Context," Bancroft staff may provide tours and press demonstrations upon request.
Request materials for seminars
Timeline
All requests for Bancroft materials to be used in seminars must be submitted at least seven business days prior to the seminar date. We are unable to accommodate last-minute requests.  If you need assistance in selecting material, please contact us at least one month in advance to give us time to provide you with a list of relevant Bancroft materials.
Procedure for requesting materials
There is a maximum of 15 items per session. Viewing additional requests requires an additional class visit. Bancroft staff may need to restrict access to certain material for preservation, legal, or other administrative reasons.  If you would like assistance from Bancroft curators and other expert staff in selecting materials appropriate for your class, contact class coordinator Lee Anne Titangos.
If you already know which Bancroft materials you want to reserve for class visits, please do NOT submit them through our requesting service Aeon. Please contact Lee Anne Titangos with the following information:
Instructor's name
Course title and number
All dates and times for which the materials are needed
Call numbers and titles of the materials (maximum of 15 items)
Requests for materials made less than seven business days in advance will not be processed.  Please submit the above information well in advance of your visit to ensure that materials are retrieved in a timely fashion.
Arrival and departure procedures
Arrival procedures
Seminar instructors, please inform the Security Desk that your class has arrived. A Bancroft staff member will escort you to the seminar room.
Please note that any items you bring inside will be inspected by Security staff as you enter and exit. Seminar participants should leave all belongings, except what is necessary for their class visit, in the lockers provided.
Bancroft staff will circulate a roster sheet for all participants to sign in.
Departure procedures
When your class session ends, inform your Bancroft staff contact that you have finished and that Bancroft materials may be removed.
Bancroft materials must always remain attended. Please remain with the material until it is collected by Bancroft staff.
Alert staff if you would like to place the materials on hold for a subsequent class visit or for the research use of your students. Unless otherwise notified, all materials will be returned once the class ends.
Please return the daily roster sheet to Bancroft staff.
All personal belongings brought inside The Bancroft Library will be inspected by Security staff upon exit.  Please form a line and present notebooks, folders, books, laptops, and any other personal belongings for inspection.
Virtual classes
Visit us via Zoom
Please allow for flexibility as we navigate the ever-changing factors surrounding the COVID-19 pandemic. Some learning options will be limited to existing digitized material.
Contact us a minimum of three weeks in advance to allow for adequate prep work needed to assist your teaching goals virtually.
Synchronous
Zoom lecture (live)
Zoom session with activities in breakout rooms
Asynchronous
Support for virtual classes
Virtual one-on-one or group consultations with students
Identification of relevant digital collections for class projects or research assignments
Curated primary source sets on course topic
Access to pre-existing digital images for faculty use