Research Survival Guide
Search ≠ research
You already know how to search. You've grown up searching Google, your phone, and all over the place, and you generally find the stuff you need. Doing scholarly research, however, involves more than just knowing how to search. In fact, a lot of what you know about searching may actually get in the way when it comes to doing research in library catalogs, article databases, and other scholarly tools. This short guide will help you get started with research at UC Berkeley.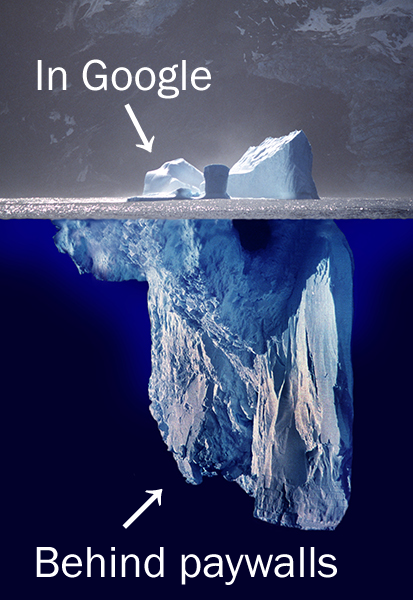 Why can't I just use Google?
Google Books and Scholar are great tools (keep using them!), but a lot of scholarly material is stuck behind paywalls. You might find a link via Google, but can't always access the full-text for paywalled resources. The Library pays subscriptions to hundreds of databases and publications so that you can access those scholarly e-books and journal articles that aren't freely available to the public. Using your CalNet credentials, you can access those materials via the Library website. When it comes to scholarly publications, only the tip of the iceberg is going to be accessible on Google.
How do I find scholarly sources?
In the same way that you can only watch certain shows and movies from particular streaming services, like Netflix or Hulu, you need to use the right platform to find specific books and journal articles via the Library. How on earth can you figure that out? Here are a few quick tips to get you started:
Use UC Library Search on the Library homepage. This provides one search box where you can look across a lot of online databases, including the library catalog, books, e-books, and scholarly journal articles. But keep in mind that it does not include everything we subscribe to, so if you rely on UC Library Search you'll be missing out on a lot! Learn to search more effectively with the tips and tricks on this UC Library Search guide. 
How to Find Articles explains how you can dig deeper than UC Library Search by using subscription databases to find articles from scholarly journals. We subscribe to hundreds of different databases!
Check out a Research 101 Workshop or complete a self-paced Library Research Notebook to hone your research skills.
Slow down: Good research takes time, and learning new things is not a matter of instant gratification. Take the extra time to explore your advanced search options, to scan search results, and to search iteratively for variations on your topic (that is to say, search over and over!). 
 
Format matters: Are you looking for a book? A scholarly journal article? A news article? There are different search tools for different kinds of publications. Take a few moments to consider what kind of publication includes the information you need, and then go to the right tool for the job. (Learn how.)
 
Browse: Scanning shelves of books may sound like a waste of time, but when you're first starting your research it's actually a great way to find the perfect source. To browse books effectively, first search UC Library Search for the call numbers for a few books that are relevant to your topic. Right next to those books on the shelf, you'll find tons of other books on the same topic, often better than the one you found online.
 
Use jargon: Are your keywords not working? Then try the vocabulary that a scholar might use to talk about the topic. If you're interested in what opportunities there are for women in Morocco to learn to read, for example, you might use keywords like gender, literacy, and empowerment in Morocco. (check out Keyword 1-2-3)
 
Anxiety is normal: Carol Kuhlthau and other information experts have noted that the early stages of research are often accompanied by uncertainty, worry, and doubt. As you progress through your research and learn more about your topic, however, you are likely to experience increased optimism, clarity, and even confidence. So don't let those initial worries get you down: They're a natural part of the process.
More on searching
Library fundamentals
Research 101 Workshops — Berkeley librarians will guide you through using the UC Berkeley Library strategically and help you hone your research skills. You'll leave feeling empowered and prepared to take on research assignments with new skills and perspectives.  
How to Read Call Numbers — Call numbers are like the address that a book lives at on the shelves. Take a look at this guide to learn how they work.
How to Read Citations — Learn to distinguish one kind of citation from another (for example, a book from a journal article), and identify the elements you'll need to use to find the material.
Digging deeper