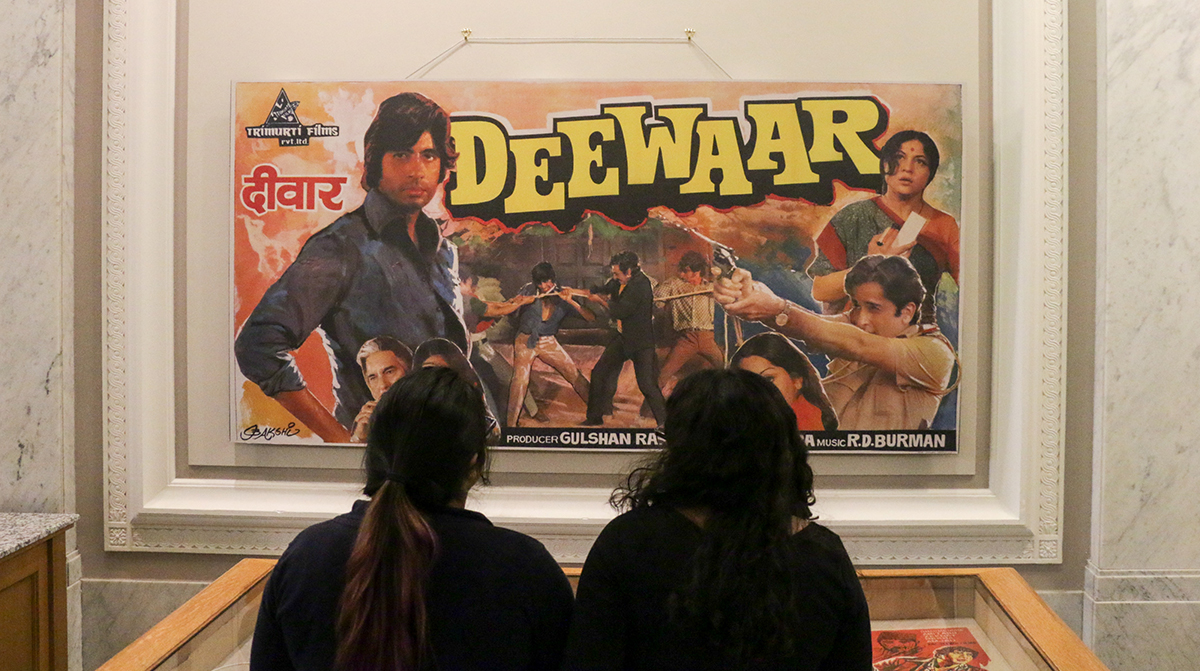 Students view the Love Across the Global South exhibit on opening night, Oct. 6, 2017. (Photo by Cade Johnson for the UC Berkeley Library)
The first thing you notice is its size.
Stretching across an 8-foot expanse, it features a blockbuster movie trifecta: crime, intrigue, a handsome leading man.
The six-panel billboard, digitally shrunk from its original size by about 30 percent, advertises the 1975 film Deewaar. (The movie, cited as a masterpiece of Bombay cinema — or Bollywood cinema, as it's often called — influenced, among other works, Danny Boyle's Oscar-winning Slumdog Millionaire.)
And it's just one of the vibrantly hued, richly textured, and beautifully preserved movie posters on display in a new exhibit at Doe Library's Brown Gallery, called Love Across the Global South: Popular Cinema Cultures of India and Senegal.
The posters, dating from 1957 to 2011, were collected by exhibit co-curator Sugata Ray on his travels in India, and they offer eye-catching portals into the genre and its influence.
"Every single piece is an integral part of the story we tell," co-curator Ivy Mills said.
Read the full story at stories.lib.berkeley.edu.