WHAT DO A BOOK SNAKE, a Japanese brush made of deer hair, and a mini-spatula have in common? All of them are important tools that help keep the UC Berkeley Library humming along. Want a behind-the-scenes look at some of our devices, gadgets, and essential items — used for everything from conserving to cataloging, from planning our spaces to transporting our treasures? Look no further.
Conservation Treatment Division, Preservation Department
In the basement of Doe Library is the home of the Preservation Department's Conservation Treatment Division. The team occupies a vast room filled with workspaces and tools — from a drill press to a guillotine that cuts stacks of paper to strainers made of Japanese cypress and horsehair. At left, the OptiVISOR is a binocular magnifier worn around the head to free up the hands, allowing for up-close precision work. Available in an array of sizes and shapes, a bone folder, bottom left, is used in many ways, including to fold or score paper, and rub down and smooth out material that has been pasted. The blue water brush, center, is used in the process of repairing paper tears. The refillable penlike tool dispenses water, and is used to separate strips of lightweight handmade Japanese paper that will be affixed to a tear, giving them soft, feathered edges that won't strain the artifact. The Japanese stencil brush, third from left, is often used by artists to stencil fabric or print from woodblocks, but the team here uses the brush — made of deer hair, which is just the right stiffness — to gently tamp down materials, such as a piece of Japanese paper that has just been pasted onto an irregular book surface. A spokeshave is normally used on wood, but the team uses a modified version, at right, to pare down leather for repairing book bindings. Fine pointed brushes, such as the one that's second from right, are used to apply paste onto a very small area — or when a conservator wants to use just the tiniest bit of paste.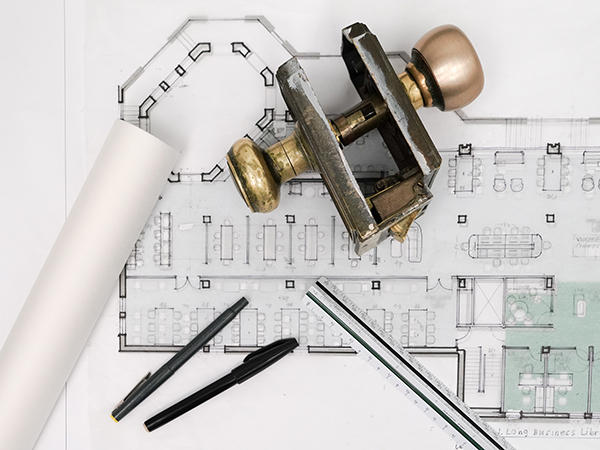 Library Design Office
At the UC Berkeley Library, our many spaces are dynamic, and the process for keeping them engaging and useful for the community they serve depends on the work of the Library Design Office. The office supplies the planning, vision, and coordination required to transform a project from an idea to a reality. Tracing paper, left, is used early in the design process, to test ideas when more than one design solution arises for the same problem. Instead of using pencils, Sukhjit Johal, who works in the Design Office and is in charge of capital projects at the Library, prefers pens. "I like the permanence of a pen," he says. "Each line has an intent — one cannot arbitrarily draw lines without thinking of the consequences." An architect's scale, bottom right, is used to make sure elements in a drawing are in the same proportion, and architectural plans serve as a visual way to help communicate ideas and concepts to a client. As for the doorknob? Johal likes to salvage items that are original to Doe Library, which was completed in 1911. "Who knows when they can come in handy in future renovations?" he says.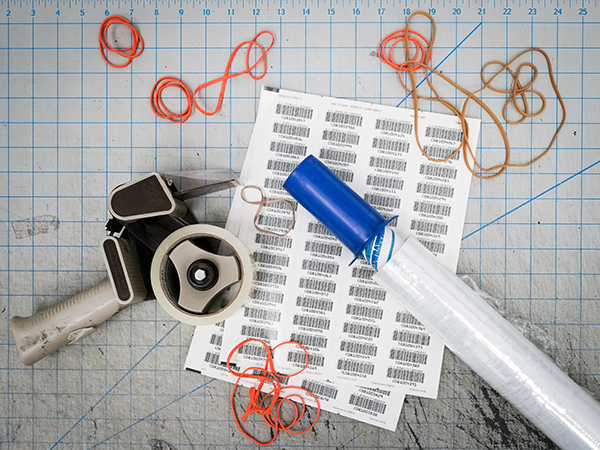 Interlibrary Services
Interlibrary Services ships and receives materials every day, opening the UC Berkeley Library's wealth of resources to institutions across the world, and connecting the Library's users with materials from beyond its own collections — including physical items and digital scans. Rubber bands are used to secure items together before shipping them to institutions around the globe, and packing tape, left, is used to seal boxes for daily UPS pickups or FedEx drop-offs. Plastic wrap, right, helps contain the books that come and go through the Library's doors on carts and book trucks. Sometimes, when an older item is paged and retrieved from Main Stacks, it doesn't have a barcode attached or a record in the Library's system. The team uses these sheets to add a barcode, allowing the item to be properly checked in and out and tracked.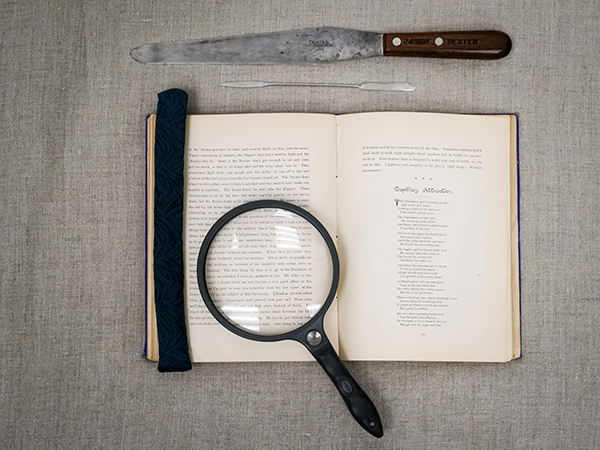 Cataloging Unit, The Bancroft Library
It would be impossible for The Bancroft Library to connect its impressive resources with the people it serves without catalogers. Catalogers provide, organize, and uncover information about Bancroft's materials, from rare books to manuscripts to photographs — and everything in between. As manuscripts cataloger at The Bancroft Library, Kenna Fisher often investigates rare items, uncovering the secrets they hold. A magnifying glass lets her take a closer look at the materials she encounters: "I've used it to try and discern handwriting, dates, or individual letters or initials," she says. Embedded in the handle of the magnifying glass is a high-powered lens, which she once used to make out the words on a small metal seal from a government entity in Italy. The mini-spatula, second from top, is used to remove staples without causing damage, or to carefully separate pages that are stuck together, and book snakes, left, safely hold open books. A book knife, or paper knife, top, is used (only with permission of the curator of rare books) to "open" — or cut the edges of — the untrimmed and still-connected leaves of a book.