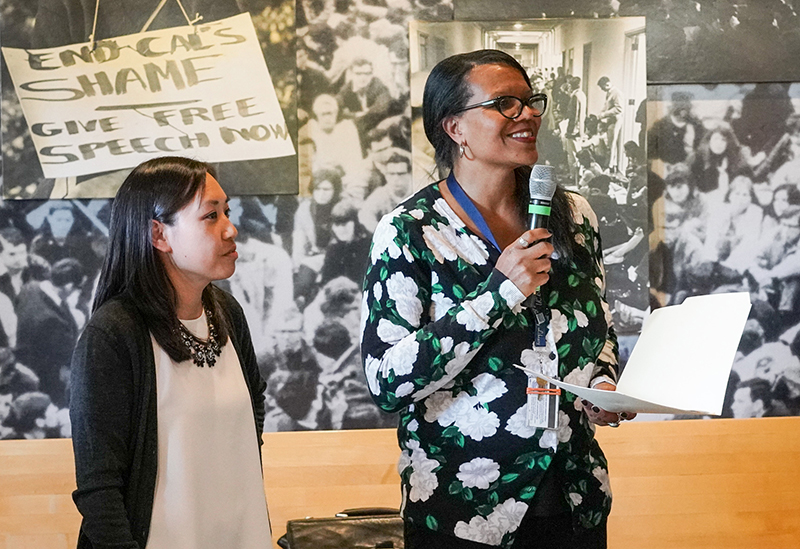 Shannon Monroe helps connect the UC Berkeley Library's treasures with people across the world.
But that's just the beginning.
A published writer, Monroe composes love stories and poetry. She hosts write-ins at the Library for National Novel Writing Month, the challenge each November that motivates writers — including herself — to grind out 50,000 words by the end of the month. And she's co-chair of the Free Speech Movement Café Educational Programs Committee, where she helps organize, promote, and host events exploring myriad topics growing from the fertile soil of activism, free speech, and social justice. And then there's Pearl Jam. A superfan, Monroe has harbored a passion for the seminal Seattle rock act since the very beginning. She has been to over a hundred shows, traveling as far as Ireland to see the band perform. Naturally, we had questions. We recently caught up with her for a chat at the Free Speech Movement Café.
You work in Interlibrary Services. What does your work entail?
I am the unit head for lending and photoduplication. We receive requests from non-UC Berkeley-affiliated borrowers who need access to things that UC Berkeley libraries own that they don't have access to. We're world-renowned, so sometimes we get requests that are just guessing and hoping we have something, and my colleagues and I in the lending unit just do the best we can to try to find what people need and get it to them as fast as possible.
How did you come to work at the UC Berkeley Library?
I was a student Library employee when I was an undergrad. And I love libraries. I always wanted to be a librarian in addition to being a writer, so it just made sense to stay here. (Monroe worked at Cody's Books for a few years before returning to the Library, where she has been for two decades and counting.)
You're co-chair of the Free Speech Movement Café Educational Programs Committee. Do you have any favorite events from your time on the committee?
One of the events that I really enjoyed on a personal level was the "50 Years of 1968" panel discussion with (Black Panther Party co-founder) Bobby Seale. That event was amazing just to meet him personally — just legendary. And the event with (food icon) Alice Waters — another packed house. One of the first events that I was a part of was really incredible, with the prisoner of war who came from Burma. It was fascinating to hear his story.
Growing up in Oakland, which library did you go to most often?
The first thing that really generated my love of libraries was my elementary school library — a little tiny one. (Monroe attended Horace Mann Elementary School in Oakland.) The little elementary school librarian was just my dream person, so she really started it. And then it was just basically Oakland public libraries. I just started going there and reading and checking out anything I could. The Fruitvale library was great, and we spent a lot of time at the downtown library, too.
Can you tell me about your writing?
I write romance and poetry. I began sneaking my mom's Harlequins and other novels when I was too young, and then I decided that's what I have to do. I started writing historical romance novels when I went to school here (Monroe was a history major), and I just shifted into contemporary. Right now, I'm writing a rugby romance series, so my heroes and heroines are all rugby players, and so each book is each hero and heroine's love story.
I hear you're into rock music and specifically Pearl Jam. How did you get into Pearl Jam?
I've always been into rock music. Before I knew Pearl Jam, there were other favorites. But Pearl Jam has literally saved my life multiple times.
Luckily my mom was super supportive, to an extent, about the music I liked. She faced some similar things that I did and sometimes still do: "Why do you like rock music? You're not white." In her day, she really liked the Beatles and some other rock music, and so when I started getting into that genre, at first she was really scared for me because she knew I would get picked on. But I thought, "I don't care." And she was like, "Whatever — just like what you like."
What draws you to Pearl Jam?
That first album, Ten, was crucial to starting it all. Since I had this friend at Tower (Records), I would start getting collectible pieces like bootlegs and B-side CDs and things like that. There were just a bunch of songs that they had written that I was drawn to and brought me out of dark places. If there's a mood, there's a Pearl Jam song to fit it.