Long before late night cheeseburgers and triumphant platters of fast food, the White House was serving up gooseberry trifles and stuffed pigeon pies.
"This dish may be garnished as fancy dictates," advises a recipe for the trifle, one of many charming entries filling Hugo Ziemann's official White House Cook Book, first published in 1887. The book contains not only recipes from Martha Washington, Mary Todd Lincoln, and other first ladies, but also tips on cleanliness and etiquette in the White House — for as far as fancy may go.
On Saturday, an ornate edition of the cookbook and other gems were on display at UC Berkeley's Bioscience, Natural Resources & Public Health Library, where guests gathered for a special viewing and tour of the space. The event — an annual cornucopia of rare materials, set in a different library each year — honors members of the Library Legacy Circle of The Benjamin Ide Wheeler Society, a group of supporters who have remembered the UC Berkeley Library in their bequest plans.
Other treasures unearthed at the event included three early editions of On the Origin of Species, by Charles Darwin, and an original letter by the noted naturalist; one of the world's only hand-colored copies of Sir Joseph Dalton Hooker's Cryptogamic Botany of the Antarctic Voyage; and rare full-color prints from Banks' Florilegium, a collection of copperplate engravings of hundreds of plant species discovered in the late 1700s.
(The library holds the world's most complete collection of British and American editions of Darwin's work published during his lifetime. Hooker, a British botanist and explorer in the 19th century, was the founder of geographical botany and one of Darwin's closest friends.)
"These are just some examples of the wonderful collections we have, but there's tons more," Shannon Kealey, head of the Library's Life & Health Sciences Division, told guests at the event. "We're a public library — if you want to make an appointment to see any of these, just let us know."
To begin the event, University Librarian Jeffrey MacKie-Mason spoke about some of the Library's biggest efforts, including transforming the scholarly publishing industry to make University of California research freely available to all; digitizing its treasures for the world to use; and building the Center for Connected Learning at Moffitt Library, an innovative space for students to learn, create, and collaborate.
"Because of your help, we're able to do all these things," MacKie-Mason said, adding that philanthropy covers a larger portion of the Library's operating budget than the state. "It's a really exciting time in the Library — we're gung-ho and full of energy."
For Al Danielson '72, the developments are a remarkable step forward for the Library. When he was a student, he said, there was limited access to the Library's collections, and studying was a wholly lonely experience.
"I spent many hours studying at the Doe Library," Danielson said. "Unfortunately, I always studied by myself and never had very good interaction with other students.
"I feel that the redesign of Moffitt Library will bring students together in a way that they can better learn from each other," he continued. "Libraries are not only a collection of books, but many resources — even people, who have valuable insights and information."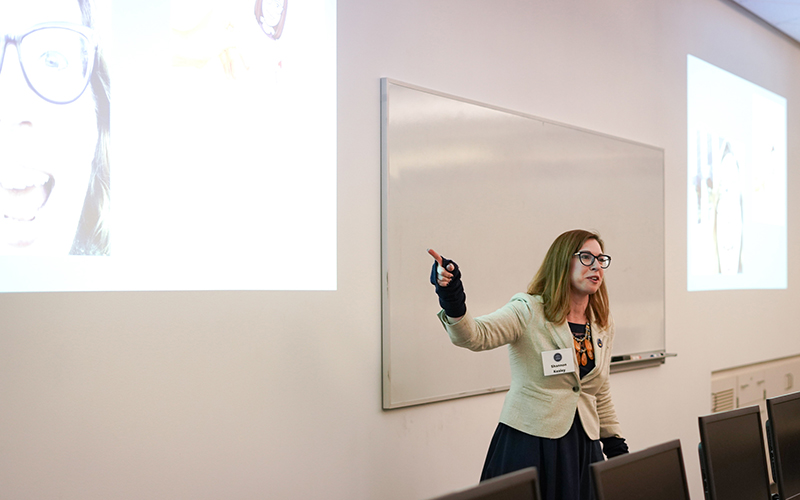 Top to bottom:

Left to right:

Shannon Kealey speaks to guests about the Bioscience, Natural Resources & Public Health Library; a letter by Charles Darwin is among the items on display. (Letter photo by Virgie Hoban for the UC Berkeley Library)
At the Bioscience, Natural Resources & Public Health Library, past donations have helped support events for the campus and larger community, Kealey said, as well as space improvements that benefit its 20 student employees and the faculty, staff, students, and members of the public who use the library daily.
"We're the second most visited branch library on campus, so our reputation for being a quiet and cozy research and study space is an important part of our identity to maintain," she said.
After remarks by MacKie-Mason and Kealey, chief operations manager Brice Sullivan took guests on a tour of the library — introducing the authentic 87-million-year-old Triceratops fossil at its entrance and the vast scientific collections lining its shelves. The collections cover everything from botany to toxicology, from zoology to environmental health.
Among its materials on nutritional science are a medley of historical cookbooks — including not only the White House book, but also an Italian cookbook from 1643, the oldest item in the library, and an early edition of The Boston Cooking-School Cook Book by Fannie Farmer, the mother of modern measurement. (Before Farmer invented measurements such as the teaspoon, tablespoon, and cup, recipes called for increments like walnut-sized scoops and apple-sized balls.)
At the event, guest Susie Wyshak '86 shared how she has used the library's cookbooks for her own work, including an educational book called Chocolate Chip Cookie School, which deconstructs the chocolate chip cookie. Wyshak analyzed historical recipes from Farmer and the Toll House Inn for the project.
"I want kids to think about — when they look at a cookie — everything that had to happen before the first chocolate chip cookie ever came to be," said Wyshak. "The (library) books are invaluable for understanding how a food like this cookie became an American phenomenon."
As other guests mingled and browsed the library's collections, sisters Cathy and Nancy Briggs made a beeline for the archives of the Journal of Nutrition Education, started by their father in the late '60s. George M. Briggs, a professor of nutrition at Berkeley for many years, was the founding chair of the university's Department of Nutritional Sciences, started in 1960.
The visit marked Nancy Briggs' first time seeing her father's work living on in the library.
"It's very exciting — it brings back the memories of being in Berkeley and how proud we were of our family and my father," said Nancy Briggs '67.
"It's a legacy," added Cathy Briggs '64, M.P.H '71. "It feels like we are part of the university forever, because he's still here."