What do you get when you combine a paintbrush, a gray necktie, and a circle made of tiny, colorful dollops of mustard?
You get 50 Shades of Grey Poupon, just one of the clever creations at this year's Edible Book Festival, which drew more than a hundred people to the fourth floor of Moffitt Library on Monday.
The Edible Book Festival is a global tradition, occurring on or around April Fools' Day each year.
The goal? To have fun with food and literature, as Susan Powell, who served as the chair of the Edible Book Festival Planning Committee, put it.
"It's just fun to see what people come up with," said Powell, GIS and map librarian in the Earth Sciences & Map Library. "It gives people the opportunity to do something that's crafty but that's low-stakes."
(In case you were wondering, the puns didn't stop with the 50 Shades-inspired entry. We're looking at you, Waiting for Gouda, The Handmaid's Ta(ma)le, and Berry My Tart at Wounded Brie.)
The festival, in its second year at UC Berkeley, is free to enter and is open to faculty, staff, and students. This year, the prize categories were Punniest, Most Edible, Least Edible, People's Choice, and Best Student Entry. Judges chose their top picks among 17 submissions — up from about a dozen last year. The judges, who selected and announced the winners in each category, were Edmond M. Allmond and Rosalie Z. Fanshel, with the Berkeley Food Institute; Beth Dupuis, with the University Library; Susan Schwiek, a professor of English; and ASUC president Zaynab Abdulqadir-Morris.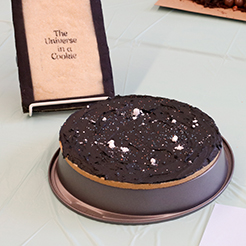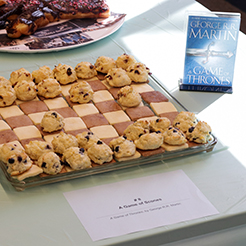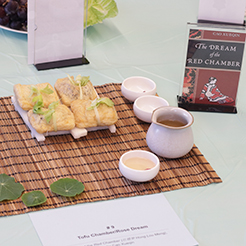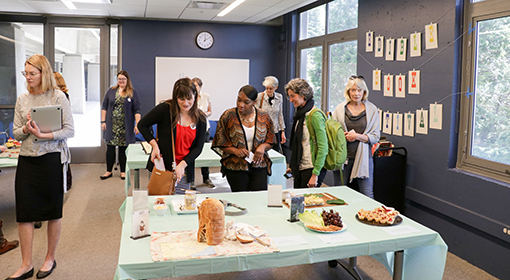 Top to bottom:

Left to right:

Judge Rosalie Z. Fanshel, of the Berkeley Food Institute, laughs at one entry; Cook-E Reader, The Universe in a Cookie pays homage to Stephen Hawking; Edible Book Festival buttons were made in Moffitt's Makerspace; A Game of Scones entry resembles a chess board; another creation pays tribute to The Dream of the Red Chamber, a celebrated Chinese novel; and attendees inspect the entries. (Photos by Cade Johnson for the UC Berkeley Library)
Most of this year's entries were by submitted by staff members, but there were some notable student entries, such as Cook-E Reader, The Universe in a Cookie, made by Aunyce Ocegueda, a riff on Stephen Hawking's The Universe in a Nutshell — with a twist for the digital age.
"I was just kind of throwing around ideas with my boyfriend," said Ocegueda, a senior studying art history, who won in the Best Student Entry category. "I thought it would be funny to do an e-reader because I thought most people (would be) thinking about physical books."
The e-reader-shaped cookie — which looked as if Mrs. Fields made a Kindle — was "100 percent edible." Ocegueda's creation was made with just a few simple ingredients: butter, sugar, and flour. And, of course, sprinkles. (It's a cookie recipe she's made before. "It's a pretty crumbly cookie" she said.)
Jen Osgood, who works at the Library as the technical processing lead for the Arts & Humanities and International & Area Studies, helped organize the event, and made a pennant banner, commemorative buttons (produced at Moffitt's Makerspace), and award ribbons for each category. She helped spiff up the space, helping to make 405 Moffitt look "welcoming, colorful, and culinary."
Osgood's submission was called A Game of Scones, an impressively elaborate chess board made of the biscuitlike cakes, inspired by the George R.R. Martin epic, made even more popular by the hit HBO show.
For Osgood, the festival is about celebrating the inventiveness and imagination participants put into their entries.
"We have some wonderfully creative people on campus, and (the festival) gives them a time to shine in a unique way," she said.
Who won?
The winners this year were: Batard out of Carolina, by Michele Rabkin (Punniest), Tofu Chamber/Rose Dream, by Aaron Ou (Most Edible), Gravy Teas Rainbow, by Jonathan Gerken (Least Edible), Universe in a Cookie, by Aunyce Ocegueda (Best Student Entry), and Scary Stories to Tell in the Dark Chocolate Cake, by Danielle Truppi, Desi Gallardo, and Ricky Brown (People's Choice).
Entries that received Edible Mentions were Game of Scones (Jen Osgood), The Handmaid's Ta(ma)le (Ryan Barnette), Waiting for Gouda (Stacy Reardon), One Flew over the Couscous Nest (Mara Gendel), Dumpling Wicked This Way Comes (Diana Vergil), and 50 Shades of Grey Poupon (Jeanne Powers, Kelvin Lu, Esteban Martinez, and Maya Serban).
Edible Mentions from People's Choice voting: Candy Cave, by Erica Newcome and Bonita Dyess; A Game of Scones, by Jen Osgood; and "Books! And cleverness! There are more important things! — Friendship! And Bravery!" (Harry Potter), by Janhavi Deshpande.
Susan Powell, center, chair of the planning committee for the Edible Book Festival, speaks to attendees at Moffitt Library on April 9, 2018. Students and staff members showed off their creative food projects inspired by books at UC Berkeley's second annual Edible Book Festival.