If anyone still had any doubts, they need only look at the maps: the climbing erosion of Louisiana's shorelines; the migratory patterns of islanders forced to jump ship; the aftermath of drought along the Pacific Coast.
And if anyone were needing some inspiration — a little kick in the butt, perhaps — they could turn to the books, toward a growing field of literature known as climate fiction. Popularly abbreviated as cli-fi, the genre deals in worlds ravaged by human impact and environmental collapse.
For best results, though, one ought to mix both.
On April 22, Earth Day 2019, the Earth Sciences and Map Library will hold a pop-up exhibit combining fiction with fact, linking the not-so-crazy stories of tomorrow with documents outlining their potential reality. The exhibit, called Earth Day 3019: Mapping Climate Fiction, pairs popular cli-fi novels with maps and graphs related to the books' locations, showing the environmental features leading up to catastrophe.
"All of the books we're featuring, what makes them powerful is that they're rooted in some reality that could come true — it's not like, 'Oh, that could never happen,'" said Susan Powell, geographic information systems and map librarian. "The maps in the collection help people understand where we are now, and where we're going."
Earth Day 3019: Mapping Climate Fiction
Where: Earth Sciences and Map Library, 50 McCone Hall
When: April 22, 3-5 p.m.​​​​
Cost: Free
Some of the books featured include New York 2140 by Kim Stanley Robinson; Gold Fame Citrus by Claire Vaye Watkins; Tentacle by Rita Indiana; and Oryx and Crake by Margaret Atwood. Curators have also put together a guide to the exhibit, with more books and supplementary materials to explore.
In New York 2140, a 50-foot rise in sea levels has left Manhattan underwater, transformed into an archipelago of skyscrapers connected by waterways and bridges. Much of lower Manhattan is uninhabitable, with ever taller buildings being constructed uptown, where elevation is higher. The main characters live in New York's Met Life Tower on 23rd Street, across from Madison Square Park.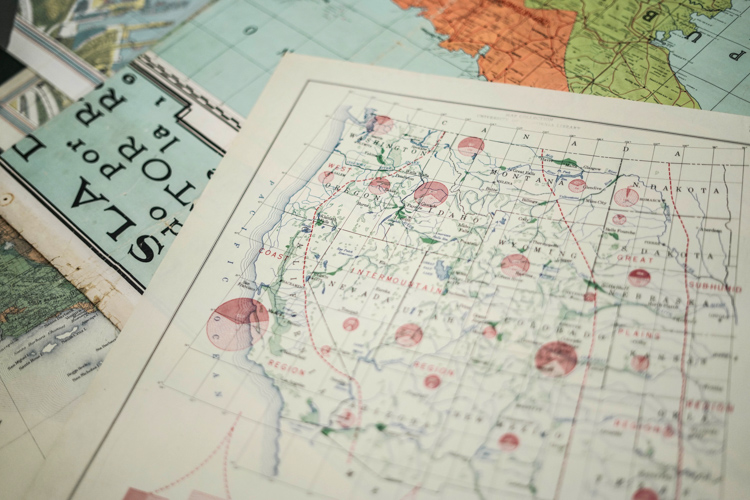 Top to bottom:

Left to right:

Librarians go through the maps and images to be on view in the exhibit.
For the exhibit, curators pulled several maps of New York, including a storm evacuation map from 1973, showing areas most susceptible to flooding; bird's-eye views of the city and its skyline (including the Met Life Tower); and maps showing New York's topography and bedrock geology. There will also be computers showing simulations of the city flooding.
Gold Fame Citrus — named after three major factors that have compelled hordes of people to move to California — is set in Southern California and the Central Valley. In the book, decades of unrelenting drought have left California bone dry. With no vegetation to hold it in place, dirt is swept into the wind, forming a massive sand dune that takes over the Mojave Desert.
"As climate continues to change, you're facing these ecosystems that never existed before — it's not just a question of things getting warmer or ice melting," said Sam Teplitzky, Earth and physical sciences librarian. "And in Gold Fame Citrus, she really imagines that — these dunes that are taller than the mountains we have here."
Accompanying Gold Fame Citrus are maps showing the scale of the Mojave Desert, as well as patterns of drought in California. Curators also uncovered maps showing California's water systems, including groundwater (such as aquifers) and surface water (such as rivers). A 1941 map from the U.S. Department of the Interior Bureau of Reclamation shows the government's attempts to irrigate the arid zones of California — a system that eventually fails in the novel.
"The idea is that the U.S. settled the West in places that had no water, and went about it anyway, and came up with these crazy irrigation schemes, particularly in Southern California," Teplitzky said. "And that's what you see in this map.
"The book presents the other side of that coin — the long-term reality of what happens when you can't support that kind of population and that level of irrigation."
Teplitzky and Powell curated the exhibit alongside Stacy Reardon, literatures and digital humanities librarian, who says that graduate students are increasingly exploring connections between literature and ecology in their work. Reardon is currently working with an English class on dystopian literature, and helped Teplitzky and Powell choose works for the exhibit.
"Cli-fi offers us imaginative glimpses into future worlds, and rings an alarm if we're willing to listen," she said.