Art at Moffitt Library
On our walls
Student art
2020-21 exhibit
Moffitt Library invites UC Berkeley undergraduate students to display their art for the academic year. We feel that the library is a highly visible and appropriate venue for such exhibits. Displays of art and design expose scholars in Moffitt to the range of creativity of their fellow students.
2020-21
You & I
Acrylic on Canvas
Gabby Nguyen
Graduation year: 2022
Psychology and Art Practice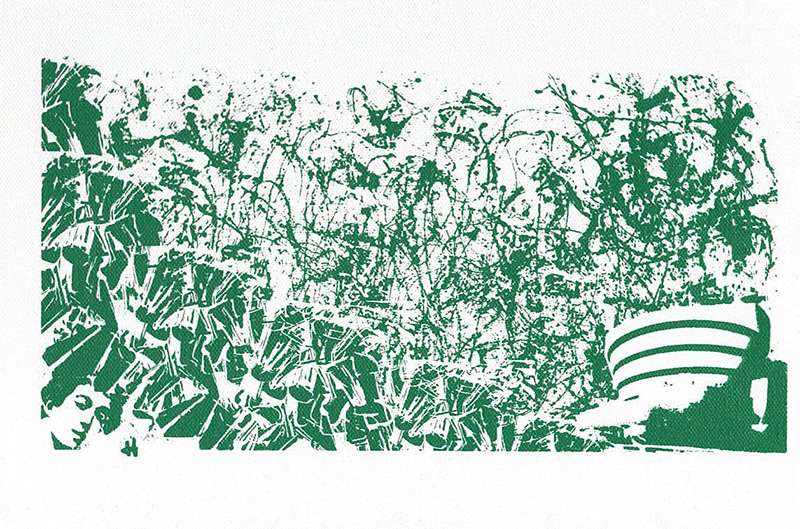 Who Descends?
Silk Screen on Cotton Paper
Henry Davis
Graduation year: 2021
Global Studies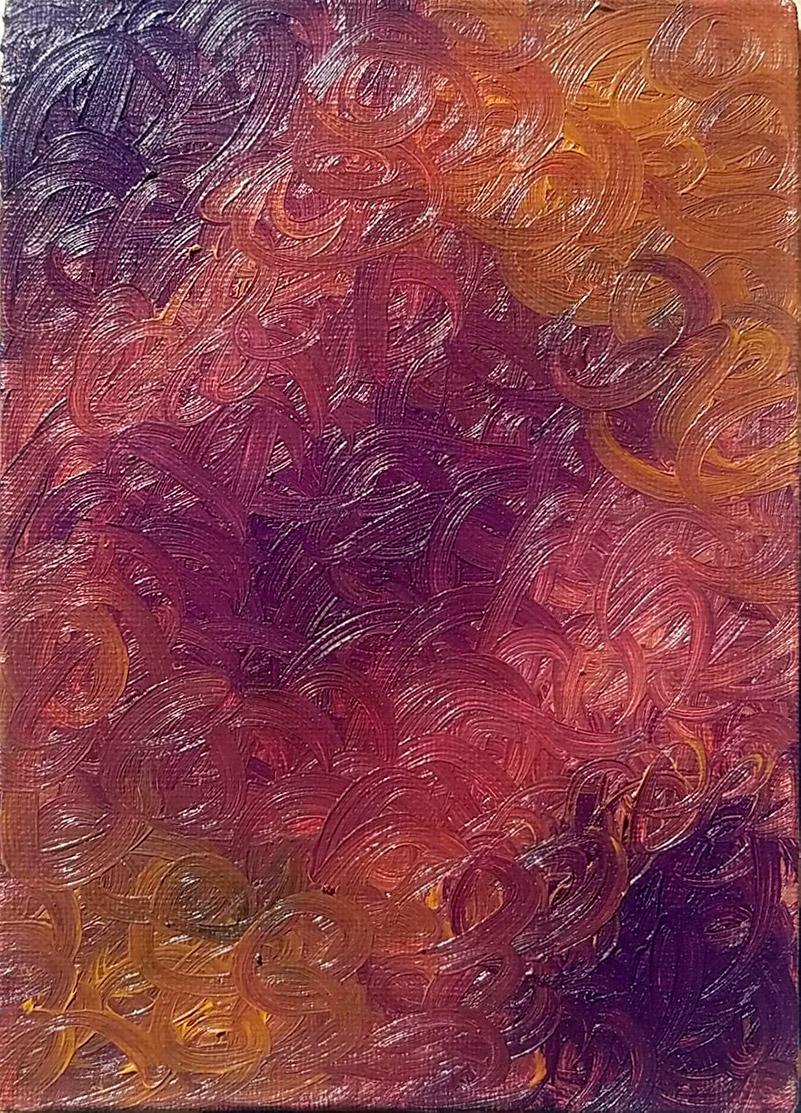 San Junipero
Oil on canvas
Lucero Garcia
Graduation year: 2021
Art History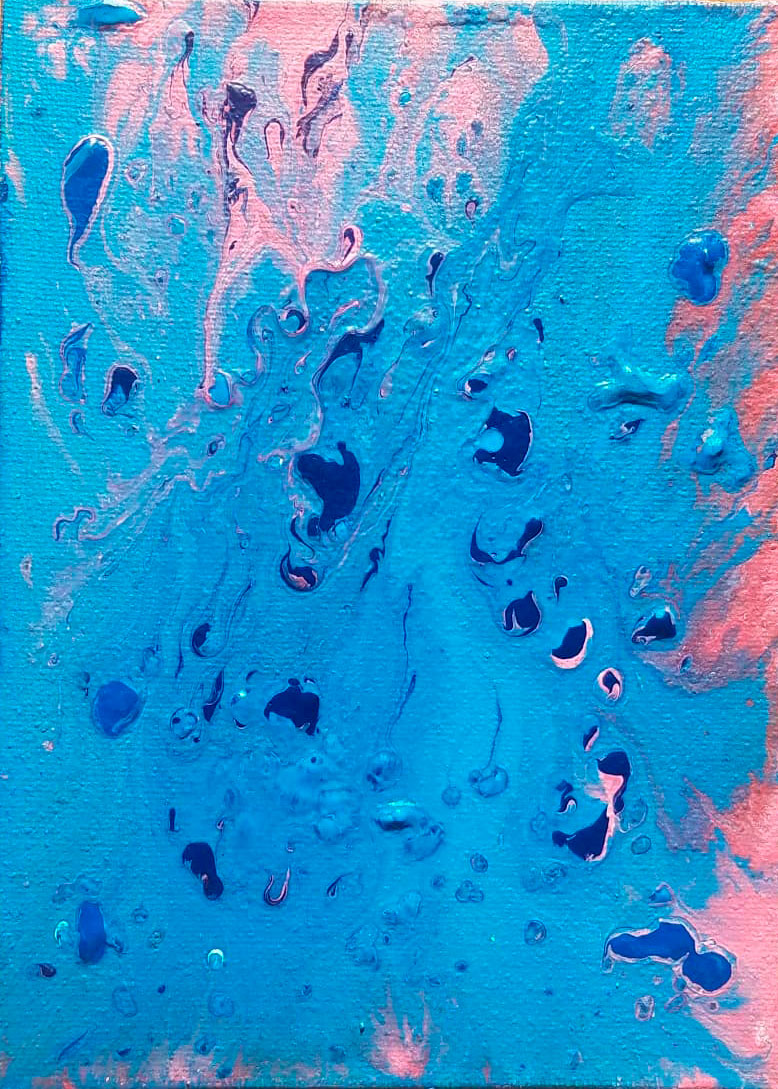 Quaytman
Acrylic on canvas
Lucero Garcia
Graduation year: 2021
Art History
Spatial Organization
Digital artwork
Aryan Rozbayani
Graduation year: 2019
Architecture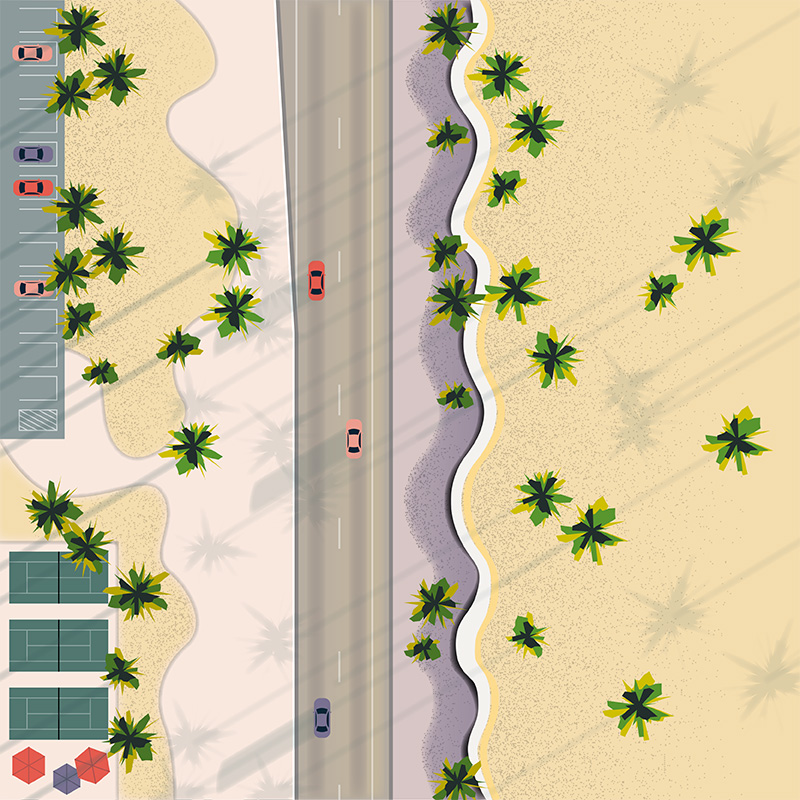 Life's a Beach
Graphic design
Kiana Aryan
Graduation year: 2020
Linguistics, Cognitive Science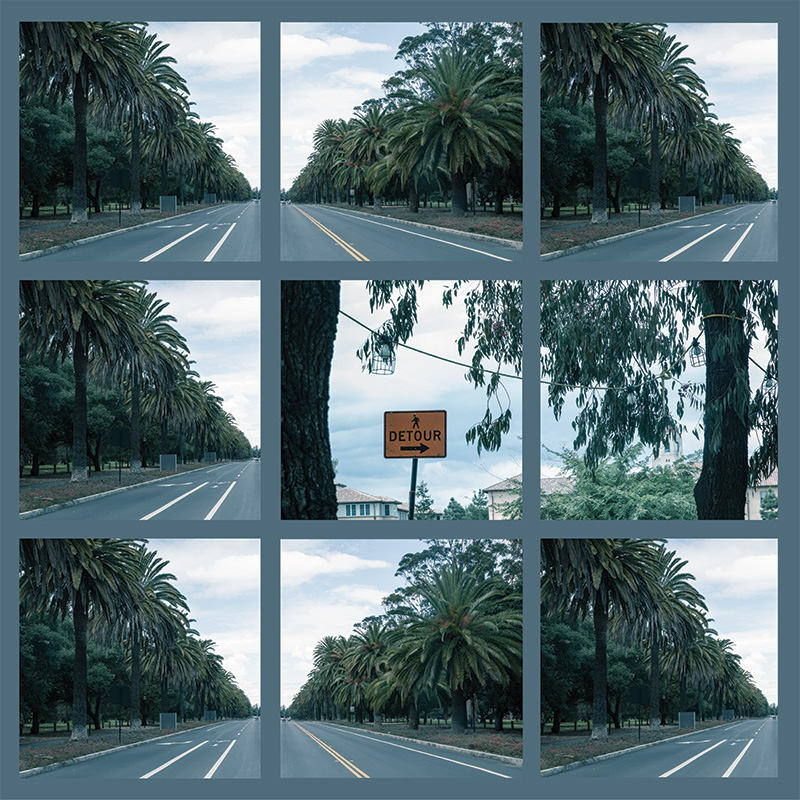 In Isolation
Photograph and graphics
Chenyue Cai
Graduation year: 2022
Math, Computer Science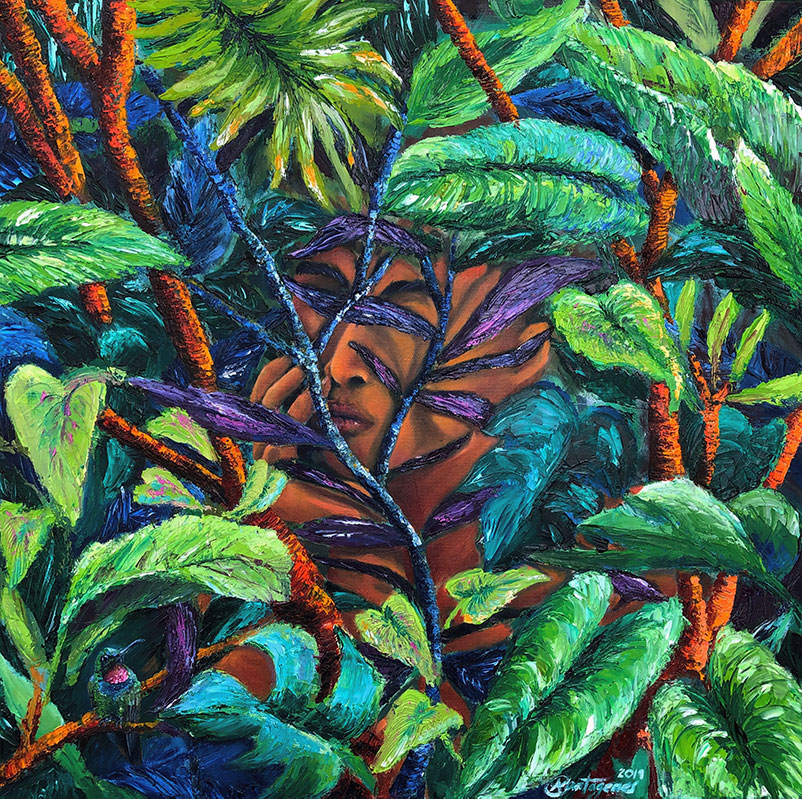 Growing Thoughts
Oil on canvas
Albert Cartagenes
Graduation year: 2022
Art Practice and Art History
A Divinity Diving
Photograph
Brookey Villanueva
Graduation year: 2020
Business Administration
Assistance with the selection of this year's artworks was provided by H.Art, the History of Art Undergraduate Association at UC Berkeley.
Past exhibits
2019-20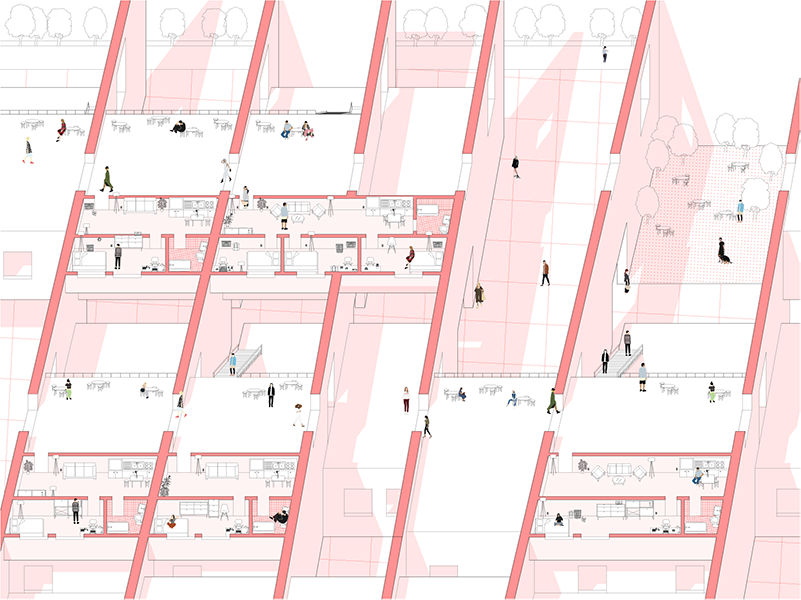 The Enfilade
Digital artwork
Cherri Jeong
Planned Graduation Year: 2019
Architecture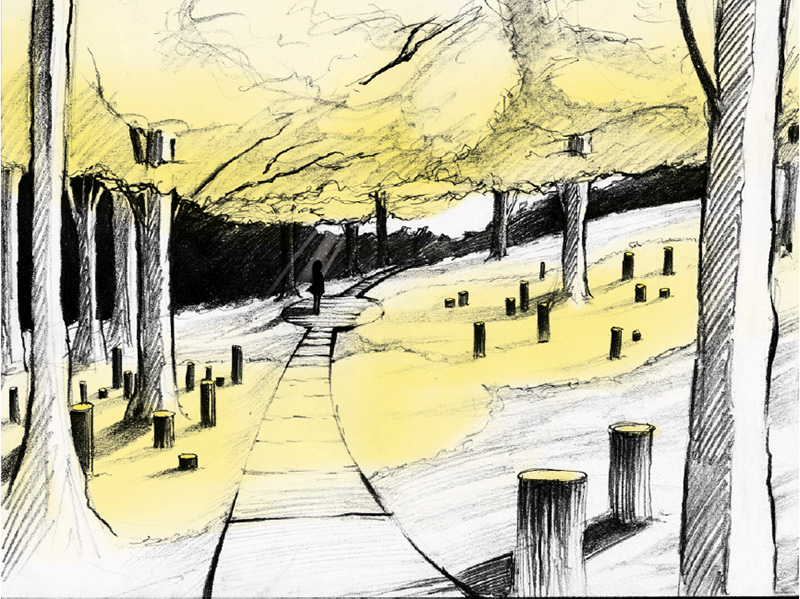 Hope and Conservation
Mixed Media: Graphite and Digital
Wendy Zhang
Planned Graduation Year: 2020
Landscape Architecture
Commemorative Path Axon
Digital (Rhino and Adobe Illustrator)
Kylie Schmidt Planned
Graduation Year: 2020
Landscape Architecture
Description: This path is part of a larger design project focused on commemorating Jo Hanson. As an early figure in the San Francisco eco-artists movement she sought to inspire more sustainable mindsets in others through her art. Along similar lines, this path design aims to inspire stewardship through interaction by highlighting on-site construction waste that would otherwise be hidden from view.

Prospect
Graphic design (by Adobe Photoshop, Adobe Illustrator, and Wacom Pro)
Grace Aichen Guo
Planned Graduation Year: 2020
Econ, Art Practice
Note: The artist pays her respects to artist and graphic designer Min Li

Polluting Oceans
Digital artwork (Adobe Illustrator)
Katrina Romulo
Planned Graduation Year: 2021
Sustainable Environmental Design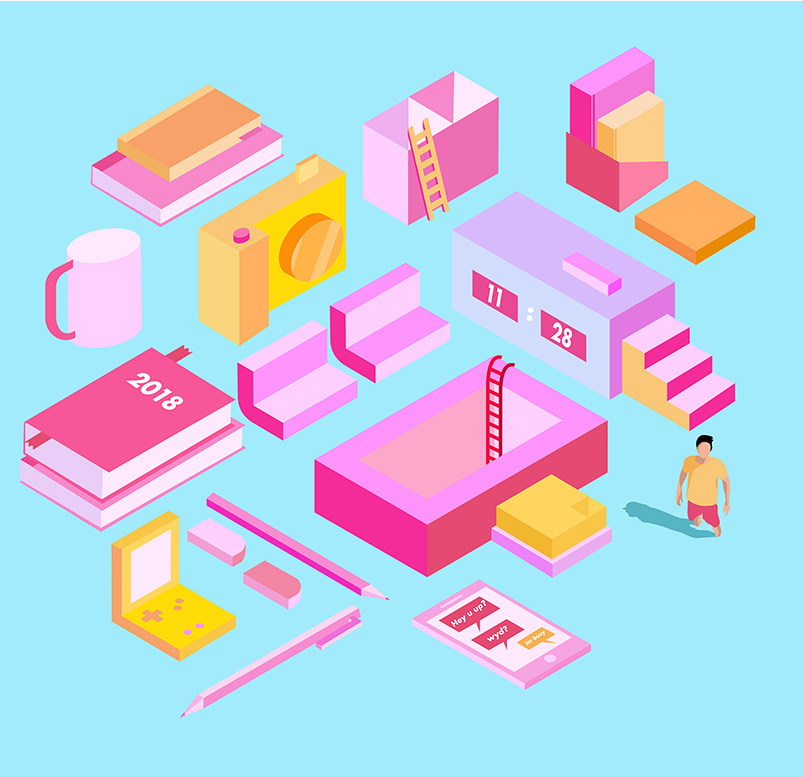 Boy on a Desk
Digital artwork (Adobe Illustrator)
Katrina Romulo
Planned Graduation Year: 2021
Sustainable Environmental Design

The Ocean's Real Monsters
Digital artwork (Adobe Illustrator)
Katrina Romulo
Planned Graduation Year: 2021
Sustainable Environmental Design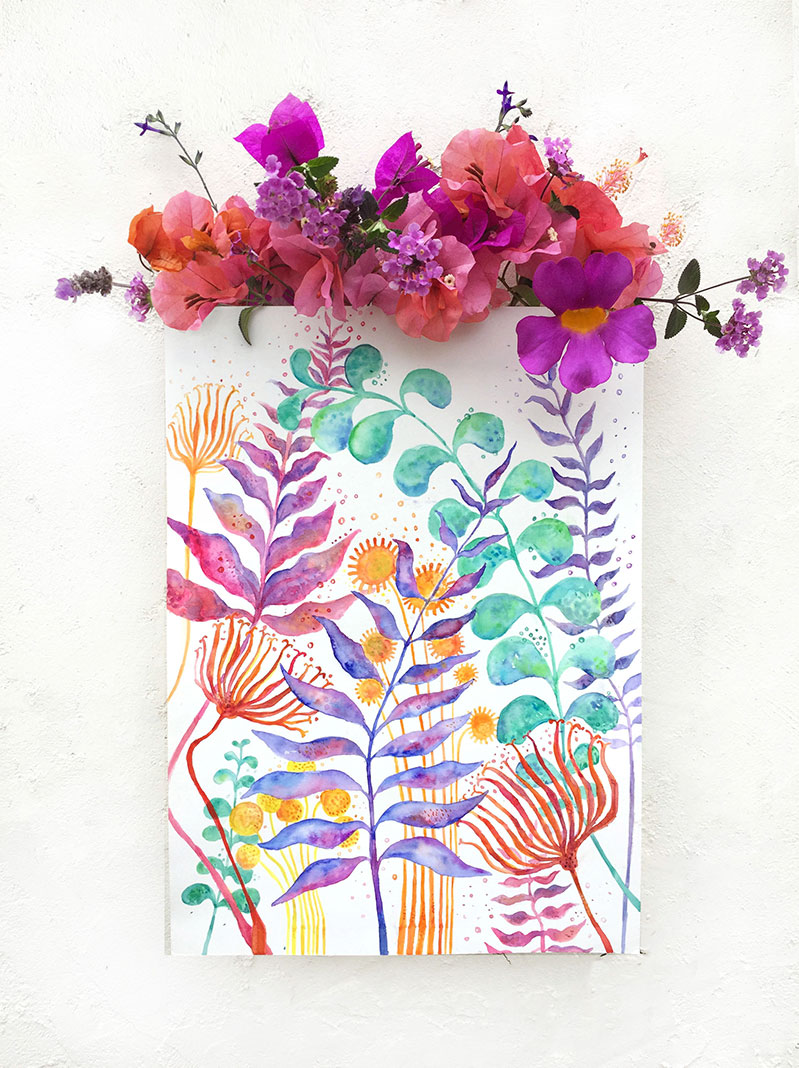 Painting Plants 1
Watercolor
Kylie Schmidt
Planned Graduation Year: 2020
Landscape Architecture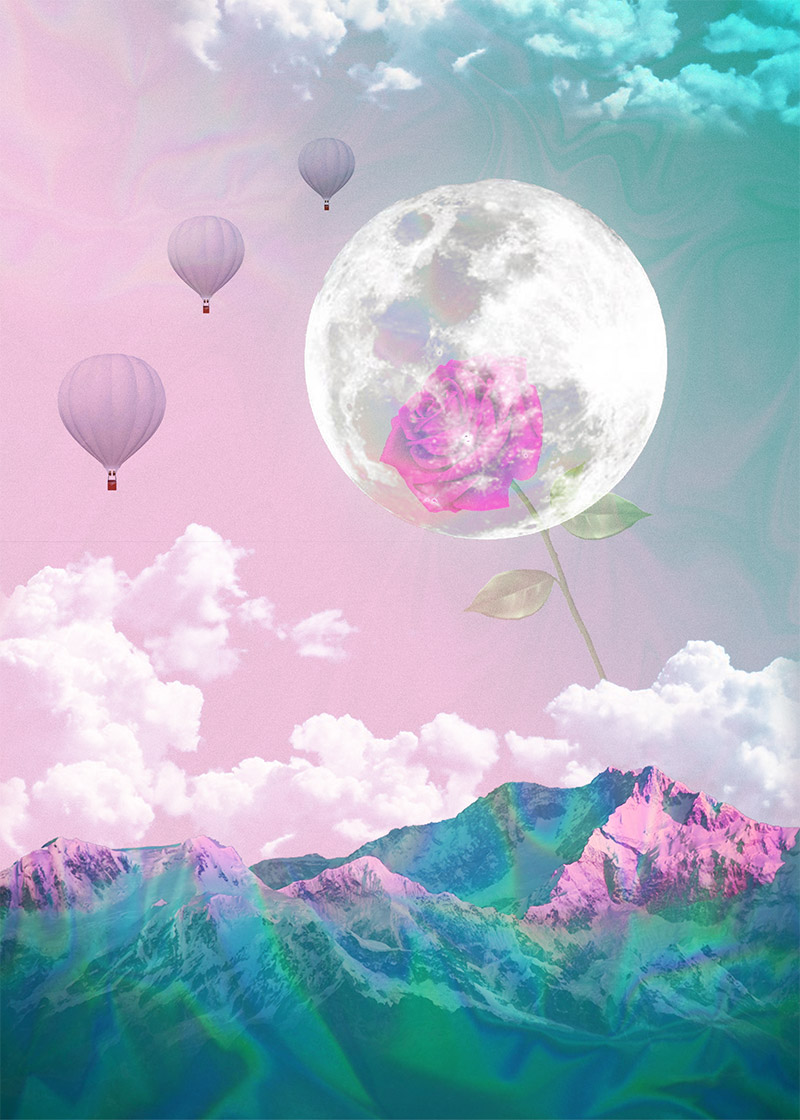 Daydream
Digital collage
Avery Chung-Melino
Planned Graduation Year: 2019
English
Note: More digital collages can be found on the artist's Instagram, @eggg.jpeg

No Title
Acrylic on Canvas
Yuanzhen Song
Planned Graduation Year: 2020
History of Art and Art Practice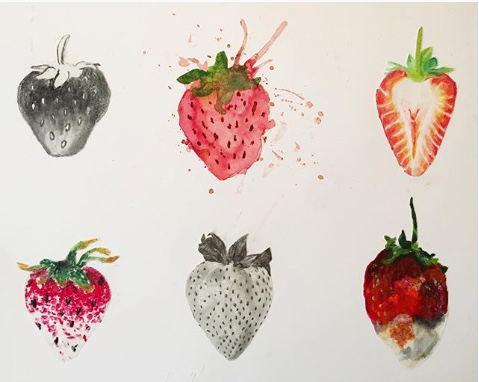 Strawberries in Mixed Media
Oil pastel, Graphite, Acrylic paint, Charcoal, Watercolor, Colored Pencil, on Paperboard
Serina Chavez
Planned Graduation Year: 2020
Major: Art Practice
Education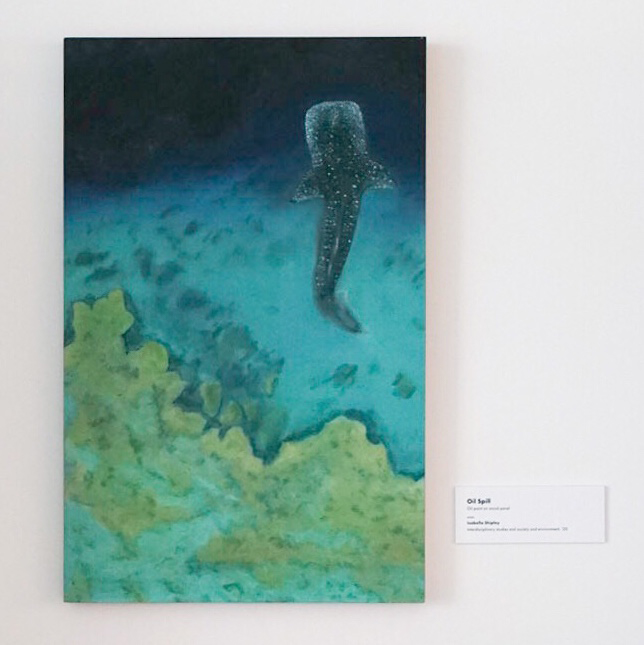 Oil Spill
Oil Paint on wood panel
Isabella Shipley
Planned Graduation Year: 2020
Interdisciplinary Studies and Society and Environment

Essence
Graphite, Marker
Grace Aichen Guo
Planned Graduation Year: 2020
Econ, Art Practice
Description: Exploring the relationship between modern and traditional. Featuring Galaxy SOHO, CCTV Headquarters, Beijing National Stadium, and the Forbidden City in Beijing, China.


Three
Acrylic on canvas
Pin Wei Kaywee Kuo
Planned Graduation Year: 2020
Art Practice
2018-19
In support of the University of California system commitment to Zero Waste 2020, the 2018-19 theme for undergraduate student art in Moffitt Library was #MyLastTrash. Artists were asked to submit works to support personal reduction of trash or to reflect how our world is affected by climate change.

Atelier Natura
Fadel Fakhouri
Graduation Year: 2019
Molecular & Cell Biology
Description: This is how the future will be. We will have to go to museums to view nature. The natural world around us will no longer be around due to pollution and tearing down trees.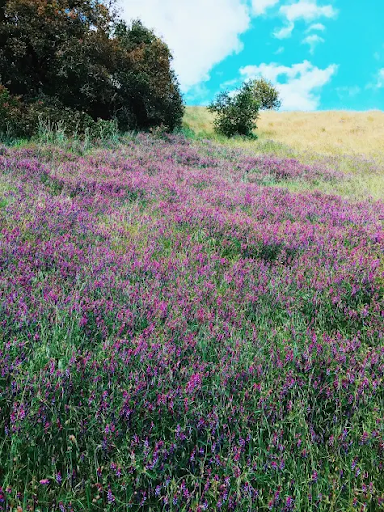 le jardin de l'artiste
Fadel Fakhouri
Graduation Year: 2019
Molecular and Cell Biology
Description: This is a mountain Santa Rosa. It is a beautiful picture. I am submitting this because we really should appreciate nature more. The photo is named after a Monet painting that looks very similar. Amazing that something that could only be imagined in a painting actually exists. Soon we will have to imagine beautiful nature because it won't exist  at this rate of pollution.
 

Re・focus
Julianna Renk
Graduation Year: 2019
Art History
Description: This is a photograph of a hummingbird sculpture that I made. Its larger-than-life size allows the materials to shine. Each part of the structure is comprised of a scrap or upcycled object — the meaning, once it all comes together, is that there is beauty in everything, and, moreover, we need to take care of nature and all of its fragile beauty.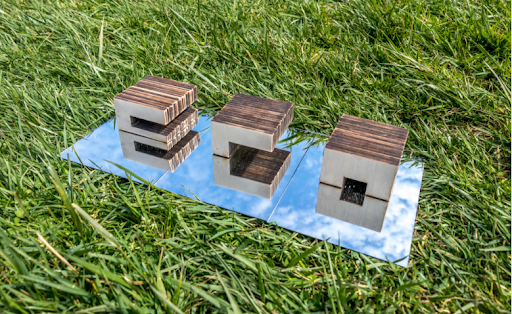 Eco
Gen Kasaneiwa
Graduation Year: 2019
Art Practice
Description: A mirror reflects everything that we are looking at and recognizes what we don't notice. This installation describes how we dispose of various things in our lives. The wood was discarded at Jacobs Hall at UC Berkeley. I collected them and combined into the word "ECO" to change our perspective on climate change.
 

Single Use Swaps
Alexandra Case, University of Georgia
Graduation Year: 2018
Consumer Journalism
Description: YOU can make a difference! Don't be the average American who creates 4.4 POUNDS OF TRASH EVERY DAY. Do you want to be responsible for air pollution caused by producing plastic? Do you want to be responsible for plastic contaminating our oceans and killing sea life? Little by little, you can make sure that your life doesn't have a harmful impact on our planet or the animals (humans included!!) in it. I made this infographic for my advertising class and wanted to share it because sustainability is a passion of mine! There are so many easy ways to fight throwaway culture and reduce the amount of plastic you contribute to landfills!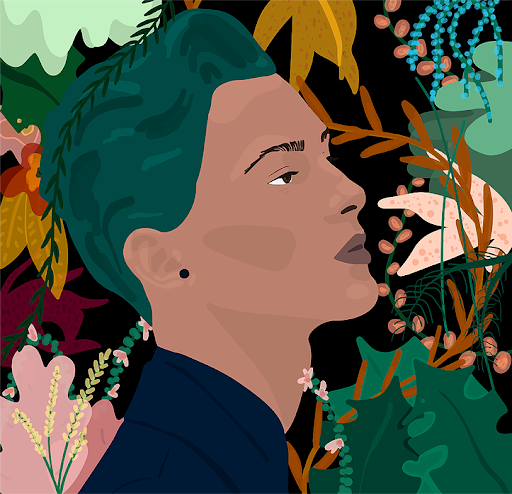 What Could Have Been
Simran Sarin
Graduation Year: 2021
Intended Molecular and Cell Biology, Intended Data Science
Description: Imagine a world in which tech, innovation, and nature all coexist. The work What Could Have Been depicts just that. It portrays an alternative future to the road society is on now: a path that can be achieved via the Zero Waste Initiative.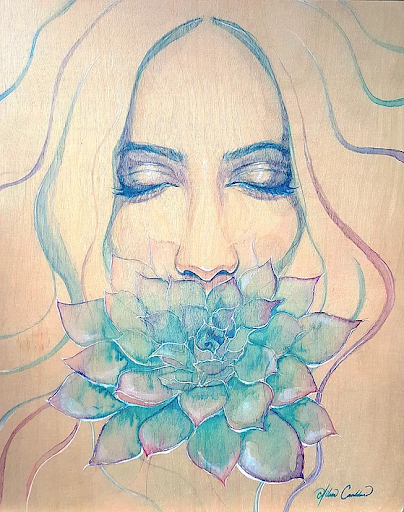 Echeveria
Aileen Candelario
Graduation Year: 2018
Art Practice
Description: These paintings were meant to celebrate the beauty of natural, compostable materials such as wood and natural pigments. They were created using biodegradable paints to avoid the use of toxic chemicals usually found in oil paints and paint thinners (which not only pose a respiratory health hazard to the artist because of the toxic fumes, but pose a risk to the environment if not disposed of properly) or acrylic paints (which are made from petroleum-derived ingredients, such as acrylic, vinyl, or PVC). They are  also painted onto wooden panels instead of a gessoed canvas to avoid using gesso (which is a mixture of chalk and artificial binders that must be sanded down to paint on, releasing particles into the air).

Orchidaceae
Aileen Candelario
Graduation Year: 2018
Art Practice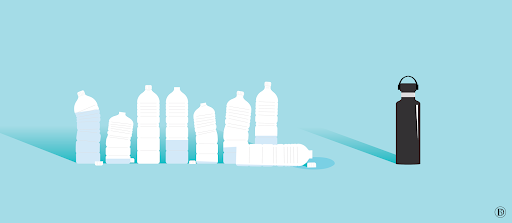 Bottle
Brandon David
Graduation Year: 2021
Electrical Engineering and Computer Science
Description: 
"We pitch into landfills 38 billion water bottles a year — in excess of $1 billion worth of plastic." - Charles Fishman
"Message in a Bottle," Fast Company Magazine, July 2007
Using reusable water bottles would greatly reduce the waste generated by plastic bottles.
 

Crash
Madeleine Valdez
Graduation Year: 2020
Political Economy
Description: This image is an illustration of how the water's contamination of many years is an impending disaster. The weight of all this waste will crash on the younger generation unless we decide here and now to take a stand and clean up. We also must learn how to live sustainable lives and coexist with this natural world in a way that will save it for the future.
 

E-Waste Circulation
Elizabeth Goldstein
Graduation Year: 2018
Sustainable Environmental Design
Description:This map was designed to trace the pathways of electronic waste globally. The sources are identified in red, and the destinations are identified using green, distinguished further by identifying destinations that are known and ones that are suspected due to the high volume of illegal dumping involved in electronic waste exportation. By utilizing GIS and Illustrator, I developed this map to show not only the routes themselves, but also the magnitude of the waste being exported (identifiable though the size of the points).
This map is tasked with telling the story of e-waste and why it is such a global issue. The Robinson projection was chosen to amplify the concept that most e-waste is exported from the North and dumped in the global South. This has to do a lot with the economic differences between the two. This map also points out the top 10 electronic waste producers and indicates which countries deal with the waste internally and which ship the waste to be dealt with elsewhere. This exposes a difference in the industries of particular countries such as the United States and China. The columns on the side of the map were created to give a more detailed narrative of the issue that the map represents.
2017-2018

TIMELESS
Zhifei Xu
Graduation Year: 2017
Architecture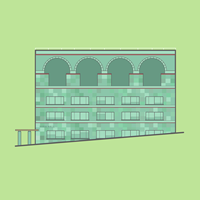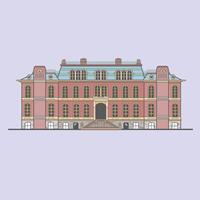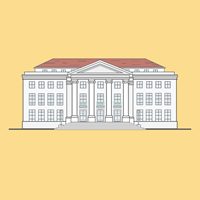 Dear Berkeley: Campanile, Soda Hall, South Hall, Sproul Hall
Ying Luo,
Graduation Year: 2017
Computer Science and Statistics
 

Low Poly Landscape
Ziqi Chen
Graduation Year: 2018
Computer Science and Business Administration
 

Rhythm 1
Stephanie Gomez
Graduation Year: 2018
Art Practice
 

Dispersal
Chutikam Cholsaipant
Graduation Year: 2019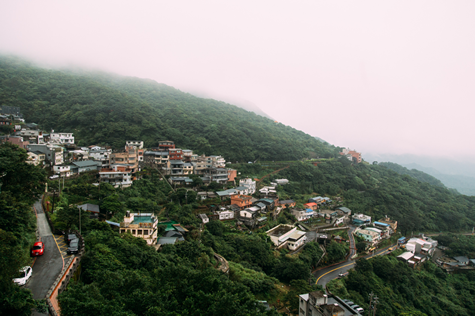 Jiufen 九份
Brandon Chau
Graduation Year: 2017
Cognitive Science and Computer Science
 

Bad Dream
Audrey McNamara
Graduation Year: 2017
Society and Environment and Film Studies
 

Swinging Sunrise
Merritt Joujon-Roche
Graduation Year: 2019
Mechanical Engineering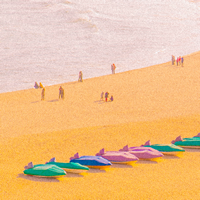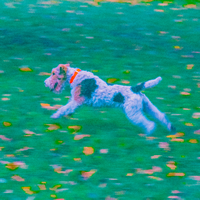 Third Person (Pastel Dreams)
Suzi Hyun
Graduation Year: 17
Sociology and Art
 

A Deconstruction of Rest
Katherine Yao
Graduation Year: 2017
Art Practice and Media Studies
 

Untitled
Amanda Kachadoorian
Graduation Year: 2018
Art Practice
 

Lick Observatory
Kevin Reber
Graduation Year: 2017
Architecture
2016-17
Several pieces were selected and hung in the newly renovated floors 4 and 5 of Moffitt Library. All artists were undergraduates from the Department of Art Practice at the University of California, Berkeley.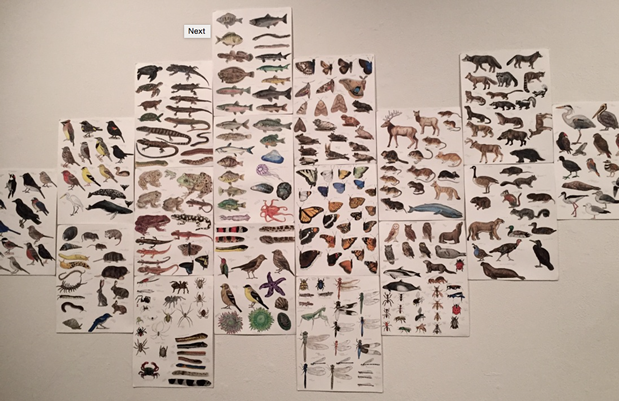 A Field Guide to the San Francisco Bay Area
Lindsay Hansen
Graduation Year: 2016
Watercolor and ink on paper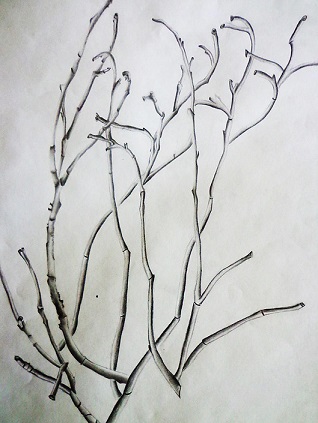 Wilted series
Katie Revilla
Graduation Year: 2017
Graphite on paper
 

Sets
Bridget Cuevas
Graduation Year: 2016
Acrylic on canvas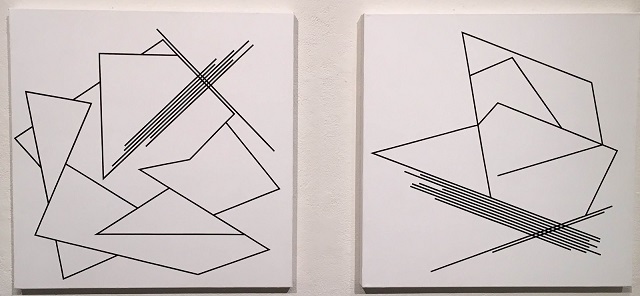 Hand and Palm
Bridget Cuevas
Graduation Year: 2016
Acrylic on canvas
 

What's Left Behind--Berkeley
Monica Galvan
Graduation Year: 2016
Photography
Permanent art
Exhibit
Two permanent pieces of art were commissioned from Five Ton Crane for the opening of the then-newly renovated floors 4 and 5 of Moffitt Library. Both pieces are located on the west wall on Floor 5 in the Haas-Herscher Gallery. To create these works, photos were taken on UC Berkeley's campus of less commonly depicted areas. The images were divided into one foot by one foot squares and 5TC artists were assigned a random square or two … or 10 … to recreate in the media of their choice. Each panel is its own expression using materials including guitar picks, legos, puzzle pieces, ceramics, corks, and feathers.
Five Ton Crane
Berkeley2 Series
Student Activities
Mixed Media on Wood
2016
 
Five Ton Crane
Berkeley2 Series
SOGA Garden
Mixed Media on Wood
2016