Using the Library during COVID-19
Most of UC Berkeley's library buildings are open. To stay up to date on the Library's policies and services during the pandemic, visit the Library's COVID-19 webpage.
History
Content section:
Berkeley's East Asian collection was seeded by the deposit in 1896 of John Fryer's Chinese library, which Fryer later bequeathed to the University. Other early gifts and acquisitions, beginning with the Kiang Kang-hu library in 1916, the Horace G. Carpentier Endowment in 1919, and the E. T. Williams collection in the 1920s, sustained the quality and distinction of the library at a time when Berkeley was almost alone among American campuses in offering a broad program in East Asian studies.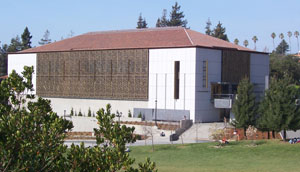 The East Asiatic Library (renamed "East Asian" in 1991) was established in 1947 as a branch within the University Library system. By the early 1950s, the Library's Japanese holdings ranked first among American university collections due in large part to the acquisition of 100,000 items from the Mitsui Library and the 8,850-volume Murakami Library.
The Center for Chinese Studies Library began as an off-campus reading room under the auspices of the Center for Chinese Studies in 1957. Eventually it became affiliated with the Institute of East Asian Studies, relocated to campus, and developed into one of the largest academic repositories of materials on contemporary China outside China.
In 2008, the East Asian Library and Center for Chinese Studies Library merged and integrated their collections in the C. V. Starr East Asian Library. The merger consolidated Berkeley's Chinese language holdings; the move into new quarters improved accessibility to the entire collection and ensured that the Library would have room for growth in the coming decades. It also provided the technological infrastructure and facilities that will allow the Library to address the scholarly community's needs into the twenty-first century.