Using the Library during COVID-19
Most of UC Berkeley's library buildings are open. To stay up to date on the Library's policies and services during the pandemic, visit the Library's COVID-19 webpage.
Online Exhibits
Content section: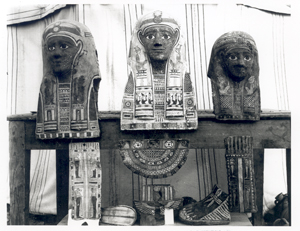 When the UC Berkeley share of the finds from the Tebtunis excavations reached the campus, the texts on papyrus were separated from the other objects. The texts were housed in what would later become The Bancroft Library, while the objects went to what is now the Phoebe A. Hearst Museum of Anthropology. Although the physical distance between these buildings is short, the potential for holistic study of these two types of material remains from Tebtunis has been little realized so far.  CTP's online exhibits are an effort to bridge an artificial divide, to reunite objects with texts in a virtual environment.
Elisabeth R. O'Connell curated this exhibit to coincide with Ann Ellis Hanson's 2005 public lecture, "Tebtunis: Its Inhabitants and Its Papyri of Medical Content." Based on literary and documentary texts in Berkeley's Tebtunis collection, the exhibit investigates the evidence (and limits of the evidence) for literacy in Roman Egypt.
Elisabeth R. O'Connell curated this exhibit to coincide with Willy Clarysse's public lecture, "The Great Revolt of the Egyptians (205-186 BCE)."  It explores the definitions of "Greek," "Roman," and "Egyptian" implicit in "Graeco-Roman Egypt" through the lens of archaeological (including papyrological) evidence in Berkeley's collections.
This exhibit is an adaptation of Elisabeth R. O'Connell's exhibit that complemented Dominic Rathbone's 2003 public lecture, "A Town Full of Gods: Imagining Religious Experience at Tebtunis."  The exhibit takes Tebtunis as a case study of how religion functioned in Graeco-Roman Egypt and challenges the idea that "religion, magic, and medicine" constituted discrete categories in antiquity.
Elisabeth R. O'Connell (using text from Ancient Lives) created this exhibit, an overview of the Tebtunis papyrus collection and its history, to coincide with Dorothy Thompson's 2002 public lecture, "Obelisks and Fountains: Greek Culture in Hellenistic Egypt."
This exhibit adapted by William Short coincided with "The Tebtunis Papyri: The First 100 Years," a 1999 symposium sponsored by The Bancroft Library and the Department of Classics. An international group of scholars discussed social and administrative history, cultural exchange, and religion as illuminated by the material from Tebtunis.