Using the Library during COVID-19
Most of UC Berkeley's library buildings are open. To stay up to date on the Library's policies and services during the pandemic, visit the Library's COVID-19 webpage.
Human Mummies Papyri
Content section:
Mummy portraits from Tebtunis. Photograph 1899/1900; courtesy of the Egypt Exploration Society
This group of papyri comes from the cartonnage covering human mummies.  These texts date from the third and second centuries BCE.  As in the case of the papyri from the crocodile mummies, we find, among other things, the remains of various official papers.
Texts from Scribes and Guards (Officials)
Quite a considerable number of texts can be traced back to Oxyrhyncha, a small village to the north of Tebtunis. Among these are texts from village officials, such as the komogrammateus (village scribe) and the phylakes (guards). 
P. Tebt. 771, from the mid-second century BCE, is a petition from an inhabitant of Oxyrhyncha to the King and Queen of Egypt. Fragments of two copies of this petition have survived in the same mummy cartonnage:
To King Ptolemy and Queen Kleopatra, his sister, the mother-loving gods, greeting. From Petesouchos son of Petos, Crown cultivator from the village of Oxyrhyncha in the division of Polemon in the Arsinoite nome. I live in Kerkeosiris in the said nome, and there belongs to me in the aforesaid village of Oxyrhyncha a house
inherited from my father, possessed by him for the period of his
lifetime and by myself after his decease up to the present time
with no dispute. But Stratonike daughter of Ptolemaios, an
inhabitant of Krokodilon polis in the aforementioned nome, mischievously wishing to practise extortion on me, coming with other persons against the aforesaid house, forces her way in before any judgement has been given and. . .in the village about. . .the house, coming in and  laying claim to it wrongfully. I therefore pray
you, mighty gods, if you see fit, to send my petition to
Menekrates, archisomatophylax and strategos, so that he may order
Stratonike not to force her way into the house, but, if she
thinks she has a grievance, to get redress from me in the proper
manner. If this is done, I shall have received succour. Farewell.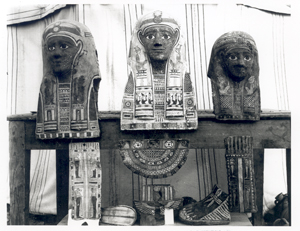 Mummy cartonnage (heads, pectorals, and feet) [Photograph 1899/1900; courtesy of the Egypt Exploration Society]
Texts from Official Village Archives
In addition to the Greek texts described above, there are large numbers of demotic papyri from the cartonnage of human mummies, including several official registers of tax payments. These papyri therefore come from one or more official archives, perhaps the same archives as the Greek papyri.
We hypothesize this because early in the Ptolemaic period, during the third and early second centuries BCE, it was quite common for officials to keep administrative records in the Egyptian language rather than in Greek. Only later did Greek come to predominate as the administrative language.