Using the Library during COVID-19
UC Berkeley's library buildings are now open. To stay up to date on the Library's policies and services during the pandemic, visit the Library's COVID-19 webpage.
Advanced Summer Institute
Content section:
This year's Institute is now on a wait list. We are no longer accepting applications.
About the Institute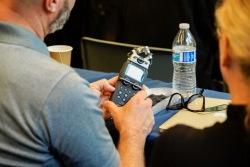 The Oral History Center is offering an online version of our one-week advanced institute on the methodology, theory, and practice of oral history. This will take place from August 9-13, 2021. Due to the global COVID-19 pandemic, the Advanced Institute will be held online.
The cost of the Advanced Institute has been adjusted to reflect the online nature of this year's program. This year's cost has been adjusted to $550. See below for details about this year's institute.
The institute is designed for graduate students, postdoctoral fellows, university faculty, independent scholars, and museum and community-based historians who are engaged in oral history work. The goal of the institute is to strengthen the ability of its participants to conduct research-focused interviews and to consider special characteristics of interviews as historical evidence in a rigorous academic environment.
We will devote particular attention to how oral history interviews can broaden and deepen historical interpretation situated within contemporary discussions of history, subjectivity, memory, and memoir.
Overview of the Week
The institute is structured around the life cycle of an interview. Each day will focus on a component of the interview, including foundational aspects of oral history, project conceptualization, the interview itself, analytic and interpretive strategies, and research presentation and dissemination.
Instruction will take place online from 8:30 a.m. – 12:30 p.m. Pacific Time, with breaks woven in. There will be three sessions a day: two seminar sessions and a workshop. Seminars will cover oral history theory, legal and ethical issues, project planning, oral history and the audience, anatomy of an interview, editing, fundraising, and analysis and presentation. During workshops, participants will work throughout the week in small groups, led by faculty, to develop and refine  their projects.
Participants will be provided with a resource packet that includes a reader, contact information, and supplemental resources. These resources will be made available electronically prior to the Institute, along with the schedule.
Applications and Cost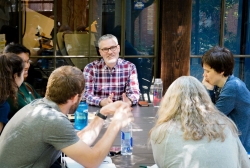 The cost of the institute is $550. OHC is a soft money research office of the university, and as such receives precious little state funding. Therefore, it is necessary that this educational initiative be a self-funding program. Unfortunately, we are unable to provide financial assistance to participants. We encourage you to check in with your home institutions about financial assistance; in the past we have found that many programs have budgets to help underwrite some of the costs associated with attendance. We will provide receipts and certificates of completion as required for reimbursement.
Questions?
Please contact Shanna Farrell at sfarrell@library.berkeley.edu with any questions.