Using the Library during COVID-19
Most of UC Berkeley's library buildings are open. To stay up to date on the Library's policies and services during the pandemic, visit the Library's COVID-19 webpage.
Remote Interviewing
Content section:
In response to the COVID-19 pandemic, Oral History Center oral historians have developed new practices and procedures to enable remote interviewing and to consider the implications of this practice. In the documents below, we provide our latest guidelines on topics including: remote interviewing with Zoom; tips for getting started in oral history while sheltering in place; and more to come. We welcome feedback, questions, and suggestions for additional topics to cover.
Remote Interviewing with Zoom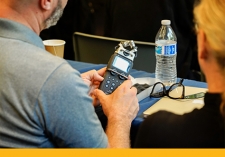 These protocols were developed to facilitate remote recording of narrators of the highest quality available during the COVID-19 pandemic. We developed these protocols for the Zoom video conference platform using both audio and video. We also provide instructions for additional, backup audio recordings. Interviewers, or the hosts of the interviews, will need to have a professional Zoom license; narrators need only access to a computer or telephone. 
Available for download: Remote Interviewing with Zoom
Free Webinar: Recording with Zoom
Learn how to conduct and record interviews on Zoom; developed by Paul Burnett and taught by experts in oral history, who have been interviewing remotely during shelter-in-place.
Watch the webinar. 
Articles about Remote Interviewing
Oral History provides a way for people to see the world through someone else's eyes. In this article posted toward the beginning of shelter-in-place in April 2020, Amanda Tewes shares storytelling questions anyone can use to frame oral history life interviews and to have more meaningful conversations — even at a distance. 
In this article from March 2021, Shanna Farrell talks about the genuine human connection forged between an interviewer and a narrator, the challenges of establishing rapport remotely, and how it can be done. 
Remote interviewing has enabled opportunities that didn't exist before. Amanda Tewes sorts out the pros and cons of remote interviewing in this article from May 2021.
Oral History Tips
During transformative times in history like these, it's important to document the lives of everyday citizens. Willa Baum, a pioneer in oral history and former director of the Oral History Center, provides tips on conducting oral histories.