Using the Library during COVID-19
During the pandemic, many of our services are being offered in new ways. To find the latest information on course reserves, book returns, 24/7 online help, and more, visit our COVID-19 portal, which provides more up-to-date information than the text below.
Earl Warren in California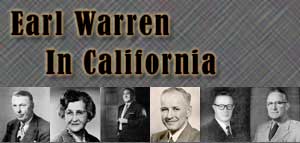 The Earl Warren Era Project (recorded 1969-1979) documents the executive branch, the legislature, criminal justice and political campaigns during the Warren Era in California. Focusing on the years 1925-1953, the interviews also provide a record of the life of Earl Warren and yield new information on the changes wrought in California by successive Depression, war, and postwar boom.