Using the Library during COVID-19
Many of our services are now being offered in new ways. To find the latest information on course reserves, book returns, 24/7 online help, and more, visit our Library services and resources during COVID-19 page. The information on that page supersedes all other information on the Library website at this time.
Introductory Workshops
Content section:
The 2021 Introduction to Oral History Workshop will be held virtually via Zoom over two days on Friday, March 5, from 12–3 p.m. and Saturday, March, 6 from 9 a.m.–1.p.m. Pacific Time. Applications are now closed. 
The two-day day introductory workshop tuition is $200 and is designed for people who are interested in an introduction to the basic practice of oral history. The workshop serves as a companion to our more in­-depth Advanced Oral History Summer Institute held in August.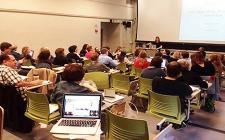 This workshop focuses on the "nuts-­and-­bolts" of oral history, including methodology and ethics, practice, and recording. It will be taught by our seasoned oral historians and include hands­-on practice exercises. Everyone is welcome to attend the workshop. Prior attendees have included community-­based historians, teachers, genealogists, public historians, and students in college or graduate school.
If you have specific questions, please contact Shanna Farrell at sfarrell@library.berkeley.edu.