Using the Library during COVID-19
Many of our services are now being offered in new ways. To find the latest information on course reserves, book returns, 24/7 online help, and more, visit our Library services and resources during COVID-19 page. The information on that page supersedes all other information on the Library website at this time.
Introductory Workshops
Content section:
The 2020 edition of the Introduction to Oral History Workshop will be held on February 29 from 9am to 4pm. The workshop will be located at the Tilden Room of the MLK Student Union on the UC Berkeley campus. Applications for this workshop are open here. 
The one day introductory workshop tuition is $125 and is designed for people who are interested in an introduction to the basic practice of oral history and serves as a companion to our more in­-depth Advanced Oral History Summer Institute held in August.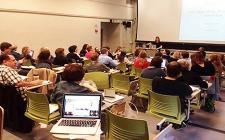 This workshop focuses on the "nuts-­and-­bolts" of oral history including methodology and ethics, practice, and recording. It will be taught by our seasoned oral historians and include hands­-on practice exercises. Although space is strictly limited, everyone is welcome to attend the workshop, including community-­based historians, teachers, genealogists, public historians, and students in college or graduate school.
If you have specific questions, please contact Shanna Farrell at sfarrell@library.berkeley.edu.