Using the Library during COVID-19
Most of UC Berkeley's library buildings are open. To stay up to date on the Library's policies and services during the pandemic, visit the Library's COVID-19 webpage.
Permissions and Duplication
Content section:
Textual Permissions
What Has Been Published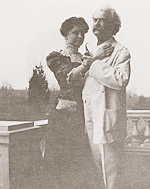 Everything Mark Twain wrote for which the Mark Twain Project had even a partial text, as of the end of 2001, has now been published—by Mark Twain himself, by various hands between 1910 and 1962, or by the University of California Press or The Bancroft Library between 1962 and the end of 2002. These texts have been published either in printed volumes or in one of three Microfilm Editions issued by The Bancroft Library in December 2001. Some works have also been published or reprinted in this period by other publishers under license from the University of California Press.
Image: Mark Twain and Helen Keller. Photographer: Isabel V. Lyon. Date: 8 January 1909. [Mark Twain Papers, PH02066]
What Is Protected and What Is in the Public Domain?
What Mark Twain himself published, or anything of his that others published posthumously before the year 1923, is in the public domain and may be quoted or reproduced in its entirety without permission. Mark Twain writings of any kind, whether literary manuscripts, notebooks, marginalia, or letters which came to light after 2001 and which were not published in the Microfilm Editions or elsewhere before the end of 2002, are likewise in the public domain. But work by Mark Twain published after 1923 and before the end of 2002 may well be protected by copyright.  
Guidelines for "Fair Use"
Under "fair use," quotation from any published work still under copyright is permitted without obtaining the copyright holder's permission. But re-publication or reprinting of any whole work (letter, notebook, essay, etc.) so protected, or any substantial portion of such a work, requires the permission of the copyright holder. Generally speaking, if publication occurred in 1962 or later, permission must be obtained from the General Editor of the Mark Twain Project and the University of California Press. If publication occurred between 1923 and 1961, permission must be obtained from the Mark Twain Foundation.
Responsibilities of Those Seeking Use Permissions
It is the responsibility of anyone seeking permission to republish protected text (a) to determine the specific source of the words to be quoted and (b) to quote them with reasonable accuracy. Mark Twain Project staff can offer limited assistance to confirm the copyright status of particular letters or works and, for materials published in the Microfilm Editions, we will provide specific microfilm reel numbers for the purpose of citation. For all questions of copyright it is often wise and sometimes necessary to consult an attorney versed in copyright law. The editorial staff of the Project are not themselves copyright experts.
How to Obtain Copyright Permissions
All valid copyrights on Mark Twain's words are held by Richard A. Watson and JPMorgan Chase Bank as Trustees of the Mark Twain Foundation, which reserves all reproduction or dramatization rights in every medium. To write to the Mark Twain Foundation, address your request to
    Richard A. Watson
    Mark Twain Foundation
    Chamberlain, Willi, Ouchterloney, & Watson
    494 Eighth Avenue, 7th Floor
    New York, NY  10001
Copyright on all editorial transcriptions, reconstructions, decipherings, introductions, textual and explanatory notes, identifications of correspondents, places, and dates, in print or microfilm editions produced by the Mark Twain Project, is held by the Regents of the University of California. To write to the University of California Press, address your request to
        Kim Robinson
        Editorial Director
        University of California Press
        155 Grand Avenue, Suite 400
        Oakland, CA 94612-3758
Pictorial Permissions
Permission to publish photographs or other images owned by the Mark Twain Project must be applied for in writing. Please complete a permissions form and an image order form as part of the application process. Our Contact page provides surface and email addresses.
Use fees will apply per image requested; however, permission to publish does not constitute a copyright permission. Neither the Mark Twain Project nor the Library's Digital Imaging Laboratory is responsible for the misuse of copyrighted material.
Freely available photos related to Samuel Clemens can be found in the New York Public Library Digital Collections and Wikimedia Commons.