Current and Upcoming Bancroft Exhibits
Content section:
ALL EXHIBITION SPACES ARE CLOSED UNTIL AT LEAST APRIL 7TH
---
Current Exhibits
Object Lessons: The Egyptian Collections at the University of California, Berkeley
October 11, 2019 - May 2020
The Bancroft Library Gallery
Open Monday - Friday, 10am - 4pm
Object Lessons brings together ancient and modern Egyptian artifacts from the Center for the Tebtunis Papyri and the Phoebe A. Hearst Museum of Anthropology in an exhibition in The Bancroft Library Gallery and Corridor. In the Gallery, we invite you to explore how items from everyday life were created and discarded, excavated, and conserved from antiquity to the present day. The Corridor showcases the innovative research being carried out on the Egyptian collections at the University of California, Berkeley, that continues to push scholarship forward in the twenty-first century. The things humans create often last beyond a single lifetime. Join us in considering the new lessons we can learn from the past lives of objects.
Please note: The Bancroft Gallery welcomes school groups, but the gallery has limited space. The gallery can accommodate a maximum of twenty students at a time. Students must be accompanied by at least two adults from their school. Parking for buses (and cars) on the Berkeley campus is almost non-existent. Buses may drop groups off at the entrance to The Bancroft Library, but then must drive off campus to wait until it is time to return to pick up the passengers.
---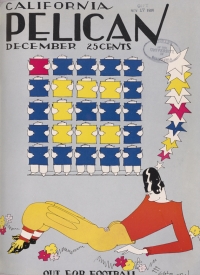 Fiat Yuks: CAL Student Humor, Then and Now
October 13, 2017 - May 2019
Rowell Cases, 2nd floor corridor between The Bancroft Library and Doe Library
Open during the operating hours of the Doe Library
Let there be laughter! This exhibition features Cal students' cartoons, jokes, and satire throughout the years selected from their humor magazines and other publications.