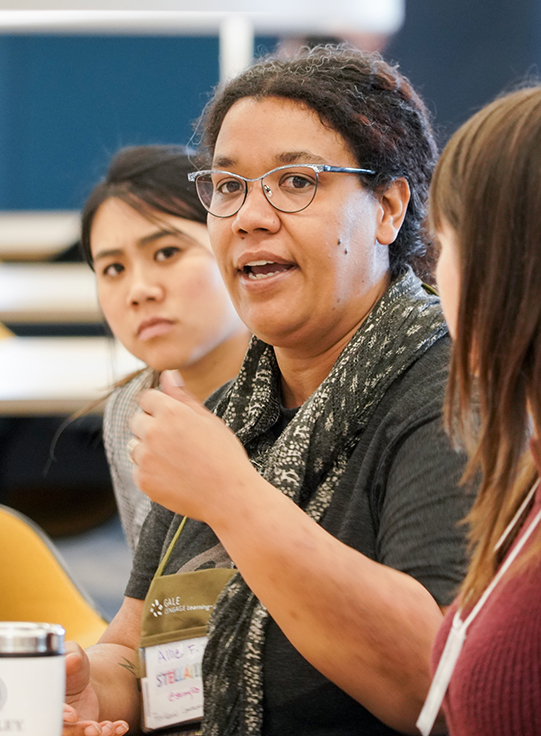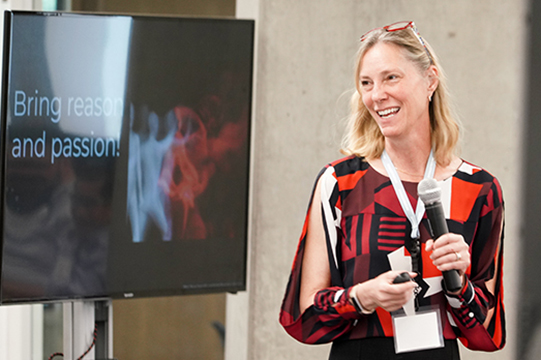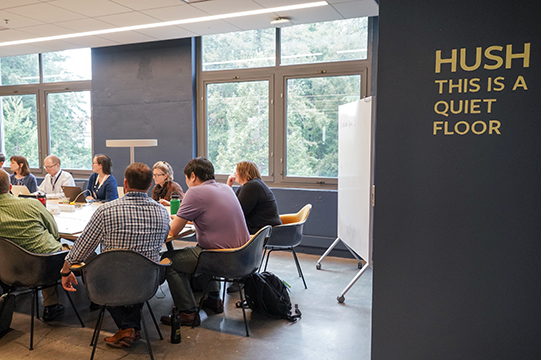 Top to bottom:

Clockwise from left:

Allie Flanary of Portland Community College talks during one of the breakout sessions at the STELLA Unconference at Moffitt Library on May 18, 2018; Jenn Stringer, Chief Academic Technology Officer at UC Berkeley, gives the keynote address; participants talk on the quiet floor of Moffitt Library. (Photos by Jami Smith for the UC Berkeley Library)
"How many of us are not scientists by training?" asked the discussion leader.
Around a long table, nearly every attendee raised their hand, glancing around the room for others in search of solidarity and understanding.
On Friday and Saturday, UC Berkeley hosted the STELLA Unconference — a collaborative gathering of "Science, Technology, and Engineering Library Leaders in Action." The conference, free and open to all, gave science librarians from all walks and disciplines a chance to come together — to share and unravel experiences and challenges in science, technology, engineering, and math — or STEM — librarianship.
"I hope that the attendees walk away feeling affirmed in the experiences they are having, and being uplifted to know that we are a community of people who can work together and learn from each other," said Jeffra Bussmann, a science librarian at Cal State East Bay who organized the event alongside campus librarians Sam Teplitzky and Lisa Ngo.
The conference is held every two years at colleges around the country. This year, about 80 librarians converged in Moffitt Library's fifth floor. At the start of the conference, Jenn Stringer, chief academic technology officer and assistant vice chancellor of teaching and learning at UC Berkeley, addressed the need for librarians to foster partnerships with information technology staff at their institutions, and for the two units to be advocates for each other.
"Chances are, IT people are busy solving problems that they could probably solve better if you help them," Stringer said.
Afterward, attendees dispersed into various corners of Moffitt to discuss topics such as diversity and outreach in STEM, information literacy in engineering, and science librarian recruitment. Organizers had shared a spreadsheet with participants before the event to crowdsource discussion ideas. At the conference, attendees narrowed down the list, signing up to attend and facilitate sessions on their favorite topics.
"A lot of conferences are planned a year or two years out, and it's done by people removed from those who are actually attending," Bussmann said. "I really liked the idea of an event with content that is planned by the participants themselves."
During a breakout session on diversity and new librarianship in STEM, one group of librarians jumped through several topics, including gaps in the library school curricula for science librarians, restrictive criteria in librarian job postings, and a lack of diversity in the field.
"Librarianship is overwhelmingly white, and the world isn't, and that's a problem," said Lindsay Marlow, the STEM outreach and instruction librarian at Oregon State.
Angela Gonzalez-Curci, a library student at the University of Washington, said that, as a child, she didn't know that engineering librarians even existed. In immigrant communities, especially — where there may be a lack of understanding about possible career paths — more direct outreach is needed, she said.
"How are you going to explain to your parents that, 'Yeah, I'm going to get a master's degree and make less than a lawyer?'" Gonzalez-Curci said. "That's a hard sell, and people who have that support go into librarianship, because they can. People who don't have that support don't get to that step."
For Bussmann, one theme that connected the various group discussions is that all of the participants want to make a difference in the communities they serve. "That's what brings us all together," she said.
Participants discuss open educational resources in a breakout session.
In a session on information literacy in engineering, participants discussed how to inspire undergraduates to be more thoughtful of the research process, and what kinds of teaching tools could be effective — from lessons that resemble games to more accurate infographics about the research process.
Jozef Laincz, the geosciences librarian at the University of Arkansas, shared his experiences teaching research skills to students in STEM. Many students are wary of using Google Scholar, the academic search engine, or Wikipedia, for example, because of warnings from teachers past. But for Laincz, it's up to librarians to teach students how to use the tools available, always with a skeptical and poised mind.
"They are bright, they know how to find their information, but there are tricks that can be done with Google Scholar to turn it into a tool that gives you quality results," Laincz said. "It is a phenomenal tool, and better than rejecting it, we should maximize its use and know how to use it well."
Kari Kozak, who heads the Engineering Library at the University of Iowa, said she appreciated the conference as an opportunity to hear from other librarians about their perspectives, and to get tips and tricks for the balancing act that librarians perform day in and day out.
"One day I might be talking to someone about collections, and three hours later I'm talking to someone about information literacy and how to present to a class, and then I'm planning an event in my library," Kozak said. "That all happens in a day. So how, as subject librarians, can we be well-rounded and understand all the differences?
"That's what you can see in this conference," she said. "It's a chance to bounce ideas off of each other and say, 'Oh, this is what has failed me miserably, but this is what worked.'"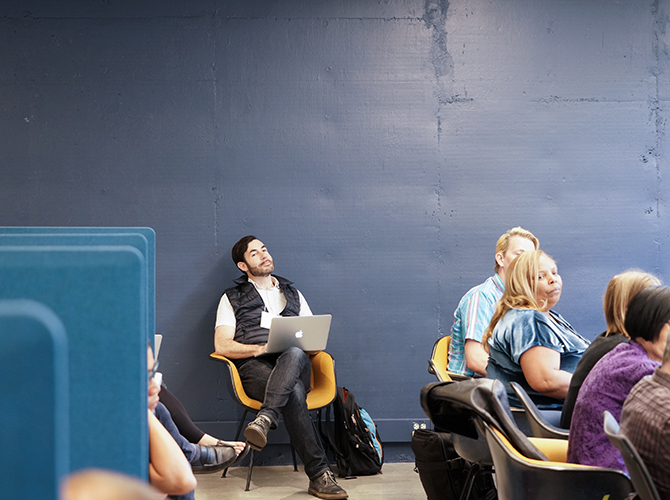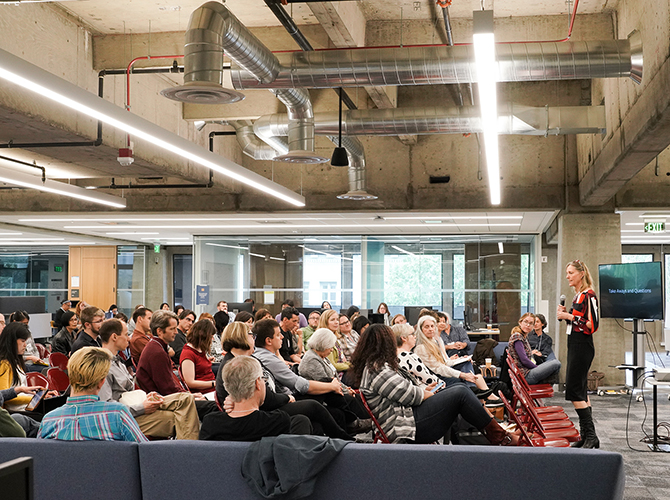 Left, participants listen to a discussion about building interdepartmental relationships in a breakout session. At right, the keynote speech was given on the fifth floor of Moffitt.