The redesign of Moffitt Library's fourth and fifth floors marked the first renovation in the building's history. (Photo by Brittany Hosea-Small for the UC Berkeley Library)
Before its overhaul, UC Berkeley's Moffitt Library was looking a little — well, vintage. And not in a hip way.
That's where Gensler came in.
The San Francisco-based architecture and design firm worked with the Library to reimagine Moffitt's top two floors, marking the first time the building had been renovated in its nearly 50-year history. For its work on Moffitt, Gensler was recently recognized with a special citation in the 2018 American School & University Educational Interiors Showcase. The showcase is one of two national competitions American School & University magazine holds each year to highlight outstanding architecture in schools.
After a yearlong renovation, Moffitt's fourth and fifth floors opened to the public in November of 2016. New visitors came to the library to find a fourth floor transformed into a buzzy, active space, designed with collaboration in mind. Moffitt's fifth floor became a quiet oasis, with softer colors, study carrels, and a wellness lounge where students could take a breather — or catch some Z's. On each of the re-envisioned floors, students were greeted by writeable glass walls — nearly 3,500 square feet worth — and snack-friendly tables.
Gensler turned Moffitt into a "vibrant and stunning contemporary environment," the jury noted, adding that the design is both "timely and timeless."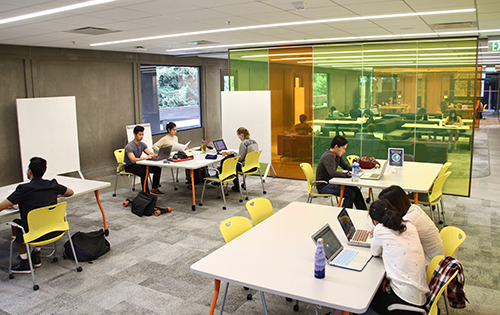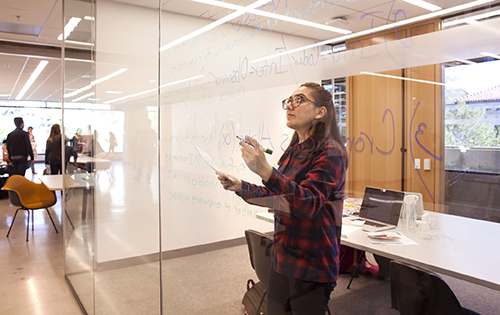 Top to bottom:

Left to right:

Open space and vibrant colors are features of Moffitt Library's renovated fourth and fifth floors; students can use writeable glass walls in study areas. (Photos by Brittany Hosea-Small and Cade Johnson for the UC Berkeley Library)
The remaining three floors will soon be renovated, as the library completes its transformation into the Center for Connected Learning, a cutting-edge, collaborative hub for undergraduates.
"The renovation of the library and terrace has transformed this part of the campus," said Elizabeth Dupuis, associate university librarian for educational initiatives and user services and director of the Doe, Moffitt, and subject specialty libraries. "Students, librarians, faculty, and campus partners are drawn to this building.
"Moffitt Library has become synonymous with experimentation and creativity."
Gensler's previous projects include work on two Salesforce sites; Pixar's headquarters, in Emeryville; the Golden State Warriors' new arena, in San Francisco; and the Oakland Athletics' training facility in Mesa, Arizona.
The firm is also collaborating on the design of the A's new ballpark.