The streets were slick with morning rain. On the UC Berkeley campus, Strawberry Creek, which had taken on a distinctly muddy hue, was running high.
But inside Doe Library's Roger W. Heyns Reading Room, spirits were running even higher.
This month, the annual Luncheon in the Library returned to Doe, after the pandemic moved the event to Zoom for the past two years. Held in the midst of a series of winter storms that drenched the state, this year's luncheon evoked the feeling of a reunion, as throngs of Library supporters came together to listen to the featured speaker, author and journalist Gary M. Pomerantz.
Pomerantz's connection to UC Berkeley is as strong as they get. At Cal, he studied history, graduating in 1982; served as sports editor of The Daily Californian, the student newspaper; and met his wife, Carrie. ("I am deeply indebted to this university," Pomerantz said.)
During his career, Pomerantz has worked in newspapers; has taught the next generation of journalists (he currently teaches at Stanford University); and has become a prolific author of books that turn over the topics of history, sports, and race. The most recent of his six books, The Last Pass, was released in 2018. The New York Times bestseller explores the relationship between Bob Cousy and Bill Russell, the NBA Hall of Famers who anchored the Boston Celtics' dynasty of the 1950s and '60s.
Balancing humor with heart, wit with warmth, Pomerantz spoke about his work, the "giants" at UC Berkeley who influenced him, and a card game that led to murder (which inspired one of his books).
Here are three things we learned.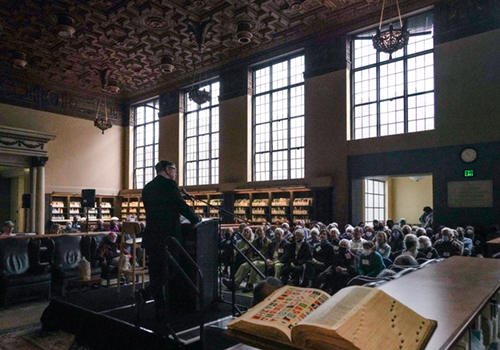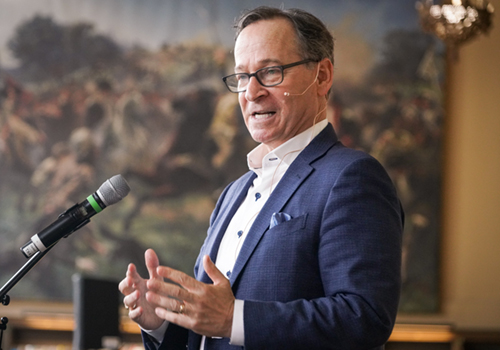 Top to bottom:

Left to right:

University Librarian Jeff MacKie-Mason introduces author Gary M. Pomerantz at the event.
1. Writing is hell.
During the nearly hourlong talk, Pomerantz mostly avoided the topic of writing.
Why? "Because it's miserable," he said.
Although the painstaking process of committing words to the page is a "cause for self-loathing," Pomerantz said he doesn't suffer from writer's block. "I think that comes from being a journalist," he reflected.
"But I can tell you there have been many mornings when I've showed up in my office, looking at my computer screen, and I read what I've written the day before, and I wish I suffered (from) writer's block," he said.
On the other hand, Pomerantz relishes the research process. "Writing is the hell of it," he said. "Research is the fun of it."
While he was working on The Last Pass, Pomerantz conducted 53 interviews with Bob Cousy over three years, starting when Cousy was 87.
Cousy and Bill Russell were teammates on the Celtics from 1956 to 1963 — a period roughly bookended by the conclusion of the Montgomery bus boycott and Martin Luther King Jr.'s address at the March on Washington.
While on the team, Russell faced relentless racism, which took many forms. Basketball fans would shout anti-Black slurs at him. Once, vandals broke into Russell's home, where he lived with his family, tore up his pool table, shattered the trophy case, sprayed racist graffiti on the walls, and defecated on his bed.
In talking to Pomerantz, Cousy, the white Catholic captain of the team, voiced his regrets for not publicly denouncing the racism Russell faced, or pulling Russell aside to let his teammate know that he had his back.
"I thought to myself, 'You know, it's rare in America for an 87-year-old white man to reconsider race, and how it played out in his life," Pomerantz said. "But that's what Cousy was doing."
During the time of the interviews, unbeknownst to Pomerantz, Cousy sent a letter to Russell apologizing for his inaction when they were teammates — the "last pass" of the book's title.
2. His book about the card game bridge was inspired by murder.
On the night of Sept. 29, 1929, a game of bridge was underway. Myrtle and Jack Bennett, a couple in Kansas City, Missouri, were playing in their apartment against another husband-and-wife duo, who lived upstairs.
As midnight rolled around, "the cards turned against the Bennetts, and the Bennetts turned against each other," as Pomerantz recounted.
Myrtle insulted Jack's playing, and Jack responded by grabbing his wife's wrist and slapping her. Jack, a traveling salesman with a history of infidelity, announced that he was leaving, and told Myrtle to get his gun. She retrieved his .32 Colt pistol, but instead of handing it over, she turned it on her husband.
The story came to Pomerantz through his literary agent, who reportedly heard it from Warren Buffett, a bridge aficionado who has been known to play with Bill Gates. Pomerantz brought the story and its historical backdrop to life in his 2009 book, The Devil's Tickets.
"What I learned is, in bridge, when married couples play this game, it's not just the cards on the table, but it's the marriage itself that's on the table," he said.
"To this day, my wife and I have not played as partners," he quipped.
3. He was influenced by these Berkeley 'giants.'
Pomerantz's talk was also a stirring tribute to two UC Berkeley professors who had inspired him: Leon Litwack and Lawrence W. Levine, celebrated historians and recipients of the Pulitzer Prize in history and the MacArthur "genius" fellowship, respectively. (Among the attendees at the luncheon were the wives of the late historians, Rhoda Litwack and Cornelia Levine.)
"These guys were giants in my life," Pomerantz said. "They helped shape the way I work, … the way I think about history, about politics, about my books, about life."
When Pomerantz needed a quiet place to write Nine Minutes, Twenty Seconds, his book about a 1995 plane crash in Georgia, Litwack let his former student use his office in Dwinelle Hall. The two became friends, and over the last 20 years of Litwack's life, they would share conversations over meals, often at Saul's Deli, in Berkeley.
After Litwack died in 2021, at the age of 91, Rhoda asked Pomerantz to speak at his beloved professor's memorial service — "a high honor, for sure," Pomerantz said.
Each quarter, on the first day of the writing seminar that he teaches at Stanford, Pomerantz has a quiet moment to himself, just outside of the door before class. "I just say to myself, 'Make Litwack proud,'" Pomerantz said. "Then, I enter."
Matthew Thomas, who attended the luncheon with Jennifer Kahng '12, called Pomerantz a "phenomenal speaker" and a "great storyteller," invoking the author's anecdotes about Litwack and Levine, and his insights on researching and writing.
The talk was approachable and engaging — and not just for people who had read all of Pomerantz's books. "The way that he spoke about (the books) made us feel really invested and interested," said Kahng, a Library supporter who studied environmental sciences at Cal. "I really appreciated that."
"I like the diversity of what he's covering, from a marital spat over a game of bridge to sports to something political," Thomas added. "It was really nice."
The Luncheon in the Library is a private, invite-only event honoring Library supporters. Past speakers include Carol Christ, Chancellor of UC Berkeley; Adam Hochschild, lecturer, historian, and journalist; and Rita Moreno, dancer, singer, and actress.