Just after finishing her talk, before entering a lively Q&A, author Arlie Hochschild turned to her audience with a question.
"So, let me just ask," she said, smiling. "How many people have, within their own family, some, uh, difficulty in conversation?"
Hands shot up across the room. This crowd — perhaps more than is usual for a book talk — had come looking for answers.
Speaking in the cozy, cavernous Roger W. Heyns Reading Room for this year's Luncheon in the Library, Hochschild shared insights from her own search for understanding — a winding journey that culminated in her 2016 best-seller, Strangers in their Own Land: Anger and Mourning on the American Right. The talk — part book club, part therapy session — focused on building empathy and, against all odds, finding common ground beneath the surface.
Hochschild, a UC Berkeley professor emerita of sociology, embarked on her book in 2011, confused and unsettled by the country's stormy political climate even then. At the time, she had found herself stuck in a bubble: "blue Berkeley, blue California, blue sociology."
Over the next five years, Hochschild traveled from her moral and physical home in Berkeley to the bayou country of Louisiana, interviewing 40 tea party supporters in the heart of the South. Her goal? To better understand the feelings and sensibilities of people far different from herself.
"All of us have what I call a 'deep story' of moral presets — what feels good to you," explained Hochschild, who received her master's and Ph.D. in sociology from Berkeley. "It's an emotion-based story." The key is to "permit yourself the curiosity" to learn those stories, she said.
Top to bottom:

Left to right: University Librarian 

Jeffrey MacKie-Mason speaks at the event; Bob Li, left, and Susan Tran, right, chat with other guests over tea.
To start her journey, Hochschild attended a meeting of the Republican Women of Southwest Louisiana. One woman, a gospel singer at a Pentecostal megachurch, introduced herself as someone who loved Rush Limbaugh, the conservative radio personality.
"She says, 'I love Rush Limbaugh because he hates feminazis,'" Hochschild recalled. "I thought, 'I hope she doesn't Google me.'"
(A "feminazi" is a woman who puts herself first and forgets about neighbors and friends and children, the gospel singer had said. She also disapproved of "environmental wackos," or people who worship animals.)
At some point, the woman asked Hochschild if it was hard to listen to her, given all of their differences.
"Actually, it's not hard at all," Hochschild recalled telling her. "I have my alarm system off. I'm not here to tell you about my moral world — I'm here to learn about yours."
For audience members, the message was simple yet revelatory.
"What impressed me the most was the author's ability to immerse herself and not bring her own preconceived opinions and project them onto other people, but really listen," said Zoë Diamadi, who came to the luncheon with her wife, Sarah Trapnell '85. "I wish I could do that. It's an example for the rest of us."
Berkeley alum Linda Tran '07, M.A. '10 said she came to the event to learn how to empathize with others and have a model for healthy conversations at home and beyond.
"The conversations she's been having in the South will help with the conversations that we have at home," said Tran, who has trouble relating with her conservative father-in-law and, most recently, has had disagreements with her mother, an immigrant from Vietnam, about the ongoing riots in Hong Kong.
"I was putting myself in a different position, thinking I knew more," said Tran, who was accompanied by her husband, Bob Li. "I want to talk more with (my mother) and understand where she's coming from."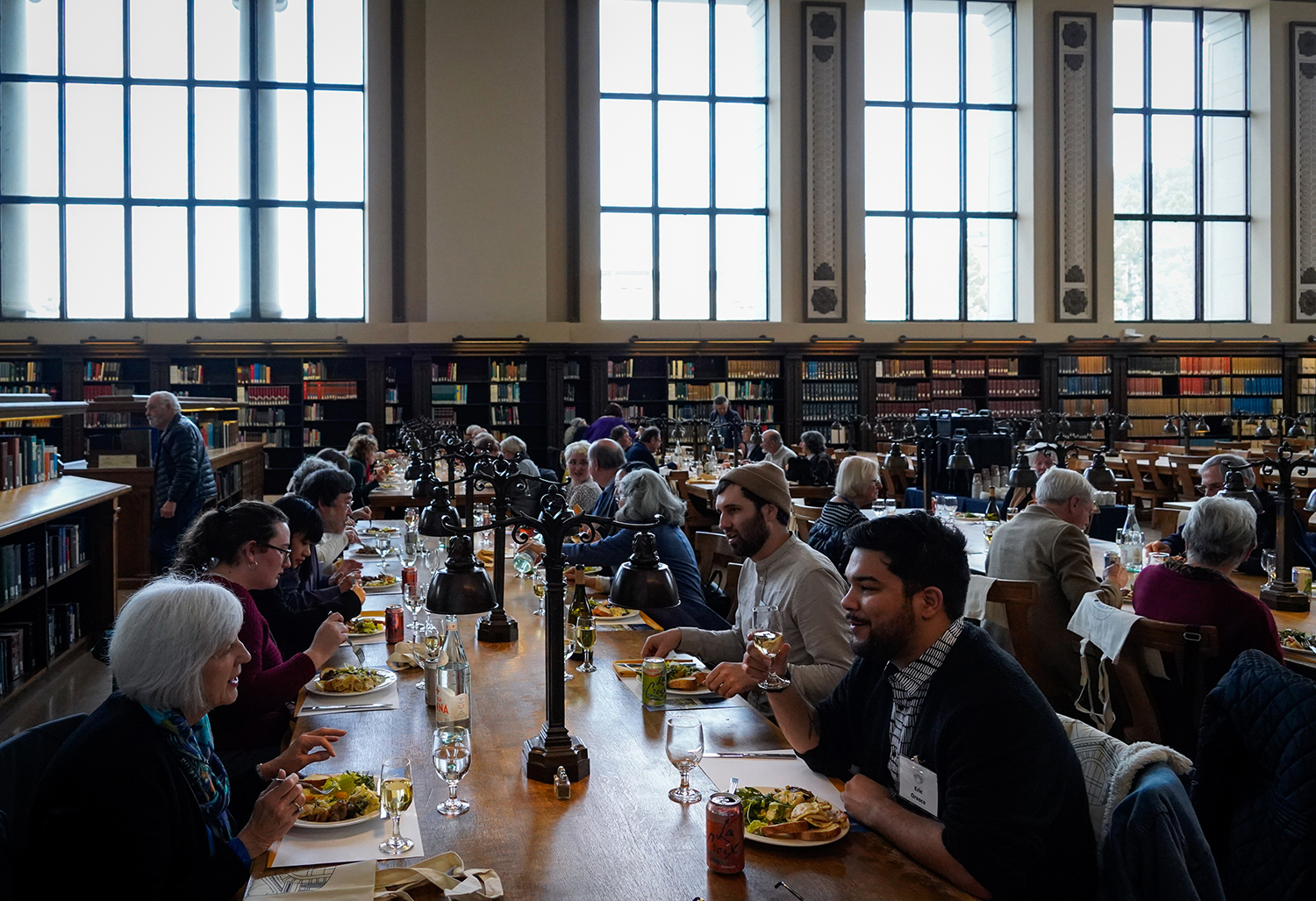 After the talk, the audience peppered Hochschild with questions. During her time in the deep-red state, was she able to reach any common ground?
Here, Hochschild shared the story of Mike Schaff, a tea party supporter who, in August 2012, saw the bayou he loved turn inside out by a massive sinkhole — the result of a reckless drilling accident. The Bayou Corne sinkhole, about 40 miles south of Baton Rouge, swallowed century-old cypress trees in seconds and caused flammable methane gas to bubble to the surface.
"It makes me sick at heart," Schaff said.
In the years since, Schaff has written countless letters to officials, taking a stand against the petrochemical companies responsible for the tragedy. He's an environmental activist, Hochschild noted — just don't mention climate change, what Schaff calls propaganda from the left.
"So we found some common ground, and not other common ground," she said.
Still, it is a place to start.
The Luncheon in the Library is an invitation-only event honoring Library supporters. Past speakers include best-selling author Annie Barrows; UC Berkeley Chancellor Carol Christ; and dancer, singer, and actress Rita Moreno. The Library would like to give a very special thank you to J. Lohr Vineyards & Wines for providing their award-winning wine to our guests at the luncheon over the past decade.