Chinese architect He Jingtang speaks at the opening ceremony for an exhibition of his work at the Environmental Design Library last week. (Photos by Cade Johnson for the UC Berkeley Library)
He Jingtang, renowned architect and professor at the South China University of Technology, has overseen the design of more than 100 structures — from breathtaking mausoleums to Olympic venues.
And for the next two months, many of those designs will be right here in Berkeley, lighting up the center of the Environmental Design Library in a new exhibit boasting intricate 3-D models and interactive media.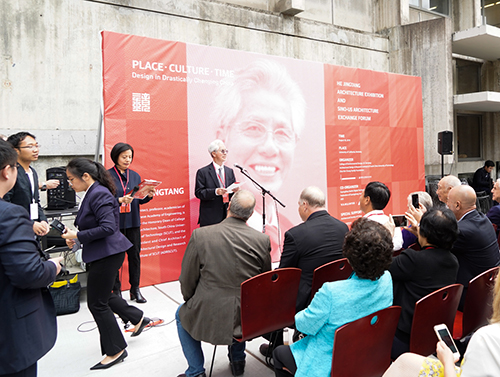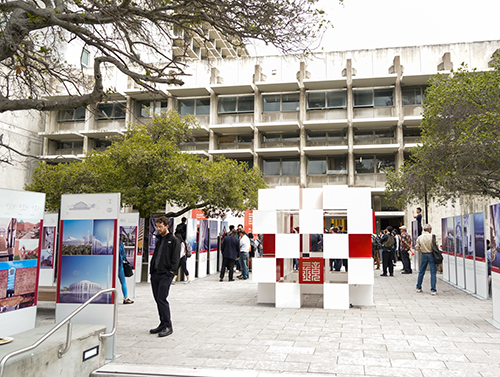 Top to bottom:

Left to right:

Professor He speaks at the introduction outside of Wurster Hall; visitors look at the displays outside. 
An opening ceremony for the He Jingtang Architecture Exhibition drew more than 150 people last week, with guests crowding around the models. Professor He walked visitors through the designs, discussing the buildings' inspiration, cultural relevance, and relationship with the surrounding environment. David Eifler, head of the Environmental Design Library, complimented the architect on his distinctive style of "merging contemporary and traditional architectural forms from the vantage of place, culture, and time."
Open to the public until Oct. 21, the exhibit uses photography and beautifully rendered models to highlight the best of He's work — including the stunning China Pavilion and the instantly inspiring Da Chang Muslim Cultural Center. Another striking moment in the exhibit is the Wenchuan Earthquake Epicenter Memorial Hall — a tribute to the people who lost their lives in the 2008 disaster. The structure was built with local stones and features long, cascading steps that resemble the layers of the Earth.
Top to bottom:

Left to right:

A model of a building designed by He is part of the exhibit; people gather in the transformed Environmental Design Library. 
Young Choi, a senior designer at the global design firm HOK, said the exhibit was "really beautifully done." The opening ceremony for the exhibit attracted architects from the Bay Area and beyond.
"The exhibit has transformed the central atrium of the library," Eifler said, adding an open invitation to the community to "enjoy this rare opportunity to view some of the most beautifully fabricated large scale architectural models and consider emergent Chinese architectural trends."