It was in the middle of the day, on a Thursday, that time seemed to stop.
"This is a unique corner of Berkeley," a woman in the audience whispered to her friend, watching Morrison Library transform as it filled to the brim. "These are the poets."
Brightening the room for this month's Lunch Poems reading, Pulitzer Prize-winning poet Robert Hass shared stories from his new work, Summer Snow — Hass' first poetry collection since 2010. Moving breathlessly from tales of fantasy to real-life horrors, from notes on nature to musings with lost friends, Hass took audience members on an emotional, lyrical journey, with hardly a moment for recomposure in between.
"He doesn't speak or sing — he says song, and he speaks singing," said Lunch Poems director Geoffrey O'Brien in his brief introduction. "He's as resolutely and suddenly and hungrily ethical as he is confidently a musician."
Hass, who is a former U.S. poet laureate, started the song with the whimsical tone of a bedtime story, reading the poem "The Four Eternities, or the Grandfather's Tale."
"I am a grandfather — and I found what grandfathers do is tell stories," he said. "Sometimes, when I would wake in the morning after an evening of telling stories, the rhythm of those stories would enter my poems."
(If you're reading, read aloud.)
"Tell me a story about a princess," she said.
One whose hair is blond? One whose hair is red?
"One whose hair is black and very, very curly."
Well, it was early in the time called once upon a time
And a young girl whose hair was very, very black.
"And curly." And curly, lived high in the mountains
Near a great blue lake.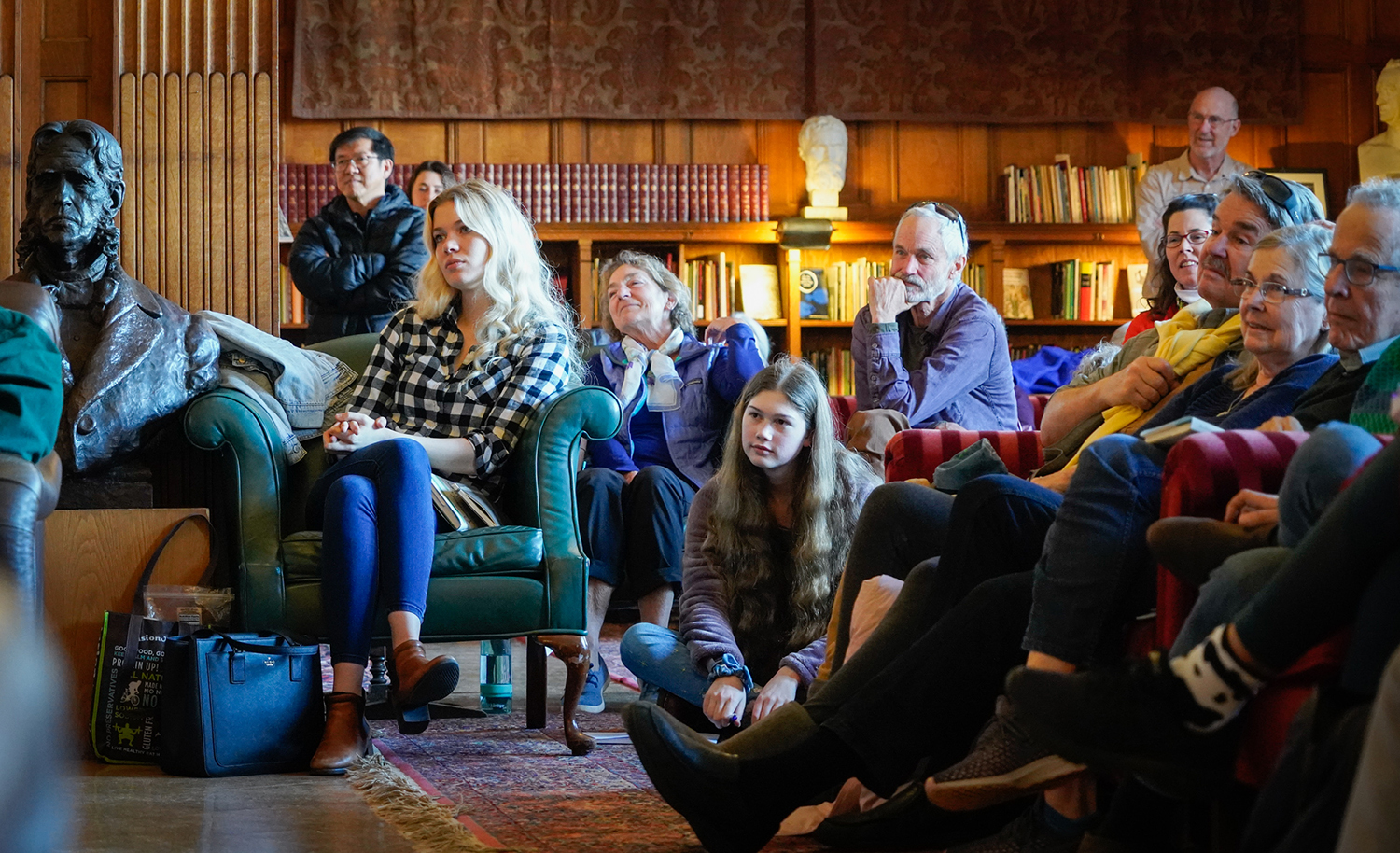 Hass, who helped found the Lunch Poems series in 1995, then shared a poem dedicated to Ursula Le Guin, the science fiction author who died in 2018. (Le Guin's father, Alfred Kroeber, founded Berkeley's anthropology department in 1901.)
"Her stories enchanted me," said Hass, who read her early works to his children. "I woke in the morning and thought, all of her books are about journeys, so don't write an elegy — write a journey." He called the journey "Silence."
At the reading, Hass also invited Korean poet Eun-Gwi Chung to read a translation of Hass' poem "Cymbeline."
"Everything we do is explaining the sunrise," the poem begins.
"As a poet and translator, I always try to think about the sound, not just the meaning," said Chung, who gave a melodic reading of "Cymbeline" in Korean.
Chung, a Fulbright scholar at Berkeley sponsored by Hass, became acquainted with Hass while translating a poem about his visit to the demilitarized border between North and South Korea. In his poems, Chung said, Hass combines facts about the Korean War with the political situation today, viscerally capturing the "feeling of sadness and tragedy" in Korea's history.
Toward the middle of the reading, Hass pointed to what the great German poet Rainer Maria Rilke calls the three inexhaustible sources of poetry: dreams, childhood, and art. Hass would have added nature, he said, before reading "Nature Notes in the Morning."
There was a Tokugawa trade embargo
For the way light looked on plums.
Values in the right place: a country
That outlaws the use of Prussian blue.
("I think, as I read, that Donald Trump is giving his victory address today," Hass interjected, referring to the U.S. Senate's vote to acquit Trump on both articles of impeachment. "He's probably listing the colors that he's personally going to ban from future use.")
One of the most harrowing moments of the reading was "Dancing," a documentary poem on the history of guns. In it, Hass describes humankind's precursors to guns — from fire stolen from the gods to 14th-century English cannons — and the blinding death toll of wars and gun violence across time.
(Just before reading the poem, Hass turned to welcome a group of high school students, visiting from Sacramento.)
The radio clicks on—it's poor swollen America,
Up already and busy selling the exhausting obligation
Of happiness while intermittently debating whether or not
A man who kills fifty people in five minutes
With an automatic weapon he has bought for the purpose
Is mentally ill. Or a terrorist. Or if terrorists
Are mentally ill. Because if killing large numbers of people
With sophisticated weapons is a sign of sickness
You might want to begin with fire …
They were dancing in Orlando, in a club. Spring night.
Gay Pride. … The radio clicks on. Green fire. Blue fire.
The immense flocks of terrified birds still rising
In wave after wave above the waters in the dream time.
Crying out sharply, as the French ship breasted the vast interior
Of the new land. America. A radio clicks on. The Arabs,
A commentator is saying, require a heavy hand. They were dancing.
Across the reading, audience members found several points of connection. Hass' poem about Berkeley weather, for example, comforted Julie Mushet '88, whose father was a weatherman during World War II, stationed in the U.S. and then Japan.
"It was moving as always, listening to him read," Mushet said. "But more personal today."
For Francine Masiello, a campus professor emerita of Spanish and comparative literature, the reading served as a salve, however temporary, to the political turmoil in the country today.
"What does poetry do in times of trouble?" she said. "Bob Hass' poetry — it could be other poets as well — is a source of comfort.
"Poetry brings people together," she added. "And I think, especially this week, we needed to be together — to have another sense of the beauty of the word."
ABOUT LUNCH POEMS
Lunch Poems is a noontime poetry reading on the first Thursday of the month. Admission to the Morrison Library event is free. Check the Lunch Poems website for the upcoming fall schedule. Watch videos of past readings on the Lunch Poems YouTube channel. Support for this series is provided by Dr. and Mrs. Tom Colby, the Library, The Morrison Library Fund, the Dean's office of the College of Letters and Sciences, and the Townsend Center for the Humanities. These events are also partially supported by Poets & Writers Inc., through a grant it has received from The James Irvine Foundation.