From the outside, it looks like a drab, industrial warehouse. But on the inside, this spacious, nondescript building in Richmond holds some of the greatest mysteries of the 20th century.
"We call this 'the Bancroft cage,'" says Lara Michels, ushering us back into a part of the warehouse that is sectioned off with a chain-link fence. At a table within the enclosure, in front of a row of towering shelves, Michels has spread out a hand-picked assortment of time-worn materials. As we look at the selections — newspaper clippings, shell casings, court transcripts, and even a handgun, among them — Michels walks us through the items, telling us about the man to whom they belonged more than half a century ago: Edward Oscar Heinrich.
Starting in the 1920s, Heinrich ran a crime lab out of his home, on Oxford Street in Berkeley. As a pioneering forensic scientist and criminologist, Heinrich gained a reputation for cracking even the most difficult of cases, earning nicknames such as "The Wizard of Berkeley," "The Edison of Crime Detection," and "The American Sherlock Holmes." (Heinrich died in 1953, and his son Mortimer gifted his father's collection to Bancroft in 1969.)
Every Friday over the past year or so, Michels, head of archival processing at The Bancroft Library, has cataloged Heinrich's collection one folder — one scrap of paper, one photograph, one yellowed newspaper clipping — at a time.
All told, the collection (now available at Bancroft to researchers) spans nearly 150 linear feet of materials, including photographs, diaries, notes, correspondence, and pieces of evidence that shed light on some of the most notorious criminal cases of the time, from "the last great train robbery" to the first major Hollywood scandal.
"There's no collection like this in the country," Michels says.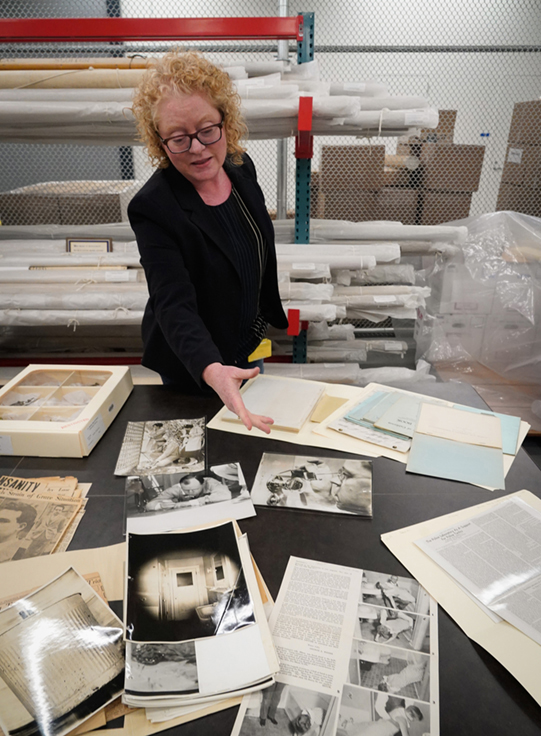 Top to bottom:

Clockwise from left: Lara 

Michels, head of archival processing at The Bancroft Library, describes some of the items in the Edward Oscar Heinrich collection; a gun and other evidence in the collection; newspaper clippings Heinrich saved. (Photos by Jami Smith for the UC Berkeley Library)
Notes on a scandal
For Roscoe "Fatty" Arbuckle, 1921 was the best of times and the worst of times.
Arbuckle was sitting pretty as the highest-paid silent film star. But that September, Arbuckle's life story took a dramatic turn that could have been ripped from the pages of a Hollywood screenplay.
A few days after attending a booze-fueled party hosted by Arbuckle at a suite in San Francisco's St. Francis Hotel, Virginia Rappe, a young actress and fashion designer, died of a ruptured bladder. An acquaintance of Rappe accused Arbuckle of raping and accidentally killing her, and Arbuckle was arrested on suspicion of first-degree murder, including a charge of rape.
Heinrich's collection offers a window into the case: Materials include fingerprints, crime scene photos, and, perhaps the most grisly item in the collection, a lock of Rappe's hair. Although Arbuckle was tried three times — and ultimately acquitted — the saga all but sunk his career. (Heinrich initially linked Arbuckle to the crime but later issued a rare reversal to his testimony.)
The Arbuckle scandal, like many of the cases represented in Heinrich's collection, sparked a media firestorm but has faded from the public consciousness over the years.
"Crimes are ephemeral," Michels says, "but they capture the public imagination at the time."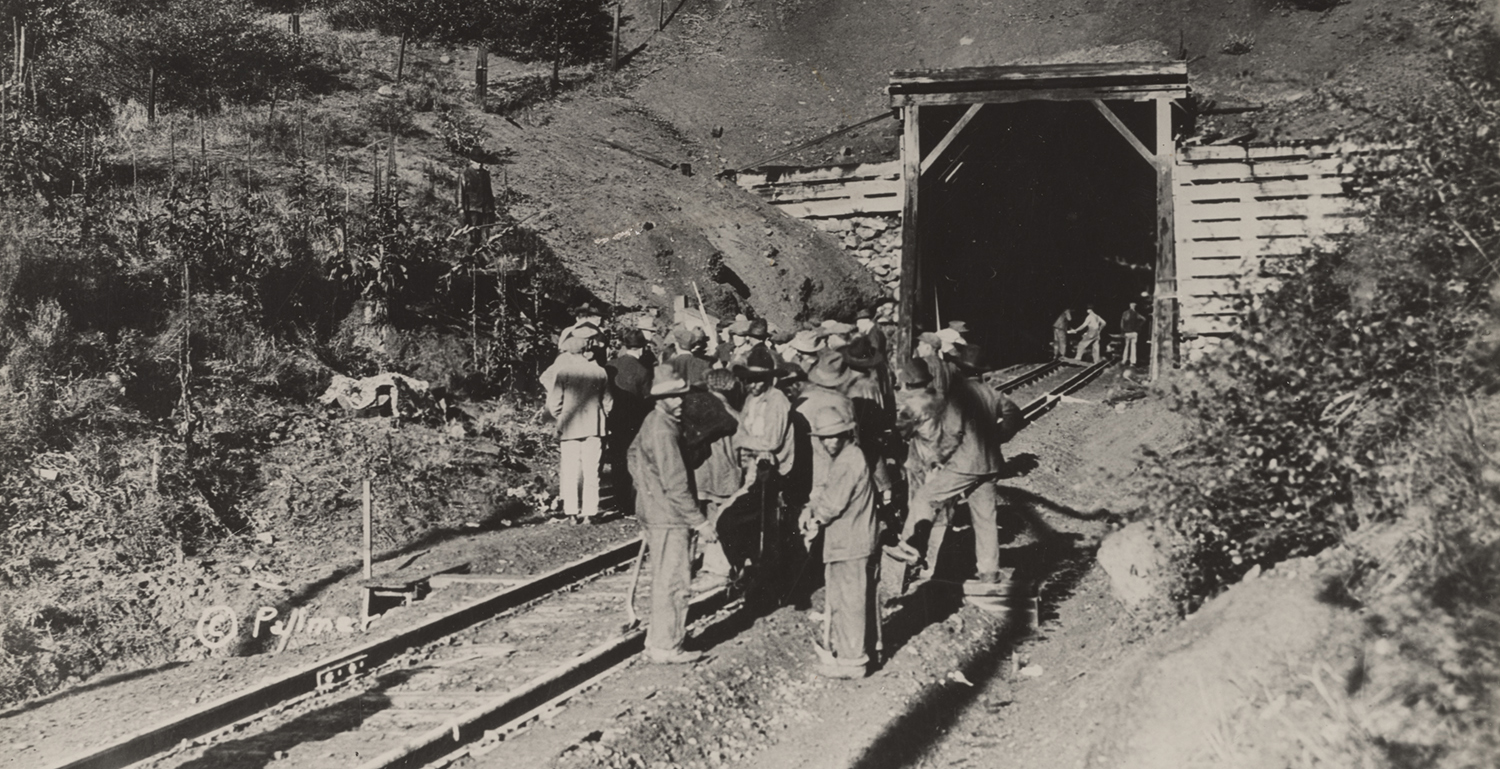 'The last great train robbery'
Heinrich built his reputation on his extreme attention to detail, his cutting-edge techniques, and an uncanny ability to reconstruct a case by relying on mere whispers of physical evidence.
"He was just super, super meticulous," Michels says.
Materials in Heinrich's collection include a wanted poster and crime scene photographs from the famous (and fatal) botched robbery of a Southern Pacific Railroad train in Oregon.
In October of 1923, the DeAutremont brothers — two twins and a younger sibling, all armed — boarded an express train heading south through the Siskiyou Mountains. With gunshots and a dynamite blast at the mail car's door, the DeAutremonts killed four people in the heist. Although they emerged from the ordeal empty-handed, the brothers left a key piece of evidence: a pair of denim overalls, which were sent to Heinrich for analysis.
In his examination, Heinrich extracted an impressive amount of information about the suspect who wore the overalls, including that he was a white, fastidious, left-handed lumberjack, between 21 and 25 years old, weighing about 165 pounds and no taller than 5 feet, 10 inches. (According to Eugene Block's book The Wizard of Berkeley, Heinrich determined the suspect was left-handed because of the wood chips in the right pocket; a southpaw would have his right side facing the tree he was chopping.)
In addition to other clues, including purchase records and a signature (Heinrich was a self-taught expert in handwriting analysis), the DeAutremont brothers became suspects. The worldwide manhunt that ensued ultimately led to the brothers' arrest and imprisonment.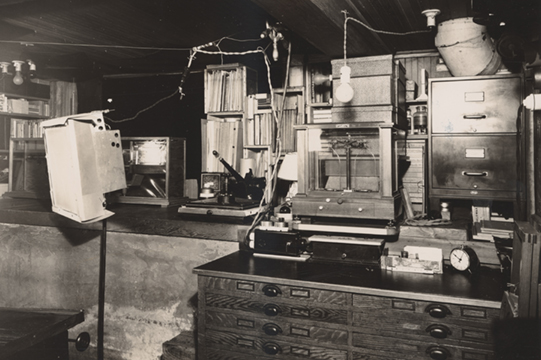 Top to bottom:

Clockwise from left:

Heinrich works a 1933 murder case in Palo Alto; Heinrich studying the floor of a crime scene; Heinrich's lab in Berkeley, photographed in approximately 1939. Heinrich was a UC Berkeley alum and went on to teach at the university. (Edward Oscar Heinrich papers, BANC MSS 68/34 c, The Bancroft Library, University of California, Berkeley.)
Justice delayed
Before Making a Murderer and Serial whipped up armchair sleuths into a case-cracking frenzy, there was Jack Ryan.
In October of 1983, Rachel Walton, a deputy sheriff in Humboldt County, heard about the decades-old Ryan case when a woman struck up a conversation with her on the main street of the frozen-in-time town of Ferndale. Ryan, the woman said, had been sent to prison for crimes he didn't commit.
Spurred by that chance encounter, Walton launched a deep, albeit unofficial, investigation into the case, using her personal time to pore over newspapers, examine documents, submit old photographs of evidence for reanalysis, and conduct hundreds of interviews.
Ryan and stepbrother Walter David — labeled "half-breeds" in newspaper reports at the time because of their Native American ancestry — had been arrested in connection to the 1925 murders of 17-year-old Carmen Wagner and 21-year-old Henry Sweet on Coyote Flat, a rugged plateau on California's northern coast. Charges against David were dismissed, but Ryan ultimately was convicted in the killing of Sweet and spent more than 40 years in prison and on parole.
In piecing together the case more than a half-century later, Walton tracked down and requested special access to Heinrich's collection at The Bancroft Library, hoping to glean information from the criminologist's original investigation.
"I hit the jackpot with the sheer quantity of records that (Bancroft) had," Walton says, recalling her work on the case in a recent phone interview.
Walton spent 11 months going through the collection, which had yet to be processed, mining Heinrich's files for information.
"They're such a treasure trove," she says.
In addition to identifying the real killers, Walton's seven-year investigation exposed the corruption and coercion that led to the injustice against Ryan. In 1996, in light of Walton's work, Gov. Pete Wilson posthumously pardoned Ryan.
"I took a street-corner conversation, reconstructing a case that was never supposed to be reconstructed," Walton says. "It seemed like the right thing to do."