"I'm inspired constantly by what I see," Lauri Twitchell says.
For the past 30 years, Twitchell has been making one-of-a-kind books that incorporate stones, wood, and other objects from the natural world.
"I find a lot of debris in the garden," says Twitchell, referring to UC Berkeley's 10.5-acre Blake Garden, in Kensington, which she manages. "Instead of sending it to a landfill, I see if I can make something out of it."
Twitchell's work has been purchased by libraries across the country, and a handful of her creations live in UC Berkeley's Environmental Design Library. They are among the 300 artists' books, acquired through endowments, housed there.
"Her work really pushes the boundaries of what constitutes a book," Environmental Design Librarian David Eifler says.
The artists' books are not just sights to behold — they're instructional tools, too. Regular events allow students and community members to get a closer look at — and even touch — the works, which are often held in locked cases. And Eifler wheels a cart carrying a selection of the books into introduction-level environmental design classes to help spur a thought-provoking dialog about art, design, and the value — and definition — of a book.
"It's amazing what (the students) see and find in them," Eifler says.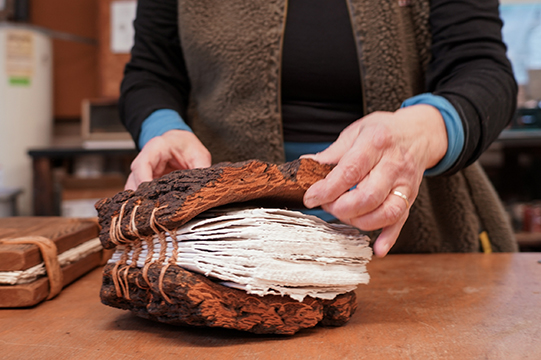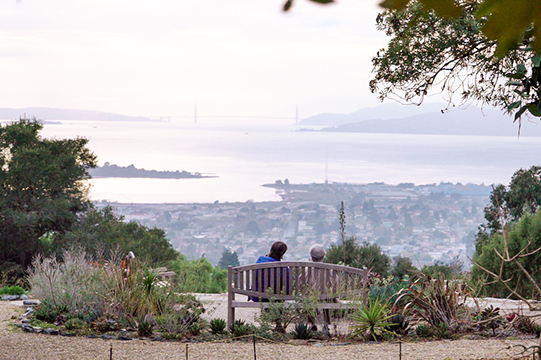 Top to bottom:

Clockwise from left:

Artist and garden manager Lauri Twitchell shows a book she made at Blake Garden in Kensington; another book of Twitchell's, called Sticks and Stones, has covers made of redwood bark; and Blake Garden, where Twitchell works, offers sweeping views of the bay. (Photos by Jami Smith for the UC Berkeley Library)
Works by Twitchell found within the Library's collections include 2015's On Stones, which was inspired by rocks Twitchell found in the garden. For the cover, Twitchell used a pair of redwood blocks, which open to reveal two rough pieces of glaucophane schist, held by rubber straps and nestled in carved-out wooden niches. When making the book, Twitchell dropped the rocks into a shallow pond, and the splashing represents the book's "text."
Then there's 2016's Sticks and Stones. The stunning volume — with covers of curved redwood bark — was inspired by a hike she went on with her husband, shortly after undergoing back surgery. Twitchell traced objects she found on the ground — including sticks and leaves — on handmade Indian paper. Inlaid within the outlines, spanning continuously across the folded pages' peaks and valleys — along with flat stones affixed to the pages — are cutout fragments of old Baedeker maps, representing the "places I have been or I will go," according to Twitchell.
Both books were made in collaboration with fellow artist Peter Suchecki.
Twitchell, who also leads bookmaking workshops, estimates she has made nearly 100 such works, which take anywhere from three days to several months to finish.
Of her books, which is her favorite?
"The next one," she quips.
"I don't make them as a commercial thing," she adds. "I make them because I make them. I'm an artist."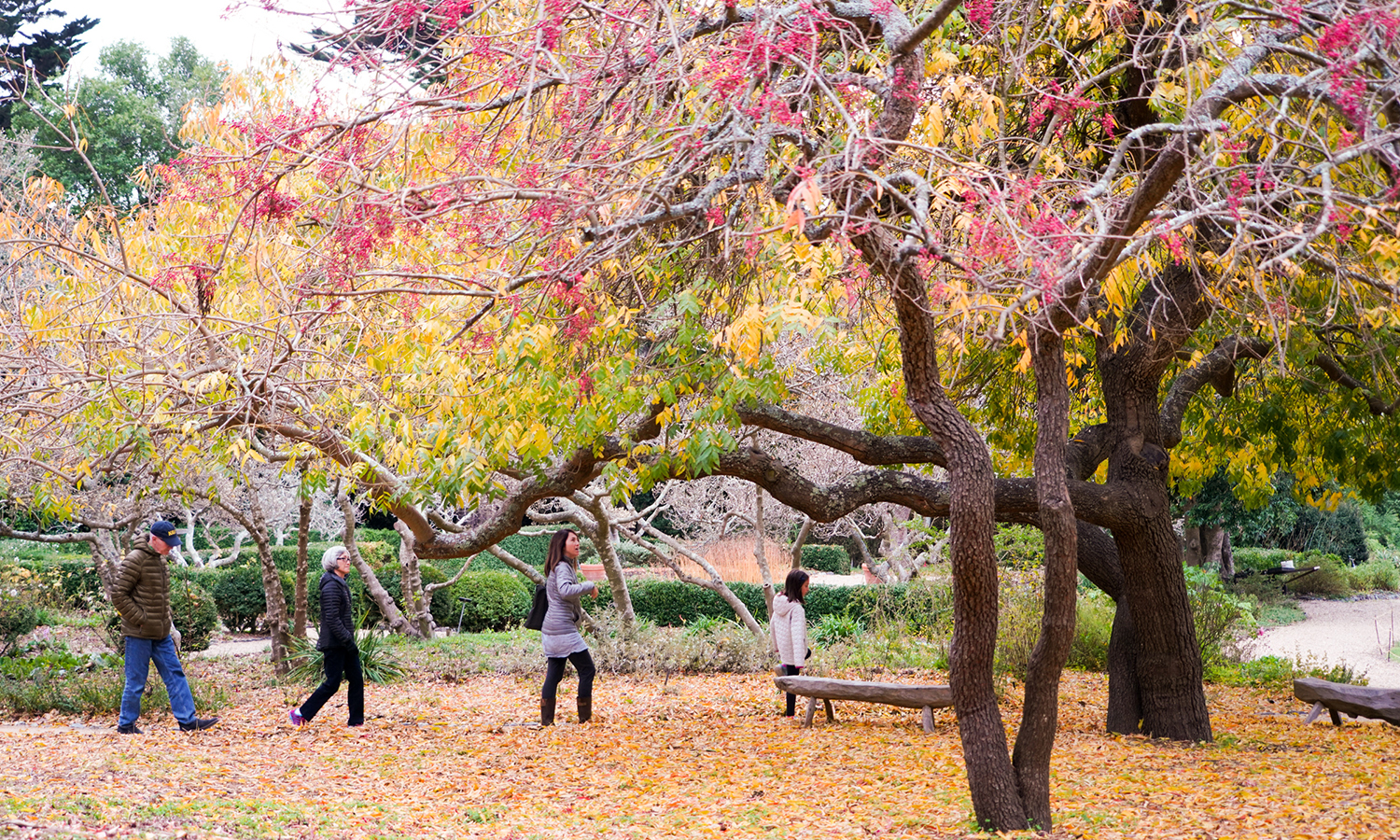 Visitors wander around the trees in Blake Garden in December. Blake Garden is a landscape laboratory and public garden owned by UC Berkeley.