Using the Library during COVID-19
Many of our services are now being offered in new ways. To find the latest information on course reserves, book returns, 24/7 online help, and more, visit our Library services and resources during COVID-19 page. The information on that page supersedes all other information on the Library website at this time.
Media
Content section:
Find videos
OskiCat - Search the library catalog to find videos in the Media Resources Center and other library locations.
In the OskiCat record, click on the link to the video.
If you receive this error message: Error. Video Playback Was Aborted, disable browser plug-ins or add-ons that might be interfering with the playback of the video.
For Firefox hold down the Shift key, and click on the browser icon to open the browser in "Safe mode," which disables possibly interfering plug-ins.
For video formats, limit your search to Films/Videos/Slides

Search for directors and artists as an Author (last name, first)

Media Resources Center (MRC) - Browse the collections of the MRC by title, director, genre, theme, language or country, and date or era.
Moving image databases - Browse the library's online moving image collections.
Find audio
OskiCat - Search the library catalog to find audio recordings in the Music Library and other library locations.
For audio formats, limit your OskiCat search to Sound Recordings

From the OskiCat advanced search you can limit to specific sound recording formats: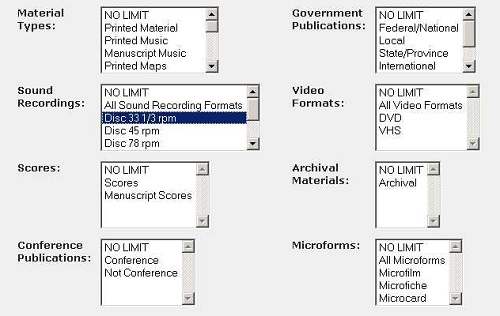 All Sound Recording Formats
Disc 33 1/3 rpm
Disc 45 rpm
Disc 78 rpm
Compact Disc
Cassette Tape
Reel to Reel Tape
The Music Library - Many of the Library's audio recordings are housed in the Music Library. Consult their website for further help researching music and audio topics.
Sound/Audio databases- Browse the library's online sound and audio collections.
Find images
Image databases - Browse the library's online image collections.
Art History/Classics Library - Consult the Art History/Classics Library for help researching image collections.
Image collections - see the Art History/Classics Library guide to image collections.
OskiCat - Find posters and graphics in the library catalog by using the OskiCat Advanced Search and selecting the Material Type for Pictures/Graphics.