Using the Library during COVID-19
Most of UC Berkeley's library buildings are open. To stay up to date on the Library's policies and services during the pandemic, visit the Library's COVID-19 webpage.
Opportunities
Content section: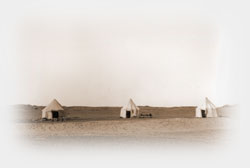 Tents in Tebtunis [Photograph 1899/1900; courtesy of the Egypt Exploration Society]
The Center for Tebtunis Papyri offers the following opportunities:
Also see our news blog to learn of any upcoming lectures or events.