Using the Library during COVID-19
Many of our services are now being offered in new ways. To find the latest information on course reserves, book returns, 24/7 online help, and more, visit our Library services and resources during COVID-19 page. The information on that page supersedes all other information on the Library website at this time.
Opportunities
Content section: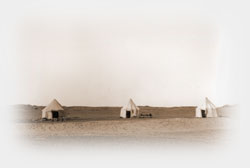 Tents in Tebtunis [Photograph 1899/1900; courtesy of the Egypt Exploration Society]
The Center for Tebtunis Papyri offers the following opportunities:
Also see our news blog to learn of any upcoming lectures or events.