Using the Library during COVID-19
Many of our services are now being offered in new ways. To find the latest information on course reserves, book returns, 24/7 online help, and more, visit our Library services and resources during COVID-19 page. The information on that page supersedes all other information on the Library website at this time.
Bancroft Seminar Rooms
Content section:
The Bancroft Library has three seminar rooms and a press room available for classes engaged in coursework and research projects based on Bancroft materials.
How to Reserve a Seminar Room
Please note: The Bancroft Library can host classes only after the instructor has reserved a seminar room. You can see descriptions of the seminar rooms below. Rooms are only available Monday - Friday, 9AM to 5PM. Rooms cannot be reserved for times outside of Bancroft operating hours.
​Bancroft Library seminar rooms​ are restricted to 15 students. Separate sessions must be scheduled to accommodate classes with higher enrollment. ​ Because of its limited staffing and the fragility of its collections, Bancroft cannot commit to teaching more than one session at the ​same time.
To reserve a seminar room, please contact class coordinator Lee Anne Titangos at ltitango@library.berkeley.edu or (510) 642-6540.  Class visits CANNOT be coordinated through our requesting system Aeon.  To ensure room availability,  requests should be made at least a month in advance of the proposed seminar date.  Requests made with less than seven business days' notice cannot be accommodated.
If you leave a telephone or email message, we generally respond within 24 hours to confirm the availability of the room requested. Your seminar room is reserved once you receive confirmation by telephone or email.
How to Reserve Equipment
You may also reserve audiovisual equipment. Please include in your seminar room request any of the following:
Laptop—Mac or Windows
Projector
Projector document camera
Seminar Room Descriptions
Each seminar room seats 18 people comfortably. We can accommodate additional seating for up to 10 people upon request, but we may require that classes be split into smaller sections.
Baldwin G. Lamson Seminar Room
Location: Room 375, third floor
Accommodations: Wi-Fi, chalkboard, art display easel, projector screen
Jean and Irving Stone Seminar Room
Location: Room 373, third floor
Accommodations: Wi-Fi, art display easel, projector screen
Note: This room houses part of the Irving Stone collection.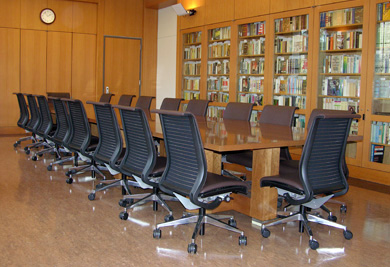 Reva and David Logan Seminar Room
Location: Room 371, third floor
Accommodations: Wi-Fi, chalkboard, projector, document camera, projector screen
Note: This room houses part of the Reva and David Logan collection of photographic books.
Location: Room 377, third floor
Accommodations: Wi-Fi, early hand-printing presses, movable type
Note: Though this room is reserved for the UGIS 140 course, "The Hand Printed Book in Its Historical Context," Bancroft staff may provide tours and press demonstrations upon request.