Using the Library during COVID-19
Most of UC Berkeley's library buildings are open. To stay up to date on the Library's policies and services during the pandemic, visit the Library's COVID-19 webpage.
Events
Content section:
November 6, 2017 | 12-1:15 p.m. | 267 Bancroft Library
New Research in Oral History with Shanna Farrell
Bay Area Cocktails: An Oral History of Culture, Community and Craft
An American invention, the cocktail fluctuated in popularity following Prohibition and had firmly taken root in the culinary landscape by the 1990s. The Bay Area played a significant role in reviving it—as much as New York and London. From the distillers who pioneered craft spirits and Alice Waters' revolutionary take on simple, fresh food at Chez Panisse to the bartenders who cared enough to grow a dedicated cocktail community, this is the story of how the Bay Area shaped the art of elevated drinking in America. Through oral history interviews and recipes, author Shanna Farrell chronicles the narrative history of the modern cocktail renaissance.
---
Prior Events
October 2, 2017 | 12-1:15 p.m. | 267 Bancroft Library
New Research in Oral History with Jacqueline Adams
Using music to denounce disappearances under a military regime
Under repressive military regimes, it is not unusual for political dissidents to become the victims of enforced disappearance, whereby they are tortured and killed by the secret police, and all the while, their whereabouts are unknown to family members. How do the family members respond to this situation? In this paper, this question is addressed by examining the case of relatives of the disappeared under the dictatorship of General Pinochet, in Chile (1973-1990). These relatives created an association in which they took action to find their disappeared and challenge the military junta. This paper focuses on how, within the association, they used music and dance as a vehicle of resistance against the regime, and it examines the significance that membership in the music group held for them.
BOOKS by Jacqueline Adams, BA, Dipl., MA (Cantab); Ph.D. (Essex)
Surviving Dictatorship: A Work of Visual Sociology 
To view chapter summaries and samples of visual data, click on "Students and Instructors"
Art Against Dictatorship: Making and Exporting Arpilleras under Pinochet
---
---
October 16, 2017 | 12-1:15 p.m. | 267 Bancroft Library
New Research in Oral History: Vic Geraci: Making Slow Food Fast in California Cuisine
Dr. Vic Geraci will be presenting findings from his new book, which follows the development of industrial agriculture in California and its influence on both regional and national eating habits. Early California politicians and entrepreneurs envisioned agriculture as a solution to the food needs of the expanding industrial nation. The state's climate, geography, vast expanses of land, water, and immigrant workforce when coupled with university research and governmental assistance provided a model for agribusiness. In a short time, the San Francisco Bay Area became a hub for guaranteeing Americans access to a consistent quantity of quality foods. To this end, California agribusiness played a major role in national food policies and subsequently produced a bifurcated California Cuisine that sustained both Slow and Fast Food proponents. Problems arose as mid-twentieth century social activists battled the unresponsiveness of government agencies to corporate greed, food safety, and environmental sustainability. By utilizing multidisciplinary literature and oral histories the book illuminates a more balanced look at how a California Cuisine embraced Slow Food Made Fast.
---
Living Stories: Oral History Interviewing and Research
Paul Burnett, Oral History Center of the Bancroft Library
Monday, September 25th, 1 pm - 3 pm
Townsend Center for the Humanities, 
220 Stephens Hall, Geballe Room
Historian Paul Burnett of the Oral History Center of the Bancroft Library will be giving two presentations at the Townsend Center for the Humanities about the field of oral history, the massive  online collection of interviews at the Bancroft Library, and how to conduct oral history interviews yourself! Primarily aimed at undergraduates, the presentations are open to all graduate students, faculty, and staff as well. 
---
August 8, 2017 | 6pm | Martin Luther King Jr. Student Union, Tilden Room, UC Berkeley
Join us on Tuesday, August 8 at 6pm for a conversation with Nikki Silva on how she makes radio magic and uses oral history. This program, open to the public, will be the keynote presentation for our 2017 Advanced Oral History Institute.
Nikki Silva is one half of "The Kitchen Sisters" independent radio, podcast and multimedia production team. With her artistic partner Davia Nelson she has produced hundreds of stories on NPR and public media including the duPont-Columbia and James Beard Award winning series Hidden Kitchens, the Peabody Award winning Lost & Found Sound and The Sonic Memorial Project, The Hidden World of Girls and many others. Their podcast The Kitchen Sisters Present received the 2017 Webby Award for Best Documentary Podcast. The Kitchen Sisters national radio collaborations have brought together independent producers, NPR stations, artists, writers, historians, and public radio listeners throughout the country to create intimate radio documentaries that chronicle untold stories of cultures and traditions around the world. Their upcoming series, The Keepers, explores the world of archivists,  librarians, curators, collectors and the collections they keep. The Kitchen Sisters are the authors of Hidden Kitchens: Stories Recipes and More, a New York Times Notable Book of the year. Silva is also a museum curator and exhibit consultant. She lives with her family on a commune near Santa Cruz.
---
August 7 – 11, 2017 | Martin Luther King Jr. Student Union, Tilden Room
---
Date: April 25, 2017 | 11 a.m.-12 p.m. | Valley Life Sciences Building, 1101 (BerkeleyMP Fishbowl)
---
Date: April 17, 2017 | 12-1:15 p.m. | 267 Bancroft Library
Martin Meeker, Oral History Center
As a first-time presidential candidate in 2008, Barack Obama publicly expressed his opposition to full marriage rights for same-sex couples. In October 2010, then-President Obama equivocated, admitting, "attitudes evolve, including mine." And in May 2012, in the ramp-up to his reelection bid, he declared, "I think same-sex couples should be able to get married." It turns out that this was a very deliberate political strategy employed by pro-marriage activists and operatives and then adopted by the President. The idea was to establish a model by which people who had previously opposed marriage for same-sex couples could themselves "evolve" on the issue and ultimately arrive at a place where they could support civil unions, at the very least, and, then, marriage. This strategy was used particularly effectively in places like New Hampshire, which required support from Republican elected officials to push back an effort to overturn marriage legislatively. This presentation is based on the interviews conducted as part of the Freedom to Marry Oral History Project at Berkeley's Oral History Center. The project produced about 100 hours of interviews with leading strategists, political operatives, and field organizers who advocated for marriage. Interviews have clearly demonstrated the role – indeed power – of narrative in driving social change, at least on this issue. The idea here is that effective social change (particularly vis-à-vis a profound transformation in public opinion) was made in part by allowing people to make a "journey" of opinion; activists, rather than haranguing opponents and calling them "homophobic," would acknowledge that differences of opinion existed but then provided models (from the President on down) of people who themselves changed their minds. Activists and political operatives listened very closely to the broader public and then, rather gently, offering a way forward on an issue.
---
Date: March 20, 2017 | 12-1:15 p.m. | 267 Bancroft Library
Shirley Ann Wilson Moore, Professor Emerita of History, California State University, Sacramento
Professor Shirley Moore, an alumna of UC Berkeley, is the author of numerous works on African American history in the West, including "To Place Our Deeds: The African American Community in Richmond, California 1910-1963," and most recently "Sweet Freedom's Plains: African Americans on the Overland Trails 1841-1869. In the lunch lecture series, "New Research in Oral History," Dr. Moore will discuss her use of oral history in these two books, as well as its overall importance in documenting the African American experiences in California and the West.
---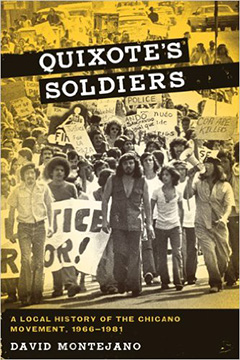 Date: Monday November 14, 2016
The Oral History Center of The Bancroft Library throughout the academic year hosts occasional presentations of the most current and interesting oral history-based research being conducted today. In this second "brown-bag" presentation of the year, Berkeley Ethnic Studies Professor David Montejano will be speaking about his decades-spanning work as a historian and sociologist and the role oral history has played in his work. Dr. Montejano's major areas of interest include Comparative and Historical Sociology, Political Sociology, Social Change, Race and Ethnic Relations, and Community Studies. A native of San Antonio, he received a B.A. from the University of Texas at Austin and two Masters and a Ph.D. from Yale University. Dr. Montejano is the author of the prizewinning historical overview, Anglos and Mexicans in the Making of Texas, 1836-1986 (Austin: Univ of Texas Press, 1987; 7th Printing, 1999). The book also has been translated and published in Mexico (Mexico City: Editorial Alianza, 1991). He has authored numerous scholarly articles and book chapters, and edited Chicano Politics and Society in the Late Twentieth Century (Austin: Univ of Texas Press, 1999). His most recent publication is Quixote's Soldiers: A Local History of the Chicano Movement, 1966-1981 (Univ of Texas Press, 2010).
---
Date: 
Monday October 3, 2016
New Oral History Research Series: "Too Proud to Whitewash: Race and Power in Charleston and the South"
The Oral History Center of The Bancroft Library throughout the academic year hosts occasional presentations of the most current and interesting oral history-based research being conducted today. In this first "brown-bag" presentation of the year, Sonoma State historian Steve Estes will discuss his recently published book, "Charleston in Black and White: Race and Power in the South since the Civil Rights Movement" (University of North Carolina Press, 2015) and the key role oral histories play in it.
---
Monday August 15-19, 2016
2016 Advanced Oral History Summer Institute
We are offering our annual one-week advanced institute on the methodology, theory, and practice of oral history on the UC Berkeley campus in the newly-opened MLK Jr. Student Center August 15-19, 2016. The institute is designed for graduate students, postdoctoral fellows, university faculty, independent scholars, and museum and community-based historians who are engaged in oral history work. The goal of the institute is to strengthen the ability of its participants to conduct research-focused interviews and to consider special characteristics of interviews as historical evidence in a rigorous academic environment. 
---
Friday, October 16, 2015
Thinking Drinking: Oral Narratives on American Alcohol Culture
Panel presentation
Date: Friday, October 16, 2015
Time: 3:30 – 5:00 pm
Location: Oral History Association Annual Meeting, Tampa, Florida, Marriott Waterside, 3, Meeting Room 4
Additional details: Shanna Farrell and Martin Meeker of the OHC along with Doug Boyd of the University of Kentucky present on recent oral history work in the history wine and spirits and the culture surrounding those products.
---
Tuesday, August 18, 2015
Three Generations of St. George Spirits: A Conversation with Jorg Ruph, Lance Winters, and Dave Smith
Live interview / fundraiser
Date: Tuesday, August 18, 2015
Time: Cocktail party begins at 6:30, conversation begins at 7:15
Location: The Interval at Long Now, 2 Marina Blvd, Building A, The Presidio, San Francisco, CA
Additional details:  This event is a fundraiser for our West Coast Cocktails: An Oral History project. Please join us for a conversation with three generations of distillers from St. George Spirits, Jörg Rupf, Lance Winters, and Dave Smith in conversation with the Oral History Center's cocktail historian, Shanna Farrell. Proceeds from the ticket sales will go to supporting the cocktail project and help fund more interviews. Tickets for sale here and include 3 drinks, all made with spirits from St. George, appetizers, and a keepsake cocktail menu.
---
Thursday, April 23, 2015
The Oral History Class of 2015
Every year the Oral History Center celebrates our interviewees from the past year with our own "commencement" event.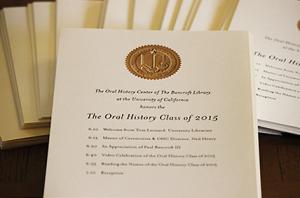 Photo: Event program from OHC's 2015 annual celebration of completed oral history projects