Using the Library during COVID-19
Most of UC Berkeley's library buildings are open. To stay up to date on the Library's policies and services during the pandemic, visit the Library's COVID-19 webpage.
The Berkeley Remix Podcast: Season 1
Content section:
Listen to all of our podcast episodes on SoundCloud or search #TheBerkeleyRemix on iTunes.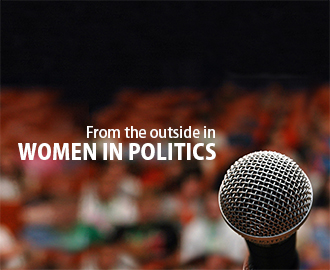 Episode 1      Episode 2      Episode 3      Episode 4      Episode 5      Episode 6
In this historic year for women in politics, our new podcast series, From the Outside In, seeks to showcase important interviews in the Bancroft Library collection with women who, against tremendous odds, broke through glass ceilings and forged their own paths in the political arena. The six episodes of this podcast chart the political advancement of women in the United States through the lives and achievements of ten noteworthy pioneers. From universal suffrage and elected office to community organizing and brokering party politics, these episodes bring to life the centuries-long struggle of women to gain their rightful place in the nation's political system.
A production of the Bancroft Library's Oral History Center
University of California, Berkeley
Narrator: Belva Davis
Researcher and Writer: Todd Holmes
Producers and Editors: Shanna Farrell, Cristina Kim
Special Assistants:  Julie Allen, Paul Burnett, David Dunham, Martin Meeker, Linda Norton
Student Assistants: Amita Chauhan, Cindy Jin, Marisa Uribe
Volunteers / Interns: Meg Henderson, Mark Westlye
Project Advisor: David Boyer
Bancroft Audio Research: Lee Anne Titangos
Thanks to California Audiovisual Preservation Project (CAVPP) for digitization.
 
---
Episode 1 – Gaining the Vote 
This episode covers the fight for universal suffrage and the successful passage of the 19th Amendment to the U.S. Constitution, which granted all women the right to vote.
Alice Paul was one of the leading activists for women's equality in America. Born to a Quaker family in 1885, she immersed herself in the campaign for women's suffrage, first in Great Britain and then in the United States. Throughout the 1910s, her unwavering brand of militancy inspired thousands of women to fight for universal suffrage. Her controversial efforts played a key role in securing passage of the 19th Amendment to the U.S. Constitution.
Jeannette Rankin was the first woman elected to Congress. Born near Missoula, Montana in 1880, she worked as a social worker in California and Washington, where she became involved in the women's suffrage movement. After Montana granted voting rights for women in the state, she successfully ran for Congress in 1916. In the House of Representatives, Rankin played a vital role in the passage of the 19th Amendment.
Mabel Vernon was a leader in the U.S. women's suffrage movement. A contemporary and friend of Alice Paul, Vernon was a key member of the Congressional Union for Women's Suffrage and an active organizer of many strikes and marches in Washington, D.C., and beyond. Along with Paul and Rankin, she helped to secure the passage of the 19th Amendment.  
---
Episode 2 - Cracking the Ceiling and Breaking the Mold
This episode explores how LaRue McCormick and Helen Gahagan Douglas used electoral politics to advocate for change during the 1930s and 1940s. Like many women, their work focused especially on helping the poor and communities of color.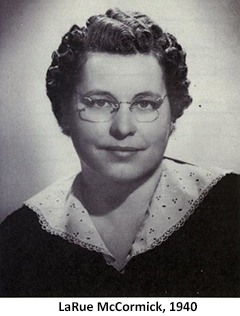 LaRue McCormick was the longtime Executive Director of the International Labor Defense Fund and a Communist politician. Although she never held an elected office, McCormick ran for both the California State Senate and the Los Angeles School Board in order to challenge the Democratic Party and draw public attention to the issues facing the state's poor and people of color.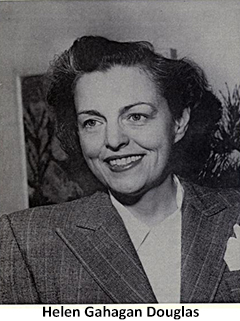 Helen Gahagan Douglas was one of the first Democratic congresswomen elected from California. A well-known Hollywood actress prior to her 1944 election, Douglas was a tireless agent for change in Washington, D.C. She hired the first African American secretary on Capitol Hill  and pushed for measures that would recognize and honor the service of African American WWII veterans. Her ascending political career came to an end when she lost to Richard Nixon in the now-infamous 1950 U.S. Senate race.
---
Episode 3 - From the Ground Up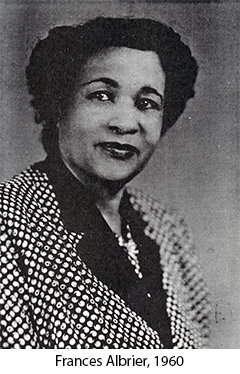 This episode looks at women's political activities at the community level. For civil rights activist Francis Albrier, community organizing proved extremely important in breaking down racial barriers and advancing civil rights reforms.
Frances Albrier was a civil rights activist and community organizer. Raised in Tuskegee, Alabama, Albrier was influenced by both the famed Tuskegee Institute and her family's own commitment to education and equality. After graduating from Howard University, Albrier moved to Berkeley, California, where she quickly became an active member of the local political scene. Working largely outside of electoral politics, Albrier fought to ensure that Berkeley schools hired African-American teachers. She also spearheaded the integration of the Kaiser Shipyards during WWII. In the years that followed, Albrier would continue to shape political progress as the first African-American womafn elected to Alameda County's Democratic Central Committee.
---
Episode 4 - Breaking Through Multiple Glass Ceilings
This episode covers the political ascendance of women of color in sixties-era California. Featuring March Fong Eu, this episode shows how women broke through the dual barriers of race and gender to take their place in state and national politics.
March Fong Eu was a California Assemblywoman and Secretary of State. Born in the back of a Chinese hand laundry in the small town of Oakdale, Fong Eu rose from poverty to become one of the most esteemed female politicians of her generation. In 1966, she successfully ran for the state assembly, joining only one other woman in California's legislature. She was elected Secretary of State eight years later, becoming the first Asian-American woman in the United States to hold a constitutional office. She would reside in that office for nearly twenty years.  
---
Episode 5 - Claiming Space in the Party Structure
This episode explores the rise of women advisors in the structure of party politics. As seen through the experiences of Elizabeth Gatov and Patricia Hitt, women increasingly commanded equal footing in campaigns and policy discussions throughout the long sixties era, and eventually earned a seat at a political table traditionally dominated by men.
Elizabeth Gatov was a national committeewoman for the Democratic Party and United States Treasurer. Starting in the 1940s, Gatov became one of the leading female advisors in California, co-chairing a host of statewide campaigns and Democratic committees. In 1960, President John F. Kennedy appointed her U.S. Treasurer. She later returned to California to manage a number of high-profile political campaigns, and in the 1970s, led the national public relations effort for Planned Parenthood.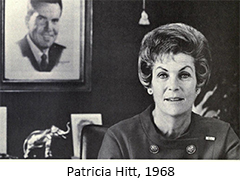 Patricia Hitt was a national committeewoman for the Republican Party and Assistant Secretary of the Department of Health, Education, and Welfare. As one of the preeminent female strategists and advisors in California's GOP, Hitt headed up the women's division of the party on both the state and national level. In 1968, she played a key role in Richard Nixon's successful presidential campaign. The next year, she was appointed Assistant Secretary of HEW, becoming the highest-ranking woman in the Nixon Administration.     
---
Episode 6 - A New Era 
`
This final episode reflects on the progress women have made in the political arena and the many struggles that still lie ahead. Featuring interviews with Senator Barbara Boxer and San Francisco Supervisor Jane Kim, the finale looks at the role of women in politics toward the end of the twentieth century and explores the possibilities in the twenty-first.
Barbara Boxer has been a U.S. Democratic Senator from California since 1993. From 1983 to 1993, Boxer served in the U.S. House of Representatives. Born in Brooklyn, New York, Boxer moved to California in the 1970s, where she served on the Marin Board of County Supervisors for several years. In office, Boxer has fought for stronger environmental measures, healthcare research, and  reproductive rights. She will be retiring from political office in 2017.
Jane Kim is the San Francisco Supervisor representing District 6. Since 2011, Jane Kim has advocated for affordable housing, stronger environmental protections, and a higher minimum wage. Before joining the San Francisco Board of Supervisors, Kim was president of the San Francisco School Board. She is the city's first Korean-American elected official and ran for the California State Senate in 2016.
---
Resources
Web Links
Women of Protest Collection at the Library of Congress
Transcript Links
Suffragist Oral History Project
Biographies
Alice Paul
Adam, Katherine H. and Michael L. Keen. Alice Paul and the American Suffrage Campaign. University of Illinois Press, 2008.
Zahniser, Jill Diane. Alice Paul: Claiming Power. Oxford University Press, 2014.
Jeannette Rankin
Lopach, James J. and Jean A. Luckowski. Jeannette Rankin: A Political Woman. University Press of Colorado, 2005.
Smith, Norma. Jeannette Rankin: America's Conscience. Montana Historical Press, 2002.
Helen Gahagan Douglas
Denton, Sally. The Pink Lady: The Many Lives of Helen Gahagan Douglas. Bloomsbury Press, 2009.
Scobie, Ingrid Winther. Center Stage: Helen Gahagan Douglas, A Life. Oxford University Press, 1992.
Barbara Boxer
Boxer, Barbara. The Art of Tough: Fearlessly Facing Politics and Life. Hachette Books, 2016. 
Further Reading
Dolan, Julie, Melissa M. Deckman, and Michele L. Swers. Women and Politics: Paths to Power and Political Influence. Rowman & Littlefield, 2016 (third edition).
 
Jameson, Elizabeth and Susan Armitage, eds. Writing The Range: Race, Class, and Culture in the Women's West. University of Oklahoma Press, 1997.
Kleinberg, S. Jay, Eileen Boris, and Vicki L. Ruiz. The Practice of U.S. Women's History: Narratives, Intersections, and Dialogues. Rutgers University Press, 2007.
Krook, Mona Lena and Sarah Childs. Women, Gender, and Politics: A Reader. Oxford University Press, 2010.
Ruiz, Vicki L. and Ellen Carol DuBois. Unequal Sisters: A Multicultural Reader in U.S. Women's History. Routledge, 2000 (third edition).
Scharff, Virginia and Carolyn Brucken. Home Lands: How Women Made the West. University of California Press, 2010.