Using the Library during COVID-19
Most of UC Berkeley's library buildings are open. To stay up to date on the Library's policies and services during the pandemic, visit the Library's COVID-19 webpage.
Research Resources
Content section:
Our resources for research include both physical and virtual materials. The physical archive includes Clemens's papers and correspondence, first editions of Mark Twain's publications and selected reprints, Mark Twain's personal library, and pictures.
Virtual resources may be found at Mark Twain Project Online, where their scope is described. Our Publications page lists texts edited from the Papers and other repositories' holdings, as well as microfilm of our manuscripts.
Primary Sources
Primary materials range widely:
Separate folders filed chronologically of all known letters by Clemens or his immediate family, and all known letters to or about Clemens and his immediate family. Uncorrected typed transcriptions of the former may also be consulted in person.
Forty-six notebooks kept by Clemens between 1855 and 1910, and typescripts prepared by Project staff. (One additional notebook is part of Manuscript Collection MS-0809, Harry Ransom Center, University of Texas, Austin; another is in Samuel L. Clemens Papers at Vassar College; and two are part of YCAL MSS 852 in Yale University's Beinecke Library.)
Both published and unpublished literary manuscripts, together with related drafts, typescripts, or proofs, as well as the published and unpublished portions of Clemens's sprawling autobiography.
Contemporary documents that belonged to Clemens himself, including mining deeds, book contracts, and financial records, as well as countless photocopies gleaned from contemporary newspapers' reporting on Clemens and his associates.
More than three dozen scrapbooks, some of which are Clemens's own patented design, which contain miscellaneous clippings and documents saved by Clemens or his family.
Image: First manuscript page of Mark Twain's "No. 44, The Mysterious Stranger." [Mark Twain Papers]
Library Holdings
The Project maintains an extensive working library of Mark Twain's books in various editions, contemporary and foreign language reprints, and related monographs. These books are cataloged on UC Library Search; choose "Mark Twain Papers" as the search location.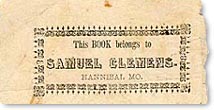 About 150 books from Mark Twain's home library are also cataloged on UC Library Search. A printed inventory of the titles is available. In addition, photocopies of marginalia from books owned by other institutions and private collectors are filed in the Papers; as time permits, these are cataloged on LibraryThing.
Pictures
The Project's pictorial collection contains over 2000 items. Visitors to
the archive may research this collection (mainly photographs, but also including cased miniatures, drawings, caricatures, and engravings) through several albums of viewing prints, arranged chronologically and segregated by subject: (1) Clemens; (2) the Clemens family; (3) photographs taken by Clemens's youngest daughter, Jean, between 1900 and 1905; (4) photographs taken by Clemens's secretary, Isabel V. Lyon, between 1904 and 1908; and (5) photographs of people and places associated with Clemens, arranged alphabetically.
Our collection of cased photographs and miniatures may be viewed at Online Archive of California, along with full descriptive notes.