Using the Library during COVID-19
Most of UC Berkeley's library buildings are open. To stay up to date on the Library's policies and services during the pandemic, visit the Library's COVID-19 webpage.
Editorial Project
Content section:
Housed within the archive, the Mark Twain Project is a major editorial and publishing program of The Bancroft Library. The Project's resident editors are at work on a comprehensive scholarly edition designed to include everything of significance that Mark Twain wrote.
More than thirty of an estimated seventy volumes are currently available, all published by the University of California Press. (See our list of publications, with ordering information for all titles in print.) Including texts available only on the Project's web site, marktwainproject.org, these encompass
More than half of the literary manuscripts left unpublished by Mark Twain; 
A growing body of his letters: from 1853 through 1875, with annotation and textual apparatus; on marktwainproject.org with annotation and textual apparatus for 1876, and from 1877 through 1880 without full annotation;
His notebooks through 1891 (two-thirds of the extant texts);
Collections of early fiction and journalism through 1865;
Critically established texts of his major works, including Huckleberry Finn, Tom Sawyer, A Connecticut Yankee in King Arthur's Court, Roughing It, and the three-volume Autobiography of Mark Twain.
These meticulously edited texts are also reprinted, with explanatory notes but without the full scholarly apparatus of the critical editions, in The Mark Twain Library, a popular trade edition that is available in both cloth and paper covers.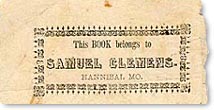 Last but not least, the Jumping Frogs series is designed to bring readers and fans some of Mark Twain's most amusing but neglected short works, such as one of his rare, successful plays, Is He Dead? Each volume has its own distinctive design and illustrations and uses texts carefully established by the Mark Twain Project.
Image: A printer's exercise set into type by Samuel L. Clemens ca. 1848, aged 12. [Mark Twain Papers]