Using the Library during COVID-19
Most of UC Berkeley's library buildings are open. To stay up to date on the Library's policies and services during the pandemic, visit the Library's COVID-19 webpage.
Access & Permissions
Content section:
The Mark Twain Papers offers several kinds of access to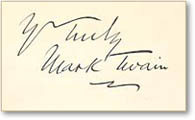 non-circulating materials.
If you have research questions about items in our physical collection, please consider visiting our reading room, upstairs from The Bancroft Library's reading room.
The catalog of all letters known to us which have been sent from or to Samuel Clemens's household—regardless of their current owner—is part of marktwainproject.org (MTPO). MTPO also includes a growing selection of our edited volumes of Clemens's letters and writings, images from our collection, and research resources. The site is produced by Project staff and the staff of UC Berkeley's Library IT Office.
Subject to curatorial review and intellectual property issues, we may provide digital images of items in our collection for research use or for publication.
The Mark Twain Papers & Project offices are not open to the public for tours. Several exhibitions curated by the editors have been converted for web view.