How to use the Oski Xpress pickup service
Content section: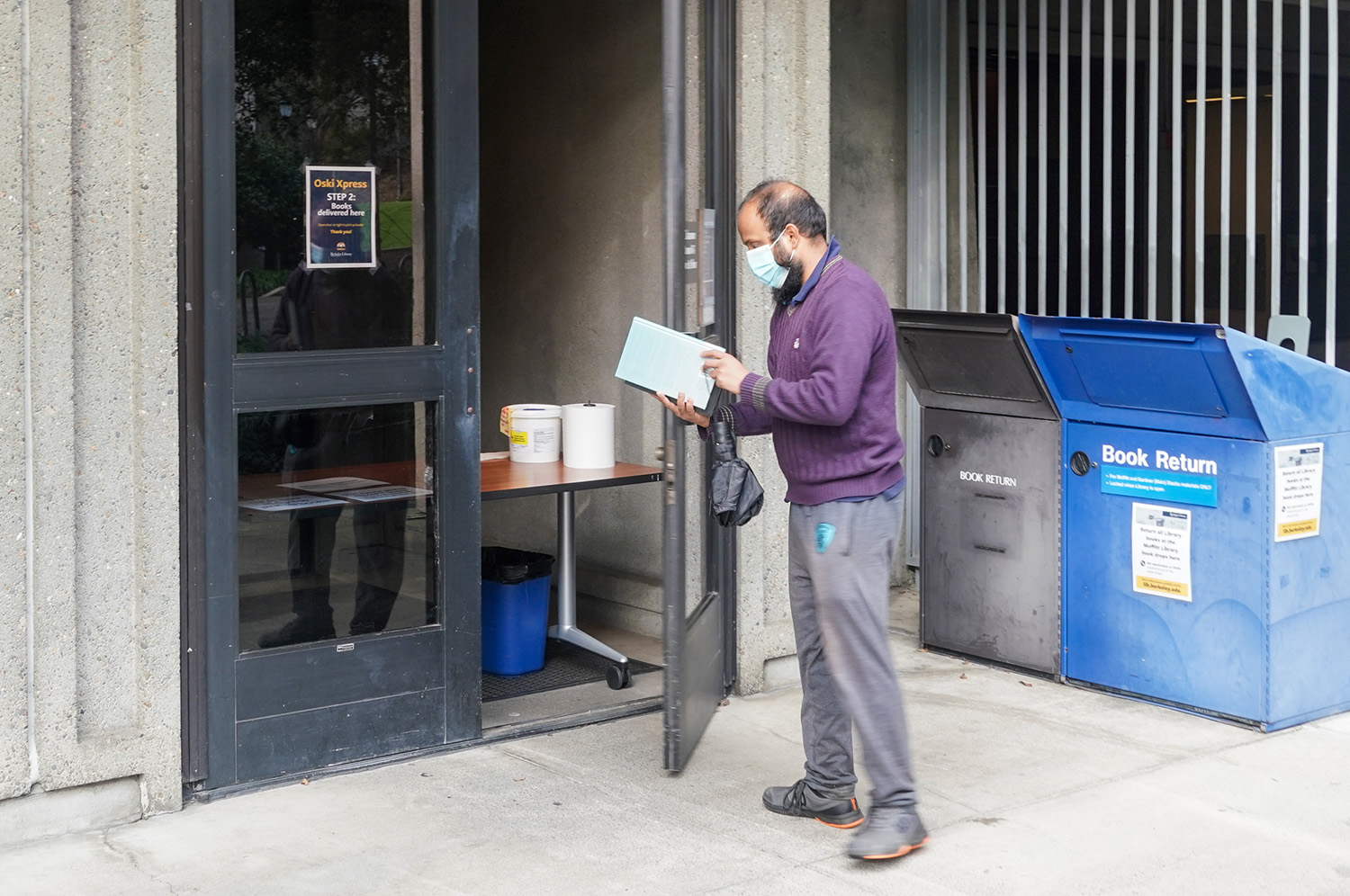 A graduate student picks up a book from the Oski Xpress service at Moffitt Library.
The Library now provides a pickup service at Moffitt Library for all borrowers who have current Cal 1 or UC Berkeley Library cards.
Thirteen libraries are participating in Oski Xpress: Bioscience, Chemistry, Earth Sciences & Map, East Asian, Engineering, Environmental Design, Institute for Governmental Studies, Main (Gardner) Stacks, Mathematics Statistics, Morrison, Music, Physics-Astronomy, and Social Research. Only materials available from the circulating collections of these libraries are available at this time.
Beginning April 19, 2021, requests are allowed for unrestricted materials from the Northern Regional Library Facility (NRLF).
Oski Xpress concludes Aug. 13, which is the last day for pickups.
How to use the service
Before requesting a title using UC Library Search, search HathiTrust's Emergency Temporary Access Service by logging in and following a few simple steps. Any item with temporary access via the HathiTrust Emergency Temporary Access Service is available only to current UC Berkeley students, faculty, staff, postdocs, visiting scholars, visiting researchers, fee-filling graduate students, and emeritus faculty at this time. That temporary online access is critical while most members of our campus community are researching and learning remotely. At this time, the Library must cancel requests for any print items for which we have temporary digital access through that repository.
If the title is not available through HathiTrust, use UC Library Search to confirm there is a copy in one of the participating libraries listed above with the status "Available." If the copies from those locations are checked out or missing, we will not be able to fill your request. If a title is needed as a required reading for a course, we may need to cancel your hold in order to make it available for the class. UC Berkeley faculty and graduate students have a 40-item hold limit; all other library users have a 20-item hold limit.
Paging items takes us several days. If you want to request several items, we encourage you to make them at the same time. While all the books may not all be ready for pickup at the same time, this will make it more likely.
For each request, you will get an email confirmation when it is ready. If you are requesting multiple items, you can wait to receive a group of confirmations together before making your pickup appointment. We will hold paged items for seven business days, not including weekends.
Wait for the email confirmation before coming to Moffitt Library. Moffitt is open 9 a.m. through 5 p.m., Monday through Friday. Items can be picked up from the Moffitt third-floor Circulation Desk, near the Free Speech Movement Café. Non-UCB blue Library card holders will be checking out books at the side counter of the Moffitt Circulation Desk. Access into Moffitt past the security desk is limited to UC Berkeley faculty, staff, and students and yellow Library card holders only. 
5 steps for requests and pickup 
After logging in, check if the title you want has "temporary access" provided by HathiTrust's Emergency Temporary Access Service. If not, the Library may be able to loan a print copy to you.
Find the title you want in UC Library Search, and click on its title. Verify that the status of the copy is "Available" in one of the participating libraries listed at the top of this page.
Click on Request, under the Get It heading.
Log in via CalNet or with your Patron/PIN.
Paging and preparing your items will take us several days. For each request, you will receive a notification when the item is available for pickup. After you receive an email confirmation that your holds are ready, you can pick up your items at the Moffitt third-floor Circulation Desk. A Cal 1 Card or eligible UC Berkeley Library card must be presented at pickup. Items will be held at Moffitt for seven business days, not including weekends.
Questions or issues?
Check out our Access and Privileges FAQs, or contact us.