Fall 2021 Course Reserves
Content section: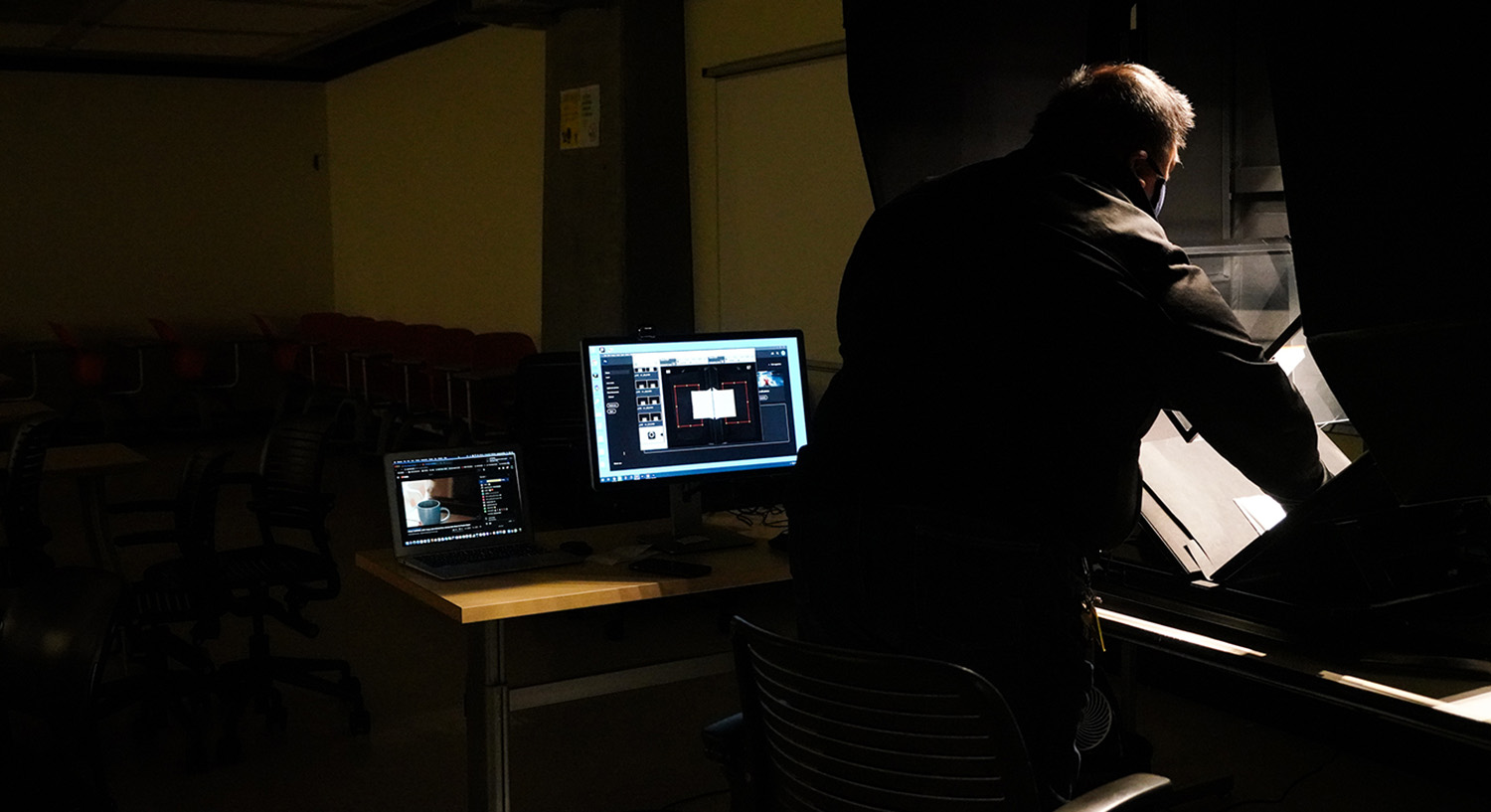 J.J. Mansalay scans a book that will be available via e-reserves.
Course reserves is a core service that libraries have provided for generations, offering students no-cost access to materials required for full participation in the class. During COVID-19, the Library pivoted to provide e-access to these important materials while the physical libraries were closed. For Fall 2021, the Library will continue to provide all required materials requested by instructors in a digital-only format. This includes audio and video, articles and books.
The Library is processing all fall semester requests already submitted and is not accepting new requests for this semester. The full process for purchase, licensing, and/or digitization generally takes a few months. We received an overwhelming number of new requests after the June 1 due date, and estimate that completion of those may take until November 2021. In the meantime, instructors can start to gather their spring course reserve requests, which we will be calling for later in the fall semester.
Faculty members, who have requested course reserves, will be emailed the direct links to the materials that they have requested to provide to their students via bCourses or in the syllabi. Starting fall 2021, copyrighted books which cannot be purchased as ebooks from vendors will be made available through a controlled digital lending platform UC BEARS — UC Berkeley Electronic and Accessible Reserves System. UC BEARS is available 24/7, and the viewer is ADA compliant (accessible).
In UC BEARS,
digitized items will not be available for download or printing (in portion or entirety)
digitized items are only available to users with a CalNet login
print items for books made available through UC BEARS will not be available for UC Berkeley users or members of the public to use on site and are taken off the shelves and moved to a non-circulating, non-requestable location
number of simultaneous online users is determined by the number of UCB-owned physical copies
digital items can be checked out for 120 mins, and items are renewable at the end of the loan period if another user has not checked them out already
users will be able to see if an item is available for check out, or if in use, when the item will become available.
The Library, for fall 2021 will be providing course reserves electronically only, we have no print reserves service at this time.