How to access Elsevier articles
Content section:
UC has been out of contract with Elsevier since January 2019 and no longer has access to certain content. This will mean some changes to how Berkeley scholars access certain Elsevier journal articles. Please note that the process for discontinuing access is complex, so access to specific journals or articles may fluctuate until Elsevier's rollout of these changes is complete. 
Access to any articles published from 2019 forward would no longer be available via Elsevier's ScienceDirect platform.
UC would retain access via ScienceDirect to older articles from these journals (download list of journal titles and years).
UC would no longer have direct access via ScienceDirect to older articles from these journals (download list of journal titles and years).
Elsevier e-books and databases are unaffected, including: Engineering Village (Compendex, INSPEC), Embase, Reaxys, Mendeley (citation manager), and Scopus.
Questions?
Email us at scholarly-resources@lists.berkeley.edu.
Quick guide: How to access Elsevier articles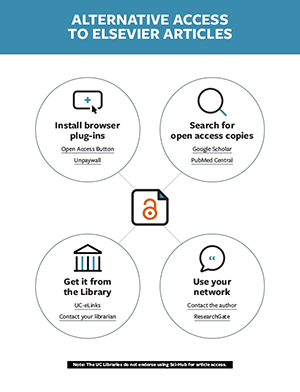 Enlarge this graphic: How to access Elsevier articles
Find an open access copy
Some authors may have already posted their articles open access (OA), either in the journal, in a repository, on a personal webpage, or on an academic networking website. It is worth checking to see if the article you're seeking is already online and free of charge by searching its title in Google or Google Scholar.
How to use Google Scholar from UC Berkeley Library on Vimeo.
Plug-ins
There are several browser extensions or plug-ins you can install that will search compiled collections of open access articles, as well as search the internet for an open access version of a desired article.
Open Access Button (OA Button): From the OA Button's website, you can enter an article's URL, DOI (a unique identifier), title, or other information to check for free and legal open access versions. Even better, the OA Button also offers Chrome and Firefox extensions. Once installed, these extensions will automatically search for an open access copy. When an open access copy is not found, the OA Button can contact the author directly.
How to use Open Access Button from UC Berkeley Library on Vimeo.
How to use Unpaywall from UC Berkeley Library on Vimeo.
Online repositories
There are a number of very large online repositories into which authors have deposited (or self-archived) copies of their articles. If a repository is well-indexed, merely searching for the article online via Google Scholar should surface the open access deposited copy. Note that some of these repositories contain preprints (the author's version before peer review).
Note: The UC Libraries do not endorse using Sci-Hub for article access.
Request it from the author
Most publishers allow responsible sharing of your own publications. One way to get an article is to contact an author and ask for a PDF of a preprint. The author's name and institution (if available) are usually shown on the preview page of the article. Some authors are open to receiving requests for articles via social networking sites where researchers share their work, such as Academia.edu, ResearchGate, Mendeley, and HumanitiesCommons.
Alternatively, you can make a request to the author via Twitter using the hashtag #icanhazpdf with a link to the publication you need.
Get it from the Library
Interlibrary Loan
You can use the request service to access interlibrary loan (ILL); click on "request this from the library" from that page. Berkeley Lab researchers: Please select Baker as your pick-up location.
The UC Berkeley interlibrary loan unit participates in a global resource-sharing network whose mission is to support your research. Members of our interlibrary loan staff are available and happy to assist you. We have a variety of methods to obtain articles for you, including borrowing from other libraries and in some urgent cases purchasing from an article delivery service.
Contact your librarian
If you are having trouble, a UC Berkeley subject librarian can connect you with what you need.
Questions?
Email us at scholarly-resources@lists.berkeley.edu.
Learn more